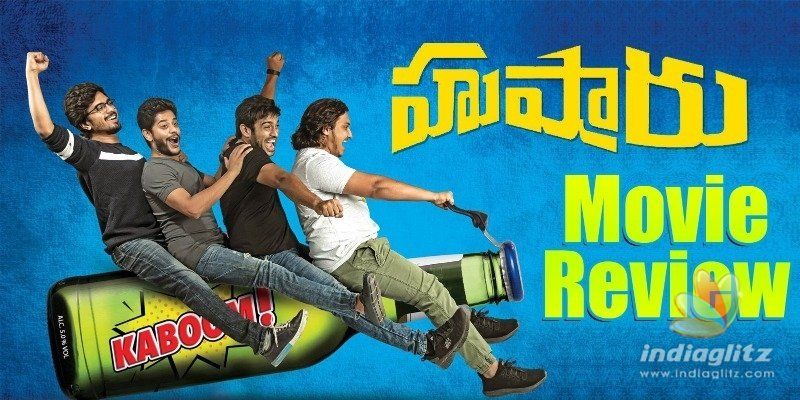 'Husharu', a bromantic comedy starring a set of newcomers and some known faces, hit the screens this Friday.  Here is our review of the entertainer.
Story:
Tejus Kancherla, Tej Kurapati, Abhinav Medishetti, and Dinesh Tej have been all-weather friends since childhood.  They have always failed together, partied together, and even defecated together.  
After their Engineering, the middling fellows are proudly clueless.   Two of them find girlfriends in a jiffy.  
Faced with hiccups in their families, the friends have a terrible problem awaiting them.  How they overcome the obstacles is the crux of the second half.  
Analysis:
In telling the story of four loyal friends, director Sree Harsha Konuganti has resorted to cliches, convenient writing and, at times, low-end humour.  Heavily inspired by Sekhar Kammula's 'Happy Days' at one level, the film also makes a vain attempt at getting dark comedy (in the second half) right.
In most of our simplistic movies, when the main lead (or leads, as the case may be) are dull students, they have some or the other fine talent - a fantasy not found in real life.  After toying with physical greatness (like boxing in 'Thammudu'), our filmmakers are now getting obsessed with the idea of having entrepreneurial heroes (especially since 'Pelli Choopulu').  'Husharu' happily follows this new-found fad.  
The director doesn't think twice before lifting from the Tharun Bhascker repertoire that idea of friends looking at making money by manufacturing a short film. Since 'Husharu' is also an adult comedy at one level, they make a soft porn film, and earn successfully!  
The girls (played by Daksha, Priya Vadlamani, Ramya) are there in the movie just to readily fall for one or the other cute guy. He is a pro at playing the guitar.  She has been waiting to learn it since LKG.  Another guy thinks he is eligible to have a girlfriend now that he has backlogs and is jobless.  His school-time girlfriend stands in front of his eyes, ready to make out with him at the first opportunity.  This is the level of writing.  
One of our allegedly talented guys can mount a whole set-up of a business enterprise when the friends need Rs 30 lakh. Since the run-time is 147 minutes, there is space for a failed software engineer (Rahul Ramakrishna in a key supporting role) to enter the lives of these friends as if he was born to help them make big bucks.  
Things start seeming over-cute when characters continue to speak in banal language.  "Amma, friends and Hyderabad will never bore me," one of the guys tells her US-obsessed girlfriend.  In films like 'Delhi Belly' and 'Arjun Reddy', it was not artificial to watch those characters make "vulgar" gestures.  In 'Husharu', it's all affected.  From a masturbation joke (know that 'Handsome' joke about single guys?) to the erectile dysfunction element, everything is there to woo the new-age audience.  
On the positive side, the conversations between the friends come with some maturity in the second half.  The comedy works really well here and there.  
The performances are so-so.  Largely, the relatively unfamiliar faces put up a decent job.  Rahul Ramakrishna is the best of all.  Radhan's songs and Sunny MR's background music pass muster.  Raj Thota's cinematography is imaginative at places.
Verdict:
'Husharu' has its share of funny moments.  But too many cliches make it an underwhelming affair.  
Rating: 2.5 / 5.0
Showcase your talent to millions!!
Write about topics that interest you - anything from movies to cricket, gadgets to startups.
SUBMIT ARTICLE
More
Telugu Movie Reviews
Sapta Sagaralu Dhaati
Changure Bangaru Raja
Mark Antony
Jawan
Miss Shetty Mr Polishetty
Kushi