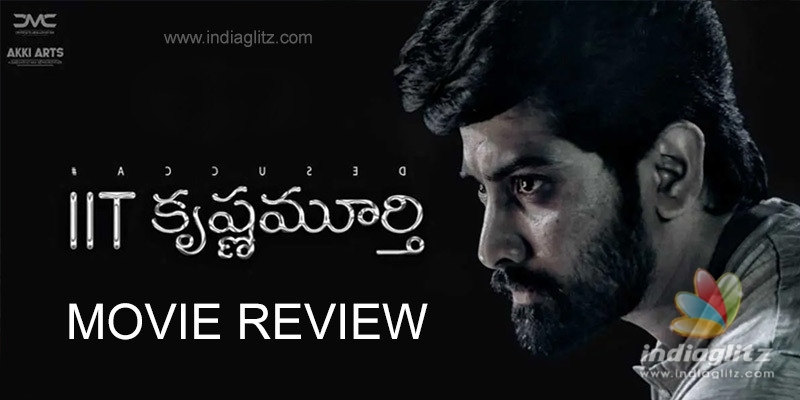 'IIT Krishnamurthy' is the latest OTT release in the town. Streaming now on Amazon Prime Video, this one is a thriller. Here is our review of the movie.
Story:
Krishnamurthy (Prudhvi Dandamudi) comes to Hyderabad in search of his missing uncle. He lodges a complaint with ACP Vinay Varma (Vinay Varma), an upright cop who never bows down to pressure. Soon, the ACP suspects that it's not a missing case but one of natural death. But Krishnamurthy is hardly convinced. There is a corporate gang involved in all this.
Analysis:
This film is hardly a 110-minute affair, but it takes forever to show something that was not already revealed in its trailer. It takes about 12 minutes for the actual story to take off. It takes the entire first half to establish almost nothing beyond what the trailer informed us. Debutant director Sreevardhan, to make the matters worse, makes the ACP a hero and the titular character a dummy.
For a thriller, this one is terribly laidback and relaxed. The titular character is seen more in coffee shops and malls rather than in the key investigation scenes. Although the climax tries to redeem his image and justify the title, it is not entirely convincing.
The love track is painful, with the conversations bordering on the ridiculous. In a conversation, the heroine (Maira Doshi) asks the hero as to what his most favourite ice-cream flavour is. It ends with him telling her to never bring up the topic of ice-creams in his presence! As for the comedy track, Sathya is named Mahesh Babu so that the heroine can throw insults at him.
As much as the director wants the audience to see ACP Vinay Varma as super-intelligent, he is the epitome of idiociy. He doesn't know how to track calls from anonymous numbers or how to get a suspicious vehicle tracked with the help of CCTV footage. When his subordinate tells him that he is being tracked by the villains and that's why he received a warning call, he appreciates him for doing a good job with the investigation. Even a constable would see it as self-evident in real life.
The performances are monumentally disastrous barring Vinay Varma's. Prudhvi has that 'I am supposed to be cracking IIT problems, not be searching for my uncle' expression on his face. Sathya better stop doing roles that require him to body-shame himself. Anand Bharathi in a cameo is old-fashioned.
Yesu's cinematography is adequate. As for Naresh Kumaran's background music, it is okayish. But the songs are immensely forgettable.
Verdict:
'IIT Krishnamurthy' is a thriller that seeks to become a mystery drama and fails spectacularly.
Rating: 1 / 5.0
Showcase your talent to millions!!
Write about topics that interest you - anything from movies to cricket, gadgets to startups.
SUBMIT ARTICLE