Nayan said 'INA' is her love story - Pandiraj
Thursday, May 26, 2016 • Tamil Comments

Listen to article
--:-- / --:--




On the eve of the release of the much awaited Simbu- Nayanthara starrer Idhu Namma Aalu`, we caught up with the director Pandiraj and Soori for a highly entertaining rapid fire dual interview and here is the transcript of the same.
About INA`…
Pandiraj :
"I have dealt the love story of today`s youth and the problems they face"
Soori :
"It is a film that is up to date for the modern times"
What was the reaction of Simbu and Nayanthara in the first day shoot as they met after a long time?
Soori:
" It was nothing like that,they behaved in such a friendly way that it looked as though they were meeting everyday".
Pandiraj:
"They are first and foremost very good friends…The first shot was Nayan has to ask Simbu "love panniyirukkiya"?...Whenever Simbu comes late and Nayan has to wait with makeup for three hours or so she will fight with him and it will be cute to see that.
Soori :
"You cannot expect Nayan and Simbu to be serious for they will always be laughing and joking on the sets"
How did you believe that Nayanthara will act with Simbu?
Pandiraj :
"I don`t know I just thought it will be great if she does it and I at that time I have never even met her and through cameraman Balasubramaniam I spoke to her on the phone during the shooting of Idhu Kathirvelan Kadhal`. First she asked me why she should do such a film and I convinced her saying that listen to the script and you will like it. She listen to the story for twenty minutes right then and burst out laughing stating that it will be a perfect film for her and Simbu."
Have you danced in this film? (To Soori)
Soori :
"In my recent films this is the only one in which I am not shaking a leg and (laughingly) that is a great plus for this film"
Is Simbu the only hero who accepts ridiculing himself in the movie?
Pandiraj :
"Yes he is definitely a very sporting person. I tried to have some scenes like that in the Vishal film (Paayum Puli) but he did not accept it but Simbu allowed all such scenes in INA`. Even Soori warned me for a dialogue which lists all the minuses of Simbu but he just smiled and gave me a high fi and started doing the scene. Similarly Nayan also did a scene which was close to her personal life and I hesitated but she went ahead."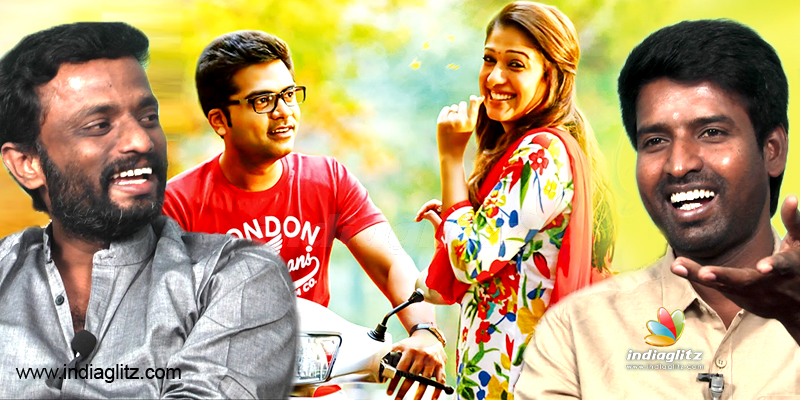 Simbu always prefers Santhanam for his buddy role, but how did you convince him to accept Soori?
Pandiraj:
"When I narrated the story to Simbu I had Soori in mind for the character. Simbu ofcourse wanted Santhanam and when he was busy he gave another actor as option but I did not agree and for two months this argument went on and I even decided not to the film if Soori was not a part of it. When I shot the combination scenes their combination scenes Simbu enjoyed Soori`s performance very much and kept appreciating."
What is the screenspace for Nayanthara and Andrea?
"Nayan will appear throughout the film while Andrea will be there in twenty or twenty five minutes. The love between Simbu and Andrea is very poetic."
Who is your favorite costar Simbu or Sivakarthikeyan? (To Soori)
Pandiraj (Jokingly):
"He will say Sivakarthikeyan because it is unknown if he and Simbu will do another movie together but Siva is always there"
Soori:
"Simbu sir please cast me in you next projects"
What is your opinion about Simbu?
Soori:
" Simbu is a great human being, a very very talented actor and he is always fun to be with. Even if he comes a little late to sets it does not matter as he finishes his portion very fast. Even when there are misunderstanding between Pandiraj and Simbu on sets it is Simbu who will ease the situation and forget about it. Among all the heroes it is Simbu for whom I will salute because he is great actor on screen but will never act in life".
Who is your favorite heroine?
Pandiraj:
"The question is for you"
Soori:
"I like Nayanthara and Lakshmi Menon"
Pandiraj:
"You forgot Bindu Madhavi…you said she is your darling…Soori and Bindu will always keep holding their hands"
Soori:
"He is trying to get me into trouble"
Pandiraj:
"All the heroines like Soori"
Your experience with Ajith during the shooting of Vedhalam`…
Soori:
"While shooting Vedhalam` my brothers kept pestering me to allow them to meet Ajith sir and take a snap with him. I was very hesitant and kept postponing and when my birthday was nearing I told his assistant Shakthi and he immediately told Ajith sir who gave his nod without hesitation and I along with my entire family and relatives numbering 15 people met him and had a memorable time."
The film is in production for a long time will it work with the present audience?
Pandiraj:
&ld
Follow us on Google News and stay updated with the latest!
Follow
Actress Photos
Siya Gowtham
Rashi Khanna
Dhanshika
Chandini Chowdary