D Imman turns to experimentation
IndiaGlitz [Friday, October 13, 2017 • தமிழ்] Comments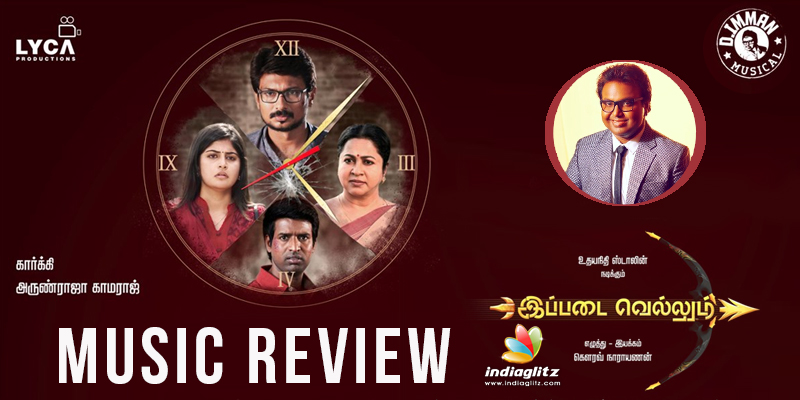 Udhaynidhi Stalin's next outing with Manjima Mohan is Ippadai Vellum which has the talented director Gaurav Narayanan who helmed Thoonganagaram and Sigaram Thodu. D Imman has composed music for this upcoming film which is set to release very soon
The opening track has all the intentions to make it big as a motivational number. Big round of applause to Shreya Goshal for adding a pinch of soulful energy to her vocals, the chorus is delightful and ups her energy. The track should do more wonders with the visuals as it seem tailor made on an inspiring note. Shreya is usually known for melodious number, however this is a good gear change as the composer brings her different avatar. To keep the emotions going high, the start and end of the track is pitched on a perfect note to give a sense of more.
Thodra Paakkalaam: Listen Here
Basking on the popular verse "Dare to touch me" , the lyrics is full on energetic and catchy no doubts on that. The folkish local treatment of the song is the striking feature even as the song moves on to be unique in its inspiration. With a decent level of bass and strings setup, Thodra Paakkalam is a good mass number that goes on going worshipping the hero. Thodra Paakkalam has Imman signature all over the track from the word go.
The most striking part of Kulebaa vaa is the underlying rhythm, it goes on recursively to set a Mediterranean note. The lead singers have done it well, that laziness in their voice is kept to address the slow romance of the lead pair. Apart from the Kulebaa vaa portions, the charanam portions do not excite the listener much.
Godfather Kanmaniye: Listen Here
The track hooks you on various levels, for once the sound mixing is simply immersive. The recursive string is delightful and keeps your ear soothing. That's not all, Aadharaa's vocal is the key as it holds the song on its edge. This track is surely Imman's answer to everyone who keeps calling him suitable more for folk as the jazzy outlook of the song is lethargic and addictive. The track hits the right note especially between the interludes with a simple sax. Overall the pick of the album.
Ippadai Vellum Theme: Listen Here
Continuing the strides of the opening track, Chennai choir joins the party with some alternative setup for the theme music. Imman has given everything to keep the climax high, saxophone, guitars and reverberating bass for high tensions.
Verdict : Imman has experimented variety in Ippadai vellum which turns out good for a few tracks and not much for the rest.