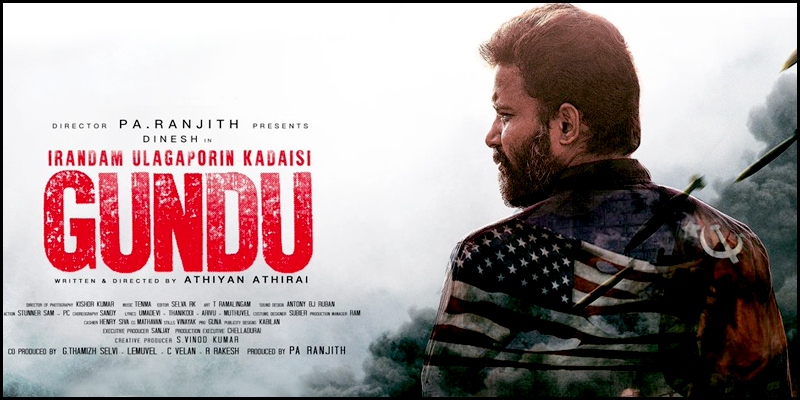 Irandam Ulaga Porin Kadaisi Gundu - Delivers a much needed message for mankind
After tasting success with his maiden production venture Pariyerum Perumal, director Pa Ranjith is back with his second production Irandam Ulaga Porin Kadaisi Gundu directed by debutant Athiyan Athirai. With the trailer promising a completely new premise and characters, let's see what this Gundu has. 
Lorry driver Selvam, who wants to upgrade his lifestyle and own a lorry, unexpectedly enters  a situation where he gets to transport a deadly bomb from second world war, and he also has to overcome problems posed by his love Chittu's (Anandhi) caste obsessed family. On the other end, there are people scheming to get the bomb for selfish interests, and cops are on the hunt as well, besides a social activist Dhanya (Riythvika) who struggles to present the impacts of the bomb by getting it. How the different characters are united by a bomb, and whether it explodes is what the movie is all about.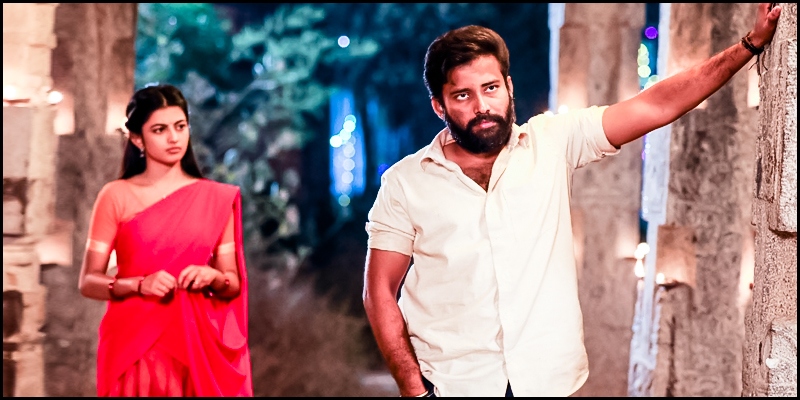 Dinesh gets into the skin of the character and it would be apt to say he had transformed into a lorry driver on screen. His dialogue delivery conveys different moods of the character effectively. Anandhi plays an innocent and lovable character that reminds one of Pariyerum Perumal, and Munishkanth guarantees laughs whenever he arrives. Riythvika is apt as the activist, while the rest of the cast including Lijeesh, Vinoth, are adequate. Ramesh Thilak and John Vijay's characters could have been better.
The first half of Irandam Ulaga Porin Kadaisi Gundu begins in a leisurely pace presenting the plight of people working in the iron scrap setup and lorry drivers, and slowly brings together different characters uniting at the conflict point close to the stunning interval block.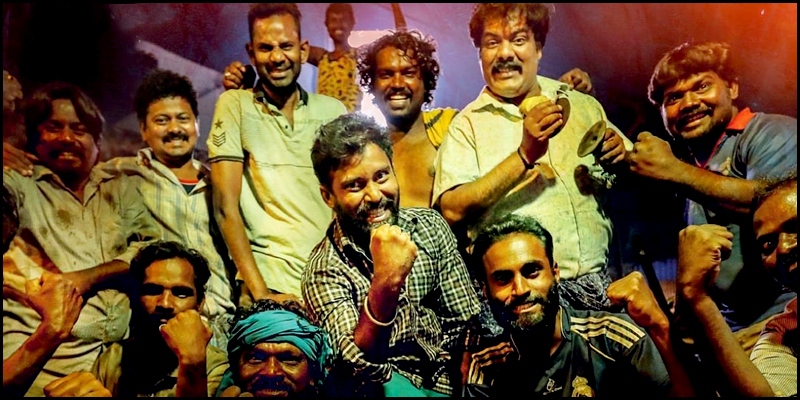 Post interval, Irandam Ulaga Porin Kadaisi Gundu is gripping with some tense moments and with Munishkanth's humour, there's ample entertainment as well. Exposing the brutalities of war and delivering an important message, Irandam Ulaga Porin Kadaisi Gundu culminates in an expected way. 
Debutant music director Tenma has given an interesting background score which is sync with the dark theme of the movie, and of his songs, Mavuliyo is hum worthy. Kishore Kumar's cinematography captures the action and chase episodes interestingly and presents lifelike visuals. The initial portions of Irandam Ulaga Porin Kadaisi Gundu could have more interesting, as the movie takes it's own sweet time to establish the conflict.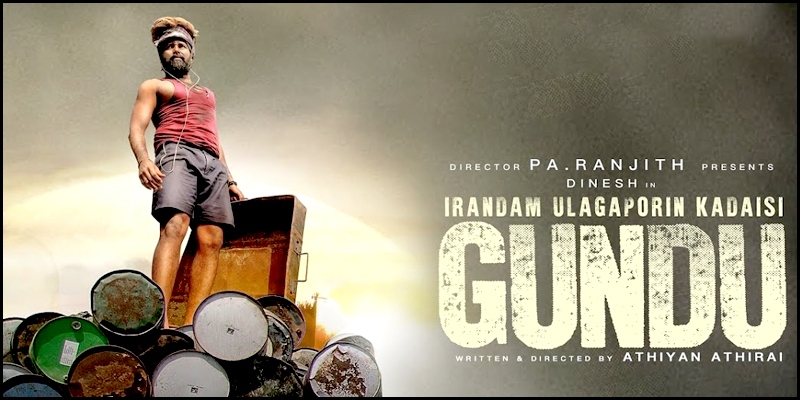 Debutant director Athiyan Athirai has taken up an unconventional theme for his maiden directorial venture, and has fairly succeeded in delivering a much needed message for the world. Athiyan has some interesting characters but hasn't focused much on establishing them, their stories and on why they're into the bomb hunt, and Riythvika's character in particular, despite her fine performance, deserved a prope visual establishment of the reason behind her quest. Dinesh impresses with his body language and along with Munishkanth keeps the audience entertained. While the second half of Irandam Ulaga Porin Kadaisi Gundu is intense and keeps audience in the edge of the seat throughout, with its chases and tense moments, it is the first half that proceeds in a leisurely pace which could have had some interesting sequences establishing the backstories of Riythvika and Dinesh extensively.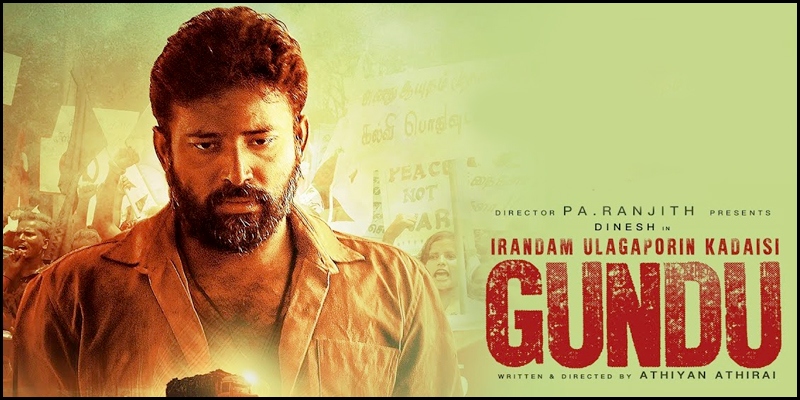 Athiyan Athirai's screenplay touches a lot of themes like caste discrimination, honour killing, bombs affecting lives, wars and many more, a little more detailing could have made the movie even better. Despite the shortcomings, the preachy tone, and the lack of detailing, Dinesh's performance, sharp dialogues and the much needed message delivered make Irandam Ulaga Porin Kadaisi Gundu a fine movie watching experience. With Irandam Ulaga Porin Kadaisi Gundu, Pa Ranjith has yet again proven to be a producer who backs unique, quality ventures that speak for the society.
Verdict: Delivers a much needed message for mankind.
Rating: 2.75 / 5.0
Showcase your talent to millions!!
Write about topics that interest you - anything from movies to cricket, gadgets to startups.
SUBMIT ARTICLE
More
தமிழ் Movie Reviews
Conjuring Kannappan
Annapoorani
Kuiko
80s Buildup
Chevvaikizhamai
Jigarthanda DoubleX