A kicked album from Santhosh
IndiaGlitz [Friday, January 22, 2016 • தமிழ்] Comments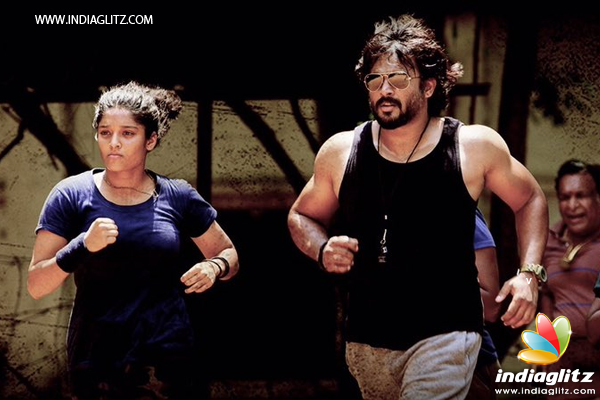 Iruthi Sutru: Maddy is going to be on the main screen after a good number of years, this time in a sports action drama which also has Rithika in the lead cast. Santhosh Narayanan takes up the composing work for this album which is a complete package of variety.
Va Machaney :
A pakka Chennai flavor mixed with occasional Jazz and bluesy guitar sums up Vaa Machaney. Sean Roldan the musician cum singer has crooned for this slow kuthu number which is slow and tests your patience, but hooks up for its catchy tune. Santhosh has worked through the number with lesser number of instrumentation like strings, folk bits but capitalizing on the lead vocals.
Ey Sandakara:
A tongue in cheek solo song from Dhee is a complete package of innovation in this yet another female slow folkish kuthu. Everything about this track is impulsive and fresh like love that blossoms in a woman's heart. Dhee's tomboyish voice seems to have suited the rugged boxer image, with the recursive string and guitar playing in the background. Yet another thing that stands apart is the male beatbox vocals adding the local flavor in a majestic way. To sum up, a complete round up of entertainment from Santhosh Narayan.
Maya Visai:
A pumped up rock and roll song, very much on the lines of Bollywood Macho songs, probably a first in Tamil. The song is full of energy with a gripping bass at its ends and a male chorus that recourses wonderfully within the tune. Vijay and Shri make amends in this all out motivational song that has some inspired lyrics made on the lines of Rocky and other sports movies. Santhosh Narayanan has gone out with all guns on this songs, a good listen of the hindi version makes the former better than the Tamil one, but in all an awesome finish!
Usuru Narambu:
Santhosh gets help from the rustic vocals of Dhee who yet again impresses in the female melody that aches with sadness through the heart of the song. With Strings and impressive slow pianistic work from behind, the song is reminiscent of Santosh's signature all over the park. The track is one for listeners who love slow and steady melody songs.
Poda Poda:
A hefty rock song that drives home comfortably with Pratheep at the helm of the chariot. A fresh attempt from the versatile musician which flows like a Bollywood country song, the ones you would want to listen on a long ride, free strings and thumps of bass segments. With a number EDM loops around, the tune simply hooks you to go on repetitive mood. Yet again Santhosh proves that one can break free from the usual stereotyped classical approach with innovation.
Verdict: A fresh and pumped album from Santhosh
Rating : 3.25/5