Packs the punch
Friday, March 9, 2018 • Tamil Comments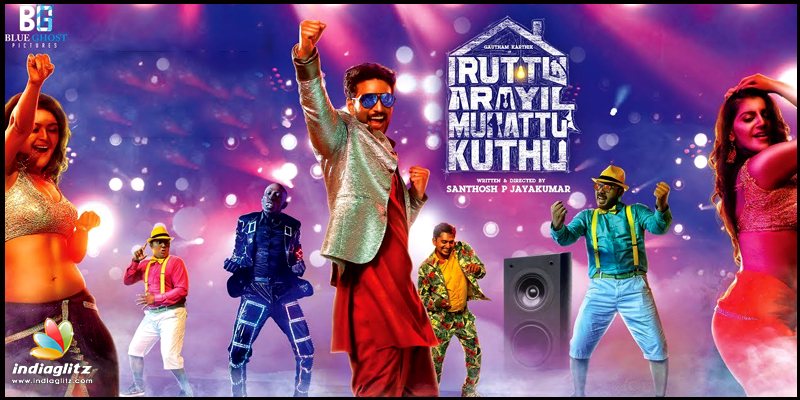 Album: Iruttu Araiyil Murattu Kuthu
Composer: Balamurali Balu
Release :Tentative
No.of.Tracks: 4
Packs the Punch
After a hugely successful outing in 'Hara Hara Maha Devaki', Gautham Karthik is all set for another comedy entertainer. Director Santhosh.P.Jeyakumar will be wielding the megaphone for this project and composer Balamurali Balu has scored the music for this album.
Mokka Love Song
Voices: Anthony Dasan, Gaana Kadal
Lyrics: Gaana Kadal, Santhosh P Jayakumar
Mokka Love Song is not at all 'mokka'! Be it the succession of harmonica shrieks, the whistle or the follow up Anthony Dasan magic, this song is totally enjoyable with its peppy structure and 'funny' flavour. Harmonica play, acoustic guitar and even a little of sax make their way into a song where 'gaana' essence is the backbone. Isn't that just wonderful? The song comes to a 'jazz meets gaana' sorts of end leaving you wanting for more. Repeat hearings, playlist must, period.
IAMK Party Song
Voices: Teejay, Adithya Surendar, Suchitra, Vishnupriya Ravi
Lyrics: Ku.Karthik, Balamurali Balu
Well you can't raise your fingers, the song did start with a disclaimer that it was a porn anthem. But then you heard it full length and were left smiling at the least. This song will have you either in a fit of lewd giggles or have you cringing with a 'shock' stamped on your face. Well, there is little space to examine lyrical values but the composer has literally packed the punch by giving such direct lines the right flavour of music. Kudos. This track is unabashed loyalty to the film with no hesitance and that gives the song its boldness and playfulness in its lines from references ranging from Sunny Leone to Suchi Leaks. You can just smell all the cribbing naysayers getting ready for a creative massacre on this song. But apart from all the controversies it may stir, this track will stand as an enjoyable number musically as well.
Maanam Pochi
Voices: Teejay, Gaana Kadal
Lyrics: Gaana Kadal, Ku.Karthik, Santhosh P.Jayakumar
Maanam Pochi is a 'say cheers' bar song that will have you shaking your legs to its peppy notes flavoured with 'local' lines. Its adequately percussion-soaked rhythm works just as good as the energy packed vocals of Teejay and Gaana Kadal. No wonder if this joins the list of the formidable bar anthems that we already have. Cheers to your playlist!
Azhukku Jatti Amudhavalli
Voices: MC Vickey
Lyrics: MC Vickey
Apart from the little smirk that the track title gives us, Azhukku Jatti Amudhavalli is a fast paced number that takes us on a joy ride of silly fun and bone-tickling lyrics. Electric guitar strumming occupies its space throughout the number while nadaswaram comes in and out of the picture to give the song a squiggly posture. This is a hilarious song that will make you go into a serious fit of giggles. Poses itself as another fun addition to the energy oozing album.
Pick of the album: Mokka Love Song
Verdict: "Definitely entertaining album with humorous lyrics"
Rating: 2.75