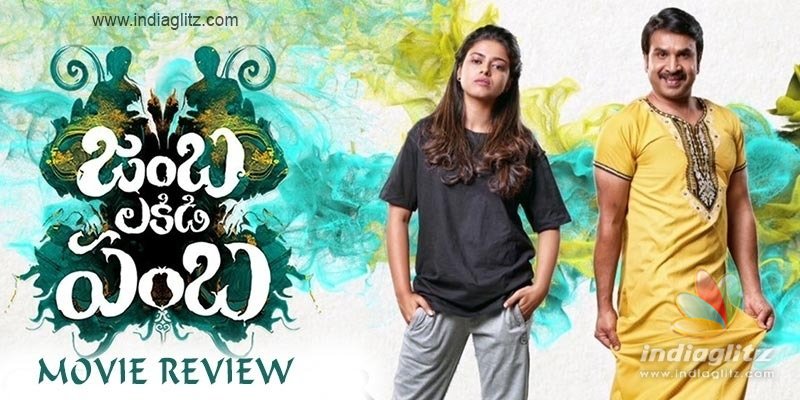 'Jamba Lakidi Pamba', starring Srinivas Reddy and Siddhi Idnani in the main, is directed by Manu.  The film hit the screens this Friday.  Here is our review.
Story:
Varun (Srinivasa Reddy) and Pallavi (Siddhi) are an estranged couple.  While they live under the same roof, they don't agree on anything.  
The quarrelsome husband-wife duo takes the extreme step of filing for divorce.  They approach a super-competent divorce lawyer (played by Posani Krishna Murali), who meets with an unexpected fate after promising them to secure the divorce.  This is when a fantasy element comes into play.  
The Varun-Pallavi duo encounters a nightmarish experience when their bodies get exchanged overnight.  The ever-fighting couple now has to go through a series of challenges before they reach the conclusion that a married couple is supposed to come-of-age, never mind petty differences.
Analysis:
The Trailer of 'Jamba Lakidi Pamba' prepared the audience for low-brow comedy, but not for the mediocre fantasy element.  Introducing an unexpected element is one thing.  Stretching the idea to the extent that Posani Krishna Murali becomes the de facto hero of the first half is another.  
Once the fantasy element is introduced, the film loses its focus.  The centrality of the couple's differences is forgotten.  What becomes important is the over-indulged headache of Posani's character.  The over-exploited actor that is Posani is made to imitate NTR's 'Amma Ani Pilichina' in a garbage-level comedy scene.  
What is more problematic than the fantasy plot coming unannounced is that there is no sense of wonderment around it.  Suman plays a God and he says that Devathas are now wearing Western clothes, something that humans are yet to know!  Even a second-rate TV programme would find this joke outdated.  There is this scene involving Shakalaka Shankar (as a fake exorcist), the lead pair and a mentalist and this one moment is enough to convince the audience that the director's only intention is to start the actual story just before the interval.  
Srinivas Reddy's feminine gestures are alright, but the characteristics of the wife are inconsistently portrayed in the second half compared to the first half.  How come this wife becomes a meek woman when she is otherwise strong?  Why reduce her to a caricature just because she is in her hubby's body?  
When the film takes on the shades of a quirky family drama towards the climax, doses of patriarchy, masala (in the form of an item song) and preachiness are shoved down our throats.  After much drama around body swapping, this confused comedy veers towards a formulaic resolution in the climax.  
Srinivas Reddy was told to act like a gay and he does that well.  In the process, he and the director forgot the essence of the story.  Siddhi Idnani, who comes from a theatre background, makes a decent debut.  
Vennela Kishore is reduced to his own parodic version.  As an amateurish divorce lawyer, he thinks the heroine is too sexually excited and it's not funny.  If all these overplayed faces are not enough, Hari Teja is seen as a fashionable, over-the-top servant maid at the lead pair's house.  Raghu Babu is immensely forgettable as Varun's boss. Amidst all this, Himaja is perhaps the only actor who acts normally. Jayaprakash Reddy is seen as a legal arbitrator and the only reason we remember him is that he is as clueless about what is happening to him and his cluelessness is so relatable.  Tanikella Bharani as a father who has a wordplay on the dish Dum Biryani is the last thing we wanted.  
Gopi Sundar's music hardly makes an impact.  It seems some trainee in his team possessed his body.  Satish Mutyala's cinematography and other technical departments put up a semi-flop show.  
Verdict:
'Jamba Lakidi Pamba' doesn't have it easy in solving a routine clash between a quarrelsome couple. A convoluted script with an avoidable fantasy element compounds the headache of the audience. 
Rating: 2 / 5.0
Showcase your talent to millions!!
Write about topics that interest you - anything from movies to cricket, gadgets to startups.
SUBMIT ARTICLE
More
Telugu Movie Reviews
Good Luck Sakhi
The American Dream
Hero
Rowdy Boys
Bangarraju
Veyi Subhamulu Kalugu Neeku