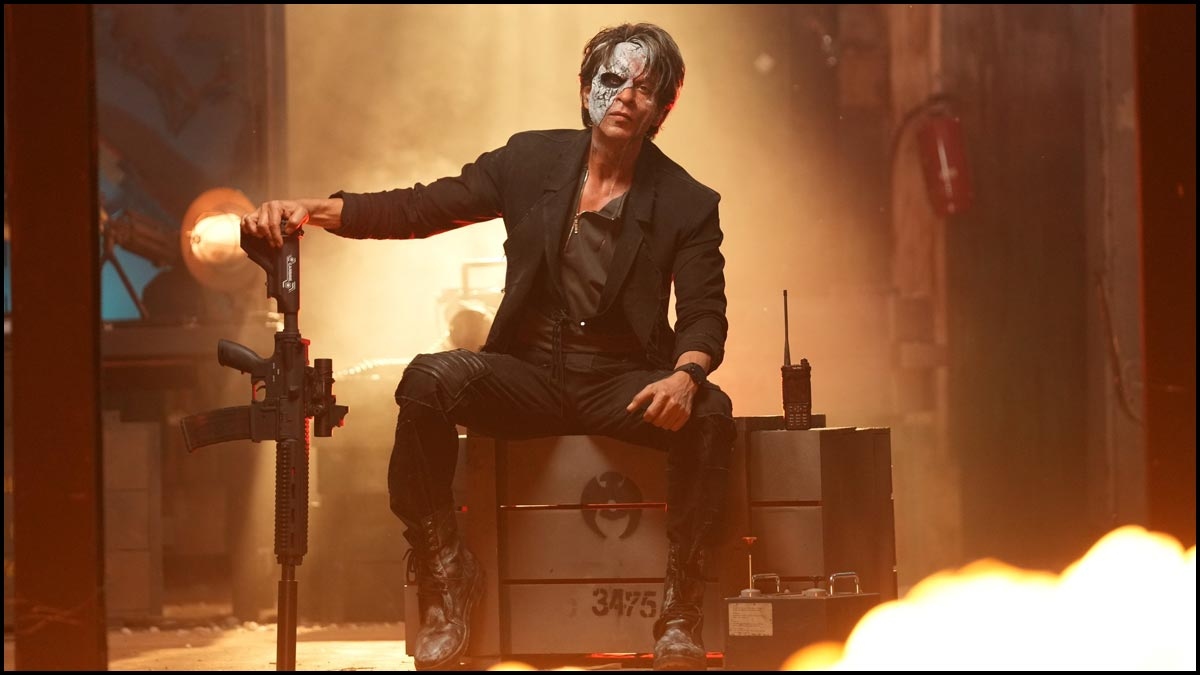 'Jawan ' -  Atlee spins an entertaining full blown masala on Bollywood debut powered by SRK's charm
Shahrukh Khan started this year with 'Pathan' , a resounding bang of a comeback and created havoc at the box office. After almost half a year, he has now returned as a 'Jawan' chaperoned by Atlee, one of the most successful commercial directors from the South.  The socio-political action thriller has a strong South presence and whether it succeeds in satisfying pan Indian audiences and recreates the same success remains to be seen.
The film starts off thirty years in the past where an unknown man suffering from amnesia (Shah Rukh Khan) is rescued by Kashmiri villages.   Cut to the present a balded old man called Vikram Rathore (Shah Rukh Khan) along with his gang of six girls (Priya Mani, Sanya Malhotra,Sanjeeta Bhattacharya, Girija Oak, Lehar Khan and Aaliyah Qureishi) hijacks a metro train in Mumbai.  He demands the government to get rupees forty thousand crores from Kaalee (Vijay Sethupathi) an arms dealer whose daughter is held hostage in the train. Narmadha (Nayanthara) is the cop who is handling the situation.  After escaping with the money Vikram Rathore once again kidnaps a central minister and makes another demand to the government to speak out the truth about an incident that happened thirty years back that branded an innocent female doctor a criminal.  Who is Vikram Rathore and why is he making such demands and who are the girls who are helping him and what is his enmity with the dreaded villain Kaliee?  These and many more questions are answered in the rest of the screenplay.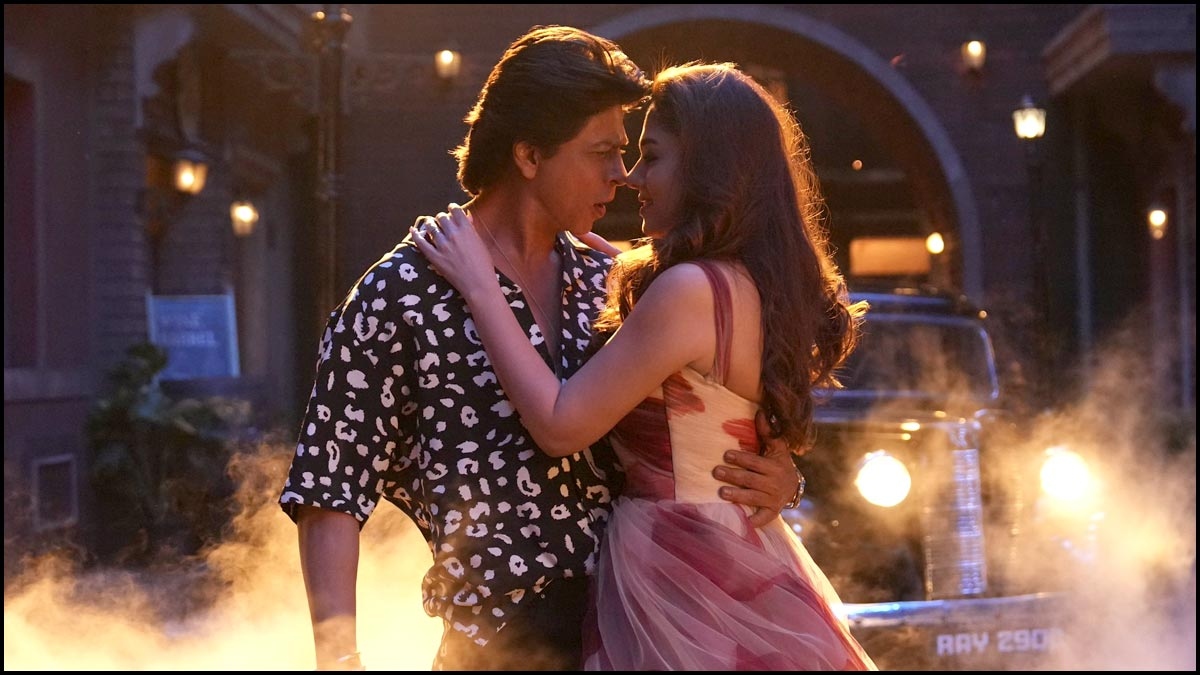 Acting wise it's a Shah Rukh Khan show all the way since Atlee has written two roles for him with multiple shades and getups.  It is as the oldman Vikram Rathore that SRK shines especially in the scenes where he is suffering from amnesia but still enjoys listening to songs and does some breathtaking action on bike.  The King Khan is all charm as Azad while interacting with the girls, romancing Nayanthara and especially bonding with her little daughter.  The Lady Superstar Nayanthara gives her all in the action sequences performing like a pro and is very effective as the cop Narmatha.   Vijay Sethupathi once again proves his versatility in making the absolutely ruthless Kaliee appalling as well as likeable in the humour he infuses in a few scenes.  Priyamani, Sanya Malhotra,Sanjeeta Bhattacharya, Girija Oak, Lehar Khan and Aaliyah Qureishi are absolutely fab as the women power behind Azad.  Sanjay Dutt's cameo doesn't seem to work in the Tamil version and Yogi Babu's fleeting role passes off in a jiffy.   Deepika Padukone owns the ten minutes or so she appears on screen with her impeccable beauty and strong screen presence.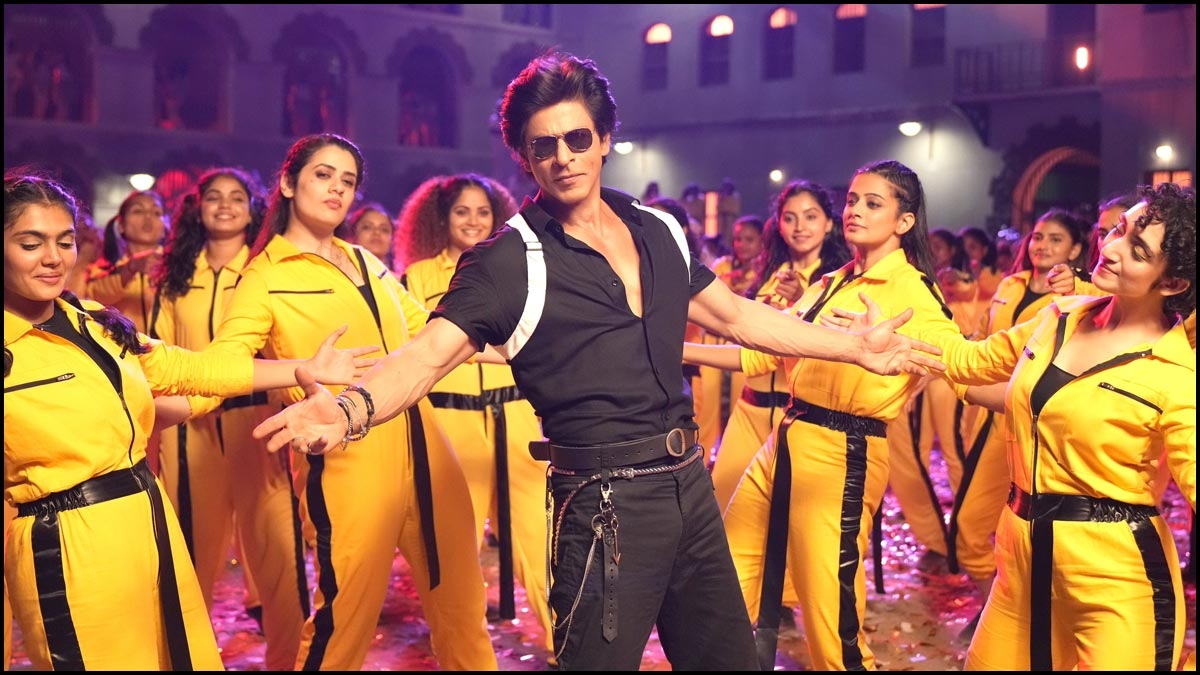 What works best in 'Jawan' is the mass elements that Atlee has added to the screenplay not only showcasing the hero but the other cast members as well.  The sequence where the big money from the rich Vijay Sethupathi is taken away from him and distributed to lakhs of farmers is heartwarming despite it being a pipe dream.  There are sentiments galore in the film namely the father son emotions between the two heroes, the father daughter relationship between SRK and Nayan's daughter, the girls bonding together in their mission and even a brother sentiment for the villain.  Atlee makes most of them work due to the depth in his writing even from a pure commercial point of view.  The first half is pretty tight and full of surprises.  Since the story runs on many planes the engagement factor is there through most parts.  Well choreographed action sequences especially the old SRK biking is a treat to watch.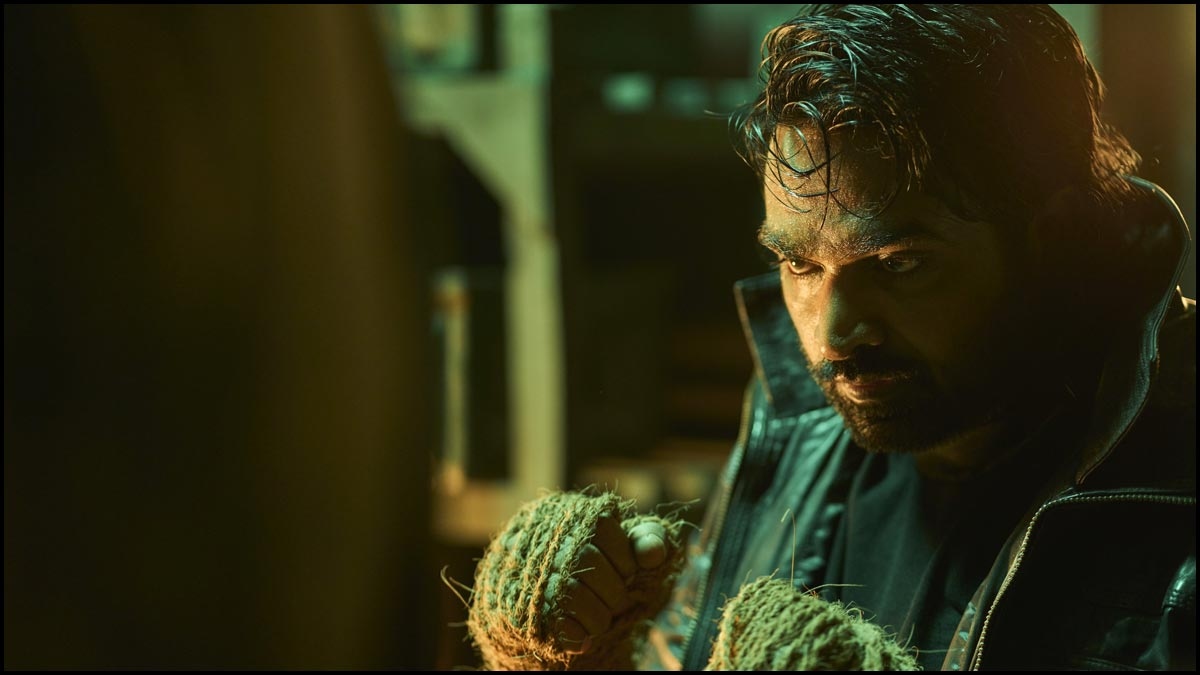 On the down side 'Jawan' sags after the interval where it takes the much tread path of such commercial films from the South.  Logical loopholes are one too many, especially the main leads taking bullets point blank and continuing as if its a breeze.   The film stutters to a rather underwhelming climax that is pretty disappointing considering the promise it had.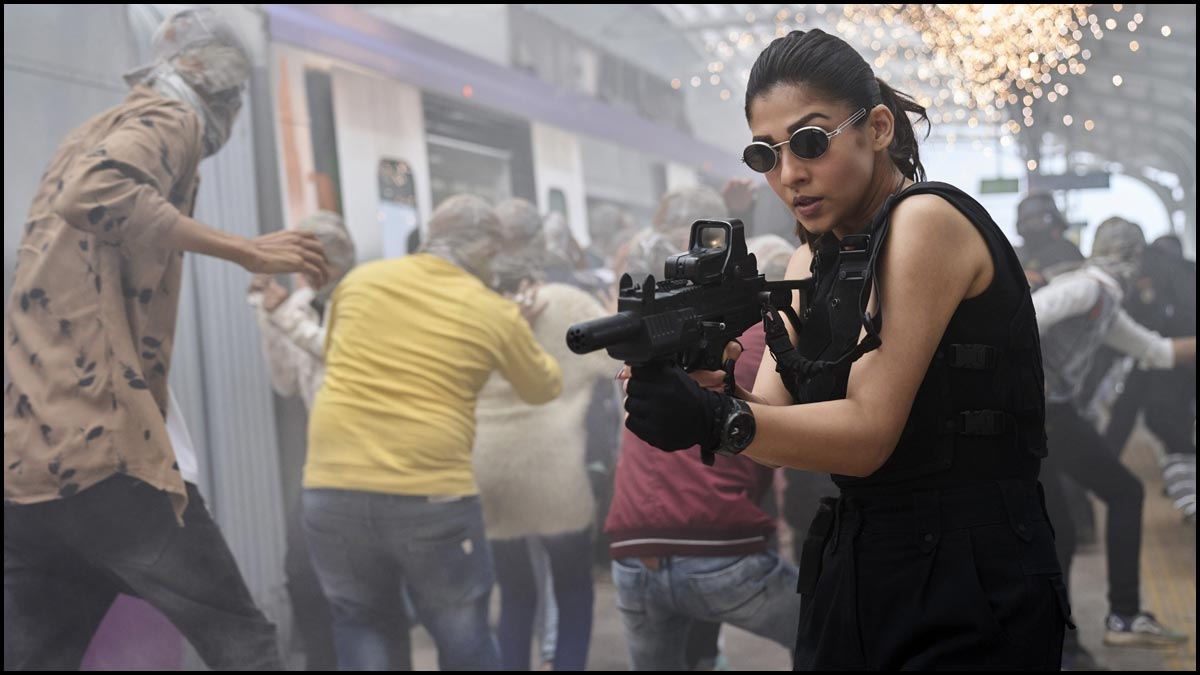 Anirudh making his Bollywood debut carries his recent good form with him and elevates the hero, villain, heroine and the girls with their own theme music.  G.K. Vishnu's lighting and camera movements have given the film a touch of surrealism while T. Muthuraj's production design has provided the gadgetry and color palette to signify the high masala quotient.  Ruben with his cuts has made the film racy from start to finish.  Red Chillies Entertainment has spared no expenses to package the film to international standards and can expect a mega blockbuster once again.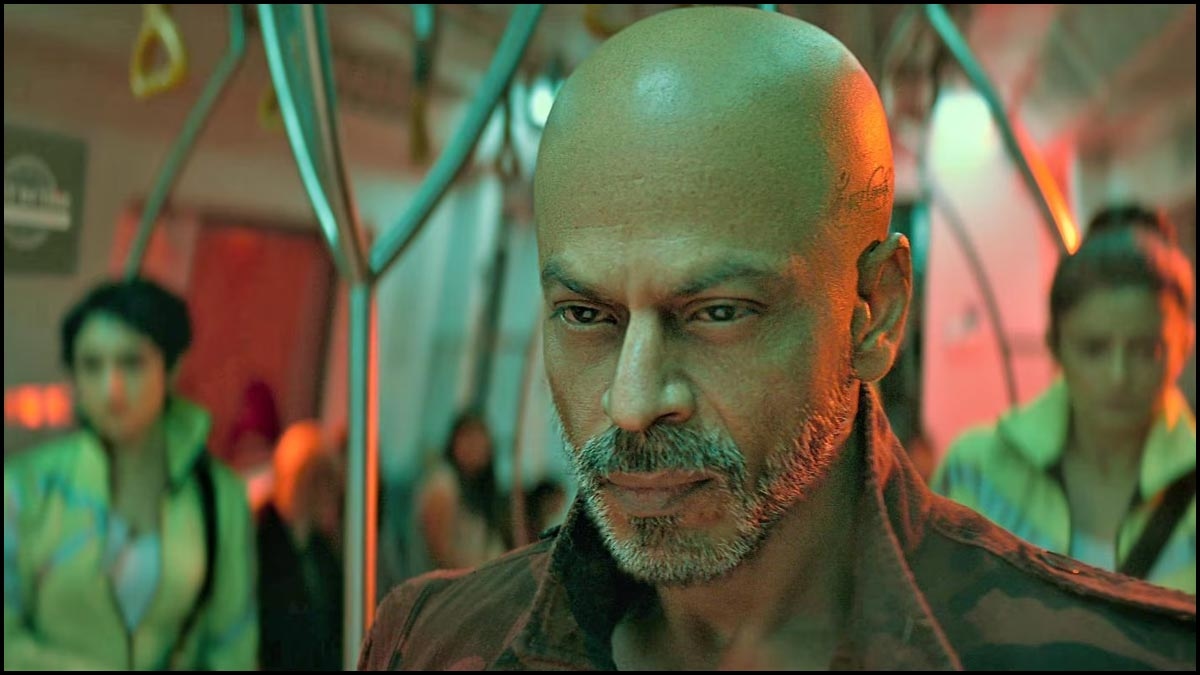 Atlee who has a hundred percent track record of delivering four back to back blockbuster hits in Tamil has gone to the next level in his career with 'Jawan'.  He has almost perfectly blended a very South Indian flavored story to  North Indian sensibilities.  Above all the film has stronger representation of females, old people and to a certain extent children too making it a wholesome family entertainer.
Verdict : Go for this racy masala entertainer with a strong female presence filled with engaging elements
Rating: 3.5 / 5.0
Showcase your talent to millions!!
Write about topics that interest you - anything from movies to cricket, gadgets to startups.
SUBMIT ARTICLE
More
Malayalam Movie Reviews
Drishyam 2
Ayyappanum Koshiyum
Hey Jude
Aadhi
Vimaanam
Aadu 2