That rural touch
Monday, November 21, 2016 • Telugu Comments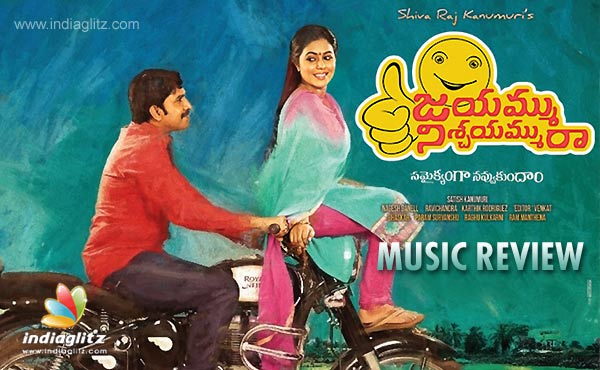 Music director Ravi Chandra has in his service five lyricists, not to forget a rash of competent singers. Bhargavi Pillai, Ravi Chandra, Karthik Rodridguez, Haricharan and Spandana are the singers. VV Raamanjhaneyulu, Srini Indhukuri, Chandu and R Raamu are the lyricists.
Hello Everybody
Singers: Bhargavi Pillai, Ravi Chandra, Karthik Rodridguez
Lyricist: VV Raamanjhaneyulu
At the level of concept, 'Hello Everybody' is a throwback to those intro songs wherein the protagonist has an image for being a comedian. For a self-confessed 'desivali' movie, this number breaks free of its own self-description and comes with a lot of English-language words/phrases. Sarvamangalam is that ritualist whom our films would dub superstitious. The singers choruse about his beliefs in astrology ('grahamula permission', 'ISRO kaina mathi chedunatta', etc) and more. Ravichandra's music is quite a foot-tapping one.
Thaka Dimtaka
Singer: Haricharan
Lyricist: Srini Indhukuri
Haricharan's vocals express the joy of the lover boy with a flourish of breeziness. Lyricist Srini's choice of words makes 'Thaka Dimtaka' an authentic Telugu number brimming with nativity. Although the number has the ring of those '90s duets and is also a rip-off at the core, the sound is nevertheless engaging.
O Rangula Chiluka
Singer: Spandana
Lyricist: VV Raamanjhaneyulu
This one has been the film's signature number as it grew on our ears quite early on. Spandana's appeal to the recalcitrant girl is engrossing. The lyrics are soothing on ears; they are apt for a debut hero who has for years played a comedian. A short number yes, but makes greater impact.
Nee Navvullo
Singer: Ravi Chandra
Lyricist: Chandu
The girl is ubiquitous. For the lover boy, of course. Ravi Chandra's music has quite an archaic flavour about it. Chandu's lyrics make a mark as they come with a poetic flourish. The music director here doubles up as a singer and does a fine job, making up for his not-so-noteworthy work as a musician.
Kalalu Naavena
Singer: Haricharan
Lyricist: R Raamu
R Raamu's lyrics bring out the agony of the pained lover remarkably well. Lines like 'Nenu nee kalalo ki chere dari edho teliyalede' make this song worth it. Haricharan's formidable vocals elevate the song's mood and go a long way in making it sound less yesteryear, thereby negating the oldish feel of the music.
Verdict:
It's an album with a dash of Teluguness, much as the tag line would have anticipated. Lyrics, vocals and the music impress - in that order.
Rating: 3/5