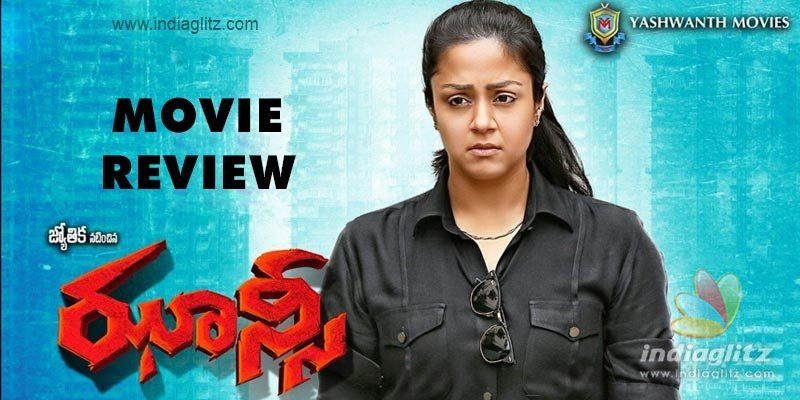 'Jhansi', dubbed version of Tamil film 'Naachiyaar', stars Jyothika in the lead.  It hit the screens this Friday.  Here is our review of the drama.
Story: 
Jhansi (Jyothika) is a sincere and ruthless cop, who is not only known for her violent interrogation but also for insubordination towards her higher officials. Her plan to go for a foreign tour with her family is disrupted by a sensitive case which involves a slum-dwelling minor girl Raasi (debutante Ivana) and her lover Gali (GV Prakash Kumar), which leads the latter to be jailed. 
Gali is accused of raping his friend Raasi, who is now pregnant.  But with Jhansi taking the pitiable case of Raasi seriously, she goes to any extent to see that she gets justice.  During her investigation, Jhansi finds out a shocking truth.
Analysis: 
Critically-acclaimed director Bala comes unarmed with a weak storyline.  Like Pa. Ranjith ('Kabali' and 'Kaala' director), he too seems to believe that intentions are enough to see a film through.  
Jhansi's screenplay lacks consistency and moves at a jerky pace. The love story between GVP and Ivana is unconvincing and it prevents the audience from emotionally investing in their characters. The villain is suddenly thrown into the screenplay and due to this, Jyothika's punishment to him does not create an impact. 
Everybody is busy talking rudely with others.  Almost every character.  In most of the scenes.  Jyothika is visualized as a Vijayashanthi-meets-'Telangana' Shakuntala kind of character.  
In making GV Prakash look as unkempt, as childlike, as harmless, as pitiable as possible, director Bala forces us to watch a parodied version of his (Bala's) previous heroes.  The actor over-emotes.  In one scene, he comically barks at his lover and she too does it.  Are we expected to undergo orgasms watching this?  Just because your hero is an underdog, you don't have to make him do all sorts of over-cute things.  
One would expect the stunt scenes in Bala's movies to be quite realistic and hard-hitting but it is a let down here, especially GVPs jail fight. There is a sense of Bala-inflicted deja vu in the mandatory court scene with the familiar Savarna magistrate.  There is no depth in writing, the characterizations are either too raw or too sketchy.  
Coming to positives, which are very few and far between, the portrayal of good characters as bad to mislead the audience is good.  The dehumanization of undertrials in our prisons is brought out well.  How many love stories being in an auto-rickshaw shared by half-a-dozen others?  
Jyothika commendably plays her character bereft of any emotion when dealing with colleagues superiors and even her husband. But to the juvenile girl in trouble, she shows momentary softness with subtle expressions that give her character more depth. Ivana, the new girl who plays GVPs juvenile lover, is OK.
The running time of 100 minutes is a plus considering the feeble story. Both the decisions of Jyothika and GVP in the climax is interesting.  
Ilayaraja's music neither helps nor hampers the film. Theni Easwar's camera, Balachander's art direction and Sathish Suriya's editing are passable. 
Verdict: A weak story, 'Jhansi' is largely underdeveloped.  There is a rehash of old tropes that Bala and the like have been known for.  There are some nuances, which are hardly enough to be of any help.
Rating: 2 / 5.0
Showcase your talent to millions!!
Write about topics that interest you - anything from movies to cricket, gadgets to startups.
SUBMIT ARTICLE
More
తెలుగు Movie Reviews
The Ghost
God Father
Swathimuthyam
Ponniyin Selvan 1
Nene Vasthunna
Babli Bouncer