Innovative
Wednesday, April 27, 2016 • Tamil Comments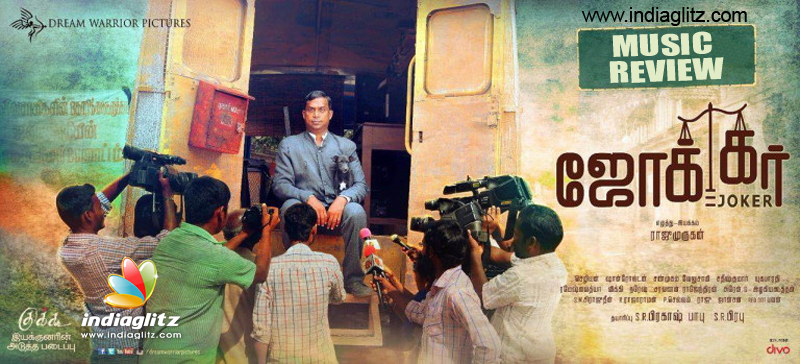 Picking up a thought provoking story line, Raju Murugan of critical acclaim and fame of 'Cuckoo', has roped in Sean Roldan for his upcoming satire 'Joker'. With a bunch of out-of-the-box tunes, here's a run-through of the film's music album.
1. Ennanga Sir Unga Sattam Listen here
Voices: Arandhai Bava, K Perumal
Lyircs: Yuga Bharathi
The opening track of this album is a number on politics. Quite an unusual kickstart, this one is set to tune and percussion as a period set song. Sounding typically like a song straight out of Eastman print rich black and white, the song questions a prospective leader who campaigns to vote for him, on what his plans are, for the next five years. Sung in the rustic voices of Arandhai Bava and K Perumal, titch for the context, Yuga Bharathi's lyrics are subtle yet strong. Close on the heels of elections in the state, although coming across as a lighthearted thread of questions, the song carries a palpably heavy and looming question, in strong and smart choice of words.
2. Ola ola Kudisaiyila Listen here
Voices: Murugavel, Karthika Vaidyanathan
Lyrics: Yuga Bharathi
There are many unique attributes to this song, and we list them here in the order that it impacted us. The median tone that the song is set on, is arrived at, after a detailed swing, opening with violins and hum, and flipping onto to flute notes eventually. Murugavel's voice is a trouvaille to the song; his voice earthen and solid, yet soft in his rendering notes; while, Karthika's voice is rich, strong, and sweet. With a rural touch to a regular romantic duet, this one is ambitious and constructive on the whole. Worded beautifully in constructive dialogues, the violins, flute, tabla, keys, and all the pause and pleasant tip-top tides make up for a beautiful song altogether. Lastly, yet most importantly, although the song potentially comes across as a straightforward tune, it is a thread of tough notes to catch and pin at the right pitch; Sean Roldan has nailed it every single time, all through.
3. Jasmine U Listen here
Voice: Sundarayyar
Lyrics: Yuga Bharathi
This one is a funky number. It is a romantic solo of a Cupid struck lad, longing for the sight of his lady love. Worded almost literally as his rapture real time, the song derives its authenticity of appetency, in Sundarayyar's rendition bearing a terrene quality. With minimal beats, the song is set on extensive play of strings, especially plucked instruments. One of the many notable points in this song is the nature of lyrics, describing the heroine of the song with buck teeth, oil-drenched scalp, and everything else generally associated with ugliness - goes to show that love is not about what the world defines as beauty, but is about seeing and appreciating the beauty in the person of interest.
4. Chellamma Listen here
Voices: K Perumal, Sean Roldan, Lalitha Sudha
Lyrics: Ramesh Vaidya
This song is sans beats, and relies on a sinewy orchestra for the background support. The song opens with Hindi lyrics, before opening out as a loving call in Lalitha's voice. The song is the rendition of an affectionate solo, for a bosom one, caring dearly in each phrase. Words for this one have been cherry picked by Ramesh Vaidya, that speak of the speciality in the relationship, relating it to beautiful aspects of nature in parts, and reminiscing in poetic memories in parts. In all, this call of love is tender yet loud and clear.
5. Halla Bol Listen here
Voices: Sean Roldan, Kalyani Nair
Lyrics: Yuga Bharathi
Don't get misled by the title - this is very much a Tamil song, and a chaste one at that. Welcome to the first western tune of the album. This number is a string of inspirational verses that are thought provoking. Aptly set on a get-up-and-go tune, Halla Bol is a song brimming with energy. But for the pair of words in its title, the entire song is worded in unadulterated Tamil, on a sequence that is soothing to the ears and mind. Kalyani's sharp voice makes for the best complement to such an ambitous and energetic tune. With varying levels, tones, pitches, and notes of guitar, combined with gentle beats, and complete with nuances in Sean Roldan's rasper, the entire package is a treat to the ears.
6. Mannar Mannan Theme Listen here
Voice: Rani
Drawing portions from a traditional, old, folklore set to tune, Mannar Mannan Theme sets rolling on a series of soft beats, harmonium, and multiple other instruments, that leave the effect of a 1950s funny movie score. The song with its quirky lyrics, couldn't have found a match better than in Rani's unique idiomatic voice. The quick rhyme ends in under three minutes of a series of detailed descriptive epithets for the hero.
Intriguing tunes for a potentiality interesting story, 'Joker' fares smart as independent music, clear in its creativity and notes. With all the intricacies, this album is yet another feather on Sean's cap.
Verdict: Period set apotheosis
Rating: 3.2/5