Lyrically rich
Tuesday, August 23, 2016 • Telugu Comments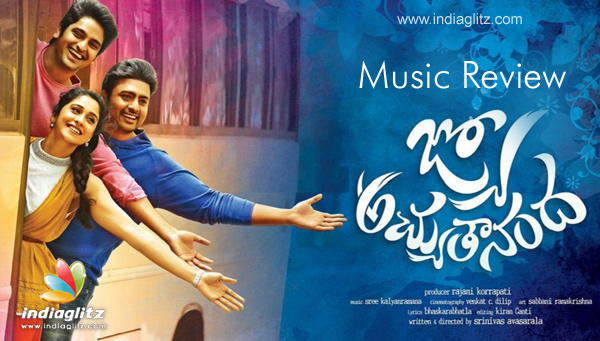 Kalyan Koduri's music has always been about substance over style. This one is no exception. Lyrics are by Bhaskarabhatla. Karthik, Ramya Behara, Simha, Shankar Mahadevan, Sree Kalyanaramana, Smita, Harini Rao are the singers.
Read on..
Akupacchani Chandamamala
Artists: Karthik, Ramya Behara
Lyricist: Bhaskarabhatla
Bhaskarabhatla's metaphorical lyrics are a cut above the rest. A song that brings out the poetic imagination of two lovers, it has both pluses and minuses going for it. If the imaginative lyrics written in chaste Telugu (the rhyming 'Vasanthalu.. Tusharalu', 'Nidarlo kalalne panchukundam') catch attention, Kalyan Koduri wrapping the product in an old-fashioned cover threatens to take the zing out. Music-wise, it sounds pretty oldish, although that doesn't mean that it's not lovable by any stretch of imagination. Karthik and Ramya Behara prove just right. The highs and lows have a rhythmic flow about them, thanks to the music director's command over the craft.
Suvarna Suvarna
Artist: Simha
Lyricist: Bhaskarabhatla
It's a quintessential Bhaskarabhatla lyrical, ably supported by Kalyan's appealing music. Boisterous in a positive and mild way, it's massy without being crass. The persistence of Suvarna is evident (the name was most recently used in 'Guntur Talkies'). The similes, the use of words like 'Kathakali', 'Anarkali' and 'Deepwali', the use of words like 'busa', 'nasa', 'bajaruna', 'choodalana', 'pusukunna', 'putukkuna' are interesting. Simha's voice is stentorian, and pleasing on ears. All in all, an enjoyable number with catchy beats.
Oka Lalana
Artist: Shankar Mahadevan
Lyricist: Bhaskarabhatla
As far as the lyrical value is concerned, this one reaches the zenith. As far as the musical value is concerned, it hits the bull's eye, impressing the discerning in the main. Bhaskarabhatla's 'Vana jalle rayabharam vatiki' is a cut above the rest. 'Pena vesukunna premalu mela mellaga yetu poyeno' is another highlight. Shankar Mahadevan's meticulous and flawless crooning is a best feature of the album. The vocals lend a certain depth to the song.
Jyo Achyutananda
Artist: Sree Kalyanaramana, Smita
Lyricist: Bhaskarabhatla
Kalyan Koduri seems to pull out a stock tune here. The lullaby-style tune induces a sense of deja vu, prompting the listener say, 'Not again!'. Sree Kalyanaramana and Smita fit the bill. Their talent gets fullest justice in terms of the nuanced approach. As for the lyrics, the writer once again puts his song on a higher pedestal.
Oka Lalana
Artist: Harini Rao
Lyricist: Bhaskarabhatla
The female version of 'Oka Lalana' comes with a singer who seems to have been chosen by the music director to break certain conventions. Harini Rao's vocals are not in the run-of-the-mill mould. The song's temperament is as impressive. Profound lyrics complete the experience.
Verdict: The Kalyan Koduri-Srinivas Avasarala combo is here for the lovers of music. Bhaskarabhatla's single card outing makes this one a rainbow-like album. Watch out for the soothing music, fine lyrics and seasoned voices, including Shankar Mahadevan's.
Rating: 3/5