'Kaashmora': An exhaustive survey of the grandeur
Monday, October 24, 2016 • Telugu Comments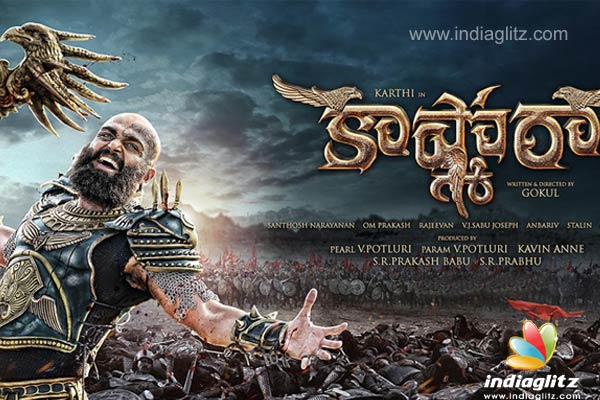 Popular Art Director/Production Designer Rajeevan has worked for many stylish urban flicks belonging to various genres. For the first time, Rajeevan has worked for a fantasy and it is the mega budgeted 'Kaashmora' which has a contemporary as well as an imperial setting.
While the Karthi-Nayanthara starrer is getting ready to hit the screens as a grand Diwali treat, Rajeevan shares many interesting and intricate details of his mammoth set design work for this film.
What went into the designing:
'Kaashmora' is a fantasy script. It does not have reference to any period. In the story, we say it is 600 years back or 1000 years back. We don't have any references pertaining to that period in terms of the architecture, the costumes and the looks. There were a lot of invasions during this period. Based on that we have created an idea. It's a pure fantasy film.
Portions related to that period are for 30-35 minutes. The rest of the film is a contemporary story. This fantasy portion will come post-interval. The same settings come to life after the flashback. How those places (sets) look now had to be recreated. The humour in the first half, even most of the second half humor, is laced with the elements of horror and black magic.
Regarding costumes there were so many discussions and arguments among us - about the war costumes, armours, jewelry, etc. We took a lot of references from Hollywood films. They should also suit the local audience's preferences. So we came up with a logic. In all kingdoms, people from other kingdoms will come for trade. The first things they bring for trade are costumes and jewelry. Colour-wise and costume-wise, we can take certain liberties. But architecture-wise, it should be based on our country's ancient times. The reference we have for that period are the architectures in Mahabalipuram. So the sketches of the sets will resemble Mahabalipuram. But for grandeur and the structures, we have done a lot of changes - like huge columns, 150-200 feet pillars etc.
The very many sets:
For this fantasy portion alone, we have designed 19 sets. One big Durbar (The King's Court) which is 120X240 ft. This will come in the flashback as a palace and in the contemporary setting as a dilapidated library. We have done a lot of sets for the Princess' character played by Nayanthara. She has a song, scenes, actions and a wedding sequence. So we have created a Queen's bath, Anthapuram (recreation space of queens and princesses), a courtyard, corridors, dining halls, storage rooms and a lot more.
Then we have created a 1200 ft high tower. It will have an Eagle's head on the top. There is a scene in which Nayanthara practices war in this palace.
The war sequences in 'Kaashmora':
The entire second half has been shot in sets, except for a war sequence which has been shot in an open ground in ECR. Backgrounds were extended with lot of sets included in that. So we moved the set inside the ground to shoot the war sequence.
There is another war sequence which will come first in the film. It happens between two kings. It will happen between two hills; In a path carved out by breaking a huge rock. The heroine comes in with around 50 warriors. Karthi comes as a single person and wins them. This is the setting of the war. All these should be completely captured in the set. We built a set of 300 ft length which would look like as if a rock has been broken in to pieces. The rest was extended in CG.
We created a shed of 100X300 length and 45 ft high. Since the entire second half was shot in the sets, all the sets were done in that shed.
How CG and art direction have supplemented and complemented each other:
It's a good way of putting the question. Generally people ask whether CG will overtake the Art direction. It is not possible. Both go hand in hand. Computer Graphics Integrated (CGI) supports and complements Art direction. For that half an hour fantasy portion we had around 97 minutes of unmarried CG. It was close to 2,000 shots. Twenty-five companies from all over the world have worked on it. It is an intelligent decision to split the work order. Work is executed at different centres while one company compiled and handled the work. Shots are looking rich and good. CG helped us a lot.
The costumes:
We (Art department) completely worked on the War costumes. I sat and designed everything in 3D. We used latest technologies. Lot of elements were like 3D printed. You can look them in the armous worn by Karthi. The intricate details in that are all 3D printed.
War costumes are usually made in fiber glass. That will be difficult to carry and the person wearing it will struggle to even move. We have done it in polyurethane foam which will make the costume completely flexible. They can wear it like a shirt. It made things easy for everybody to work.
The model pieces for all weapons were made in Rajasthan. We brought them here and created duplicates for them. The weapons are also made of foam instead of fibre glass, for two reasons; First, its cost is lesser by ten times. We can make a large number of pieces easily and quickly. Second reasons is, handling it is very easy; light weight; it will not harm anyone; All weapons were done using this material.
Chariots were made according to the usual practice. We designed fresh chariots. With proper suspension to enable the actors stand on them for a substantial period of time. We shot the war for ten days. If we had made it with mere wooden pieces, the artists would have incurred severe back pain.
'Baahubali', the benchmark:
'Baahubali' has set a benchmark. That is an out-and-out war and imperial film. In 'Kaashmora', this backdrop constitutes only a certain portion. There were budgetary constraints as well. Our budget for the whole film is 1/4th of what they spent on 'Baahubali'. We have done our best to make it equal to 'Baahubali'- look-wise, war-wise, shots-wise. Though we don't have huge war sequences with more than 2,000 people, many people will be visible in the war sequences of 'Kaashmora'.
Director Gokul has done it very intelligently. Instead of showing the war in open ground he has made it like a play. He has dramatized the portions of people dying in the war. 'Baahubali' war portion is split into many episodes. Each war in this film will be one such episode.
Related News
Actress Photos
Manjusha
Mehreen Pirzada
Kajal Agarwal
Sanjjanaa