"1200 feet tower, 200 feet pillar, 19 different sets for one film 'Kaashmora'"- Rajeevan
Saturday, October 22, 2016 • Tamil Comments

Listen to article
--:-- / --:--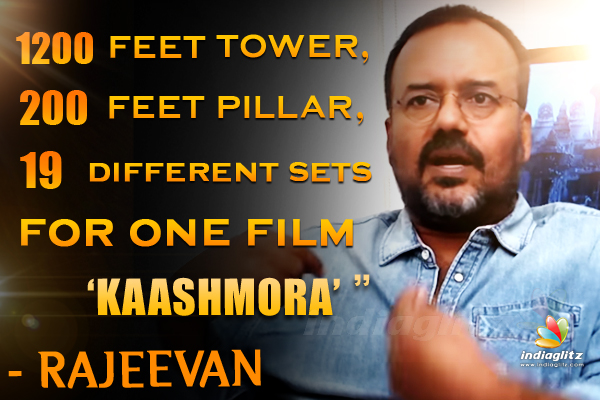 Popular Art Director/Production Designer Rajeevan has worked in many stylish urban flicks falling under various genres. For the first time Rajeevan has worked in a fantasy film and it is the mega budget Kaashmora` which has a contemporary as well as period setting.
While the Karthi-Nayanthara starrer is getting ready to hit the screens as a grand Diwali treat, Rajeevan spills the beans on many interesting and intricate details of his mamoth set design work for this film.
Excerpts:
What is the meaning of the title Kaashmora?
Kaashmora has two-three meanings. One is exorcist. Other one is someone who could terrify. In some places in Andhra, mothers will use this term to threaten the children when they refuse to eat food. There is also a pun intended in this title Kaashmora`. There is a song for cash. Karthi`s character living in the contemporary period setting of the film will seek monetary benefit for everything. He thinks everything in terms of cash. So there are a lot of reasons to have this title.
What kind of a film is Kaashmora`? From the trailer it looks like a Period film. So how did you prepare yourself to work in this film?
First of all this is not a period film. Its a fantasy script. Period film is referring to a certain period say 3rd century. Ezham Arivu` is a period film. Iruvar` is a period film. They referred to a period. Kaashmora` does not have reference to any period. In the story we say it is 600 years back or 1000 years back. We dont have any references for the period pertaining to 1000 years before in terms of architecture, costumes or looks. There have been lot of invasions in this period. Based on that we have created a idea. Its a pure fantasy film.
In this film that period portions comes for 30-35 minutes. There is a film apart from this portion in it; A cotemporary story; This fantasy portion will come post-interval. The same settings come to life after the fantasy portions coming in flashback. How those places (sets) look now. In this way it will be complete entertainment. The first half, even most of the second half humor will be abundant with horror and black magic. It will be a wholesome entertainer.
Regarding costumes there were so many discussions and arguments within us- War costumes, armours, jewelry; how they should look like. We took lot of references from Hollywood films. They should also suit the local audience preferences. So we came up with a logic. In all kingdoms, people from other kingdoms will come for trade. First they bring for trade is their costumes and jewelery. So clourwise and costume wise we can take certain liberties. But architecture wise it should be based on our country`s ancient times. The reference we have for that period are the architectures in Mahabalipuram. So the sketches of the sets will resemble Mahabalipuram. But for grandeur, structurwise we have done a lot of changes-like huge columns, 150-200 feet pillars etc.
Totally how many sets you have designed for Kaashmora`?
For this fantasy portion alone we have designed 19 sets. One big Durbar (The King`s Court) which is 120 by 240 feet. This will come in flashback as palace and in contemparary setting as a dilapitated library. We have done a lot of sets for the Princess character played by Nayanthara. She has a song, scenes, actions and a wedding sequence. So we have created a Queen`s bath, Anthapuram (recreation space of queens and princesses) , Courtyard, corridors, dining halls, storage rooms and a lot more.
Then we have created a 1200 feet high tower. It will have a eagle`s head on the top. There is a scene in which Nayanthara practicies war in this place..
All these sets will come in period as well a contemporary setting. In the present they will look dilapitated and they are possesed by a ghost.
Tell us about the war sequence in Kaashmora`?How did you work on the sets for that?
The entire second half has been shot in sets except for a war sequence which has been shot in an open ground in ECR. Backgrounds were extended with lot of sets included in that. So we moved the set inside the ground to shoot the war sequence.
There is another war sequence which will come first in the film. It happens between two kings. It will happen between two hills; In a path carved out by breaking a huge rock. Heroine comes with a around 50 warriors. Karthi comes as a single person and wins them. This is the setting of the war. All these should be completely captured in the set. We built a set of for 300 feet length which would look like as if a roc k has been broken in to pieces. Rest was extended in CG.
We created a shed of 100 by 300 length and 45 feet high. Since the entire second half was shot within the sets all the sets were done in that shed.
How do CG Work and Art direction have supplemented and complimented each other in the film?
Its a good way of putting the question. Generally people ask whether CG will overtake the Art direction. It is not possible. Both go hand in hand. Computer Graphics Integrated (CGI) supports and compliments Art direction. For that half an hour fantasy portion we had around 97 minutes of unmarried CG. IT was close to 2,000 shots. 25 companies from all over the world have worked on it. It is an intelligent decision to split the work order. Work is executed at different centres whie one company compiled and handled the work. Shots are looking rich and good. CG helped us a lot.
Tell us about the costumes for the film?
We (Art department) completely worked on the War costumes. I sat and designed everything in 3D. We used latest technologies. Lot of elements were like 3D printed. You can look them in the armous worn by Karthi. The small intric details in that are all 3D printed.
War costumes are usually made in fibre glass. That will be difficult to carry and the person wearing it will struggle to even move. We have done it in polyurethane foam which will make the costume completely flexible. They can wear it like a shirt. It made things easy for everybody to work.
The model pieces for all weapons were made in Rajasthan. We brought them here and created duplicates for them. The weapons are also made of foam instead of fibre glass, for two reasons; First, its cost is lesser by ten times. We can make a large number of pieces easily and quickly. Second reasons is, handling it is very easy; light weight; it will not harm anyone; All weapons were done using this material.
Chariots were made according to the usual practice. We designed fresh chariots. With proper suspension to enable the actors stand on them for a substantial period of time. We shot the war f
Follow us on Google News and stay updated with the latest!
Follow
Actress Photos
Ketika Sharma
Siya Gowtham
Rashi Khanna
Dhanshika