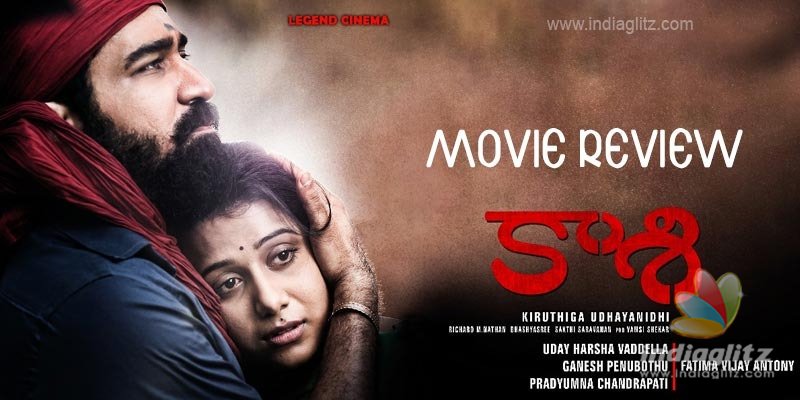 'Kaasi', starring Vijay Antony in the lead, hit the screens this Friday.  Here is our review of the emotional drama, whose Tamil version too released today.
Story:
Dr. Bharat (Vijay Antony) is a compassionate and renowned surgeon in the US.  After a medical emergency strikes her mother, his father tells him that they are not his biological parents.  Bharat has always seen a mysterious dream in which a bull and a snake threaten to consume a toddler (himself).  
The doctor now realizes that he doesn't know anything about his past.  He sets forth to India to find who his parents are.  Bharat comes to know that he was born Kaasi to a woman named Parvathi.  What about his father?  That's the mystery.  
Bharat alias Kaasi now moves to Kancherlapalem to discover the very-much-alive father and comes up with different ideas.  The only character who knows about his secret mission is a sidekick, played by Yogi Babu.  
Analysis:
Although the Teaser and the Trailer of the film suggested that 'Kaasi' is as dark as some of Vijay Antony's previous movies, director Kiruthiga Udhayanidhi claimed to tell a vibrant story rich in romance, comedy and action.  The first 7 minutes of the film was released recently as a 'Sneak Peek' and it left nothing to the imagination about the film's premise.
'Kaasi', on the face of it, has a strong point that has a commercial value.  Crossing the oceans in search of biological parents, that too by someone whose past is apparently tumultuous, is both exciting and gritty enough.  And given Vijay's track record, this film was meant to be a sincere attempt.  In a way, the background music and the last 25 minutes or so make 'Kaasi' a drama worth its premise.  In the last leg, social conflicts typical of the countryside lend the story some value.  
Once he goes in search of his father, the screenplay needed to assume nuance.  This would have been ensured, at least to an extent, had two fractured sub-stories not been narrated as flashbacks.  
Somewhere, Kaasi's main aim goes haywire with the film focusing upon extraneous elements.  
The climax portions come to acquire heft.  Had the scenes in the first half and the first half of the second half been written backwards (with the climax as the anchor), the film would have naturally purged itself of what was not supposed to be there.
Yogi Babu's comedy passes muster.  He even speaks dialogues that trivialize Kaasi's pain.  
As far as his different looks go, Vijay Antony is convincing.  His strength lies in bowing down to his limitations as an actor.  He delivers a confident act, although his comedy with Valli (Anjali as Kaasi's secret admirer) should have been better.  Sunaina, Jayaprakash, Nasser, and others do a good job.  
Music by Vijay Antony is just about OK.  The background music is gripping and pat.  Richard Nathan's cinematography works in bits and pieces.
Verdict:
'Kaasi' boasts of good performances, and some factor of suspense till the end.  Technical departments do an okayish job.  Two long episodes extract a price.
Rating: 2.5 / 5.0
Showcase your talent to millions!!
Write about topics that interest you - anything from movies to cricket, gadgets to startups.
SUBMIT ARTICLE
More
Telugu Movie Reviews
Heads & Tales
Natyam
Most Eligible Bachelor
Maha Samudram
Konda Polam
Republic