'Kalpana 2' Starts
Thursday, November 19, 2015 • Tamil Comments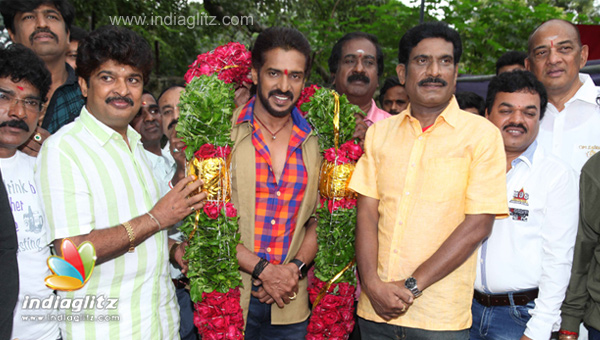 The super hit Tamil film of Raghava Lawrence 'Kanchana 2' is made in Kannada by superstar Upendra in lead role in 'Kalpana 2'. Upendra was in 'Kalpana' a remake of 'Kanchana' of director Ramnarayan in Kannada. Upendra and Priyamani are teamed in this remake film. Ananth Raju is directing Upendra in 'Kalpana 2'. At Dodda Ganapathi and Big Bull temple the 'Kalpana 2' went on the floors. It is produced by Kalla Police fame Dr Rajendra with co producers Shilpa Srinivas and Swamee. It is a big budget cinema says director Anantha Raju. First time he is directing Upendra – super star and top director in his career.
It is a horror cum comedy film. I have not agreed for three producers who came with this remake but Dr Rajendra was very firm so I agreed on a condition that the film should be remade with same quality stated Upendra. It is difficult to make. We have planned five scheduled. There is enough of green mat, CG work, variations to give. Shrama and Parishrama is important opines Upendra. There is devil fight in the climax pointed Upendra. Upendra is simple photographer and 'Juttu Shiva' in a contrast role.
Dr Rajendra also an actor says the films like Exorcist, Omen were seen in the past. This series has started in South India. The children would appreciate this film and bring elders to the theatres hopes Dr Rajendra. It is a mass cinema. Technology plays vital role. There is 13 minutes of graphics. Rajendra intends to release the film for next year May.
Related News
Actress Photos
Priyanka Jawalkar
Sadha
Malavika Nair
Sakshi Agarwal