It's difficult to pull off a remake: Kamal Haasan [Exclusive Interview]
Wednesday, November 4, 2015 • Telugu Comments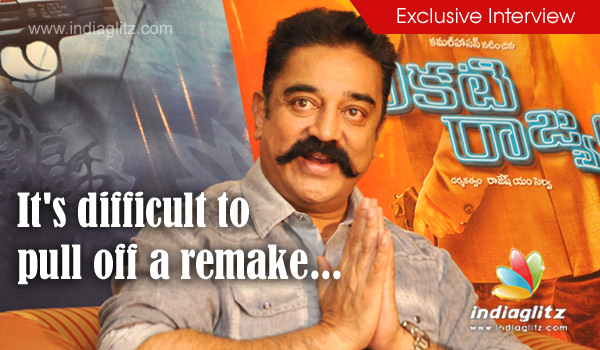 Kamal Haasan is the synonym of acting. His knowledge about the films and technology is incredible. He has teamed up with his long-time associate Rajesh M Selva for a thriller Cheekati Rajyam. The film is slotted for November 20 release. On that occasion, Kamal speaks his heart out about the film and more in a conversation with Indiaglitz.
Is Cheekati Rajyam a remake?
We have taken the plot from the French film Sleepless Nights and developed the script to suit the sensibilities of Telugu and Tamil audience. Usually, there won't be any significance for the roles in fast paced thrillers but Cheekati Rajyam is an exception. The film is hitting the screens on November 20 in Telugu. We delayed the release to avert a clash with Akhil.
Does the film deals with any contemporary issues?
Yes, there is lot of Indian flavour in the film.
Will it be on the lines of Aakali Rajyam?
That's a different film. This is a thriller. In Aakali Rajyam, the major attraction of the story is Sri Sri's poetry. But in Cheekati Rajyam, it revolves around some local issues.
Is the film shot simultaneously in Telugu and Tamil?
Yes, we shot simultaneously to make the film look natural. The police uniforms, patrol vehicles and name plates are different in Chennai and Hyderabad. So we shot them separately.
How difficult was it to shoot simultaneously?
The shooting involves meticulous planning and luckily our team is well-versed with the script. Amavasya Chandrudu is my first production venture. That is a bi-lingual. Even Aakali Rajyam is a bi-lingual. So, I am used to working in multi-lingual projects.
Talk us about your role in Cheekati Rajyam?
I play a police officer with the narcotics control bureau who has a dubious past.
Does the film have special effects?
This is not a graphical extravaganza. It has lot of practical shots. Cinematographer Sanu Verghese used special handheld cameras. Except for two scenes, the camera was never anchored.
Why you nominated Rajesh M Selva as the director of Cheekati Rajyam?
We decided to hand over the direction responsibility to Rajesh M Selva after facing a lot of obstacles. When everything goes wrong, all that matters is how well a person handles the situation. He has been travelling with me for years and fought with me in all the problems. People who are struck in Raj Kamal Films International will definitely get breaks like this, if they won't leave the company mid-way.
Is it a conscious decision to move away from direction?
Probably, yes! When I direct a film I have to spend three-four months on it alone. When I want to increase the quality of films at rapid pace, direction is something that I have to sacrifice.
What kind of rapport you share with Ghibran?
Ghibran is a good technician. His work speaks volumes about it. All his songs have topped the charts. I love his music.
You seem to be repeating the leading ladies in your every film…
It's not about repeating just for the sake of success or for some superstition. We choose the cast as per our convenience and keeping their talent in our mind.
Is it because of the high technical values that your films falter at the box-office?
Like how success cannot be attributed to one person or the other, a failure cannot be said the same way. It may be due to bad distribution or inappropriate timing. There will be many reasons for failures, we just can't name one.
You seem to be working in a lot of remakes now...
It's always difficult to pull off a remake. A remake gives us a chance to understand the project well. It all depends on how well you plan and execute it.
Did you dub for your role in Telugu?
Yes, I did dub my lines faster than the Tamil version. I wanted the audience to have the experience of watching a straight film and hence, did it.
Why it took you so long to work in a straight Telugu movie?
It came from where it should come. The audiences have been asking me to work in a straight Telugu film and I did it. I always value audiences' words.
Ever fancy working in a mythological movie?
I would love to do a film on Lankeshwar.
Why Cheekati Rajyam's re-recording was done in London?
We went to London because we don't have state-of-the-art equipment here. Very soon, we will get such mixing studios here.
Brief us about the action episodes crafted by three foreign stuntmen….
The film has high voltage action sequences. The reason for roping in three action choreographers is we wanted our stunt man to work in tune with their conviction.
Are there any specific reasons to launch a training institute?
I should also get trained on many aspects despite how big an actor I may be! I want the people to learn the nuances of cinema in our country itself.
You acted in a lot of unconventional films. What according to you is the reason for the failures of your films?
Stalwarts like NTR, MGR and Dilip Kumar doesn't have 100% success rate. It all depends on how well you make a film and how audience receives it.
Seeing the astounding reception Baahubali has got, do you think you missed an opportunity shelving Marudanayagam?
Even if Baahubali was released after 10 years, it would have run the same way. Take Mughal-E-Azam, the film was a big hit when it was released in old times. Even after its second release, it again created history. So, good films always have good run, whenever they hit the screens.
What is the status of Vishwaroopam 2?
The film is in post-production stages. It may take another five months.
What is your comment on filmmakers returning their awards?
If a filmmaker wants to protest against intolerance or something other, they should also return their money besies their awards. I have no money and I don't want to return my awards.
Any plans to revive your ambitious project Marudanayagam?
It's a historical film and we are planning to revive it soon.
Why you decided to support Vishal's team in the recently concluded Nadigar Sangam elections?
Young people always bring loads of energy to an organisation. I want our young generation to lead us.
Do you
Related News
Actress Photos
Kajal Agarwal
Keerthy Suresh
Varalaxmi
Manchu Lakshmi