Kamal's reply to Jayakumar and Raja
Wednesday, July 19, 2017 • Tamil Comments
Actor Kamal Haasan's ongoing battle with the ruling party of Tamil Nadu needs no introduction to readers. Since last week, many ministers of the State have been badmouthing the legendary actor for criticising the government for rampant corruption across the state. Today, even the Chief Minister Edappadi Palanisamy challenged Kamal Haasan to enter politics. Many ministers asked Kamal Haasan for proof for his corruption allegations.
Now Kamal has done something no one would have expected. He has sent a statement urging his fans, followers and also the general public who have not sold their votes for money, to send the proof for the governmental corruption that has affected them. He has also given the link for the portal that contains the email ids of all the ministers of the state for people to address their concerns about corruption. At the same time the actor has urged the people to address their concerns in a dignified language and prove that people are much more courteous than the ministers
In his cautiously worded statement with his typical word plays Kamalhasan taken a dig at TN Minister Jeyakumar who challenged the actor to enter politics and BJP leader H.Raja who said today that Kamal is a "spineless coward".
"My young brother Jeyakumar who challenges me to enter politics or the Bone expert H.Raja have not understood that I have entered politics long ago. I have been a politician ever since I raised my voice against Hindi Imposition."
And the Ulaganayagan is in no mood to spare those who often complain that his Tamil is incomprehensible. The same statement carries the crux of its message in colloquial Tamil so that those who complain about his language could also understand what he intends to convey through his statement.
At last Kamal said the people will raise their voice against corruption in all the government departments and he wishes to highlight the corruption in his field that is cinema. The actor charged that barring a few people like him. All others in the film industry have been a party out of fear to the bribery in the name of getting U certificates for Tamil films in order to get the 30% Entertainment Tax benefit offered by the Tamil Nadu state government until the introduction of GST.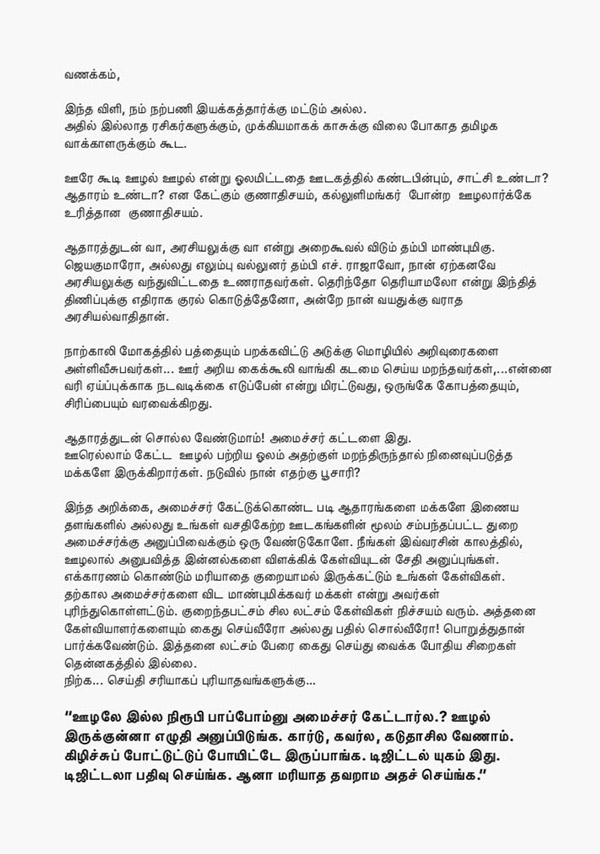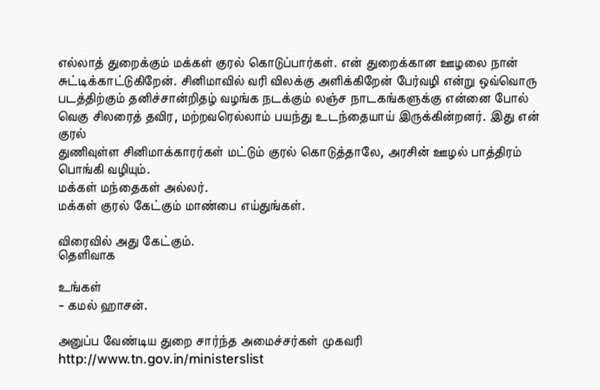 Follow us on Google News and stay updated with the latest!
Follow
Actress Photos
Nidhhi Agerwal
Anupama Parameshwaran
Sandhya Raju
Tamannah