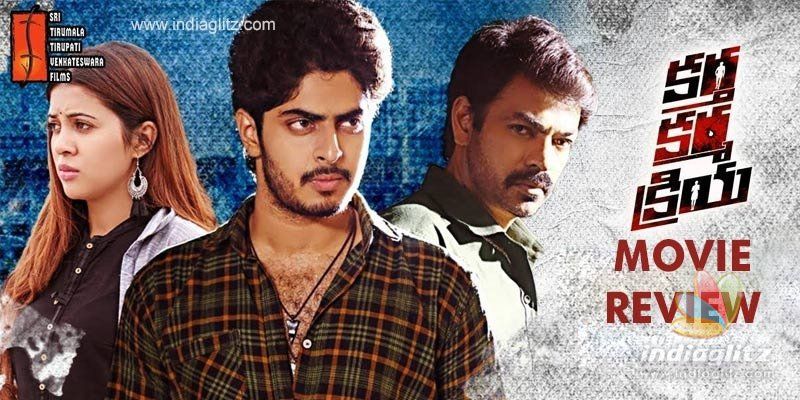 'Kartha Karma Kriya', starring newcomers as the lead pair and Ravi Varma as a cop, hit the screens this Thursday.  Here is our review of the crime thriller.
Story:
Siddhu (debutant Vasanth Sameer), a cell phone repair technician, wants to lead life on his own terms.  Otherwise efficient, he compares himself with rich people living in posh areas.  
When he bumps into Mythri (debutante Sehar), it's instant love for him.  A few days later, he comes to know that her sister Divya committed suicide a few months ago.  He promises to help Mythri in cracking the case as suspicions are there.  
In comes a special cop named Ravi Teja (Ravi Varma), who takes up the case of Divya and two other suicides bearing similarities.  Why did the three women, who lived within a radius of 5km in Hyderabad, kill themselves?  Is there a common link or are the suicides murders?  Who is the culprit?  Answers to these questions are found in the second half.  
Analysis:
For a crime thriller, 'KK' is not without its share of loose ends.  For a semi rom-com, it's not without its share of cliches.  However, the last 30 minutes of the film makes up for the flaws to an extent.  Director Nagu Gavara does away with amateurish shots in the last leg and delivers a fairly engaging drama in the climax.
The film shows its concern for women's safety without being too morally judgmental and that's welcome.  It deals with a flawed character who falls for greed and becomes his own destroyer.  For a mainstream feature to throw up such things is nice.  
The narration, however, lacks punch when it comes to adding layers.  The cop Ravi Teja seems to crack the case with ease.  For example, how does he zero in on that place where the three now-dead women went days before they died?  (CCTV footage is not the answer; how did he end up only with that footage is the question).  How come all the three women thought of taking the extreme step for facing a similar problem?  None of them thought differently?  Even the sequence of the things they do is the same.  Also, the cop keeps on referring to "similarities", about which the audience doesn't come to know much, in an interesting way.  
The behaviour of a character when he comes to know of Divya's suicide is a giveaway.  It would have helped had it been shown that he doesn't know the identity of Mythri's sister a little longer.  
Given the nature of the climax, adding depth to the hero-heroine track (especially their love story) was a must.  But the whole rom-com track is lacks soul.  Mythri is impressed with Siddhu just because he uses the logic that A is B's friend and B is C's friend, so A is C's friend. Wish such things happened to everybody of us!  
The hero's character smacks of conventionalism in the first act.  He speaks regular lines, dances to the song 'Light teesko' and all.  
The lead pair's performance is okayish for newcomers.  If and when Rana Daggubati is bored of dubbing for himself, Vasanth can safely step into his shoes (go figure why).  Given Saher's character and state of mind, she is portrayed too glamorously.  Ravi Varma is earnest and is convincing.  After films like 'Terror', he once again plays a cop's role with elan.  Nutan Raj, Jayaprakash and Kadambari Kiran fit the bill.  
Sravan Bharadwaj's background music works.  Prawin Pudi's editing is good and the cinematography could have been better.
Verdict:
'Kartha Karma Kriya' is partly a missed opportunity.  Coming with a decent storyline, the film has some hits and misses.  A crime thriller, it deals with the sin of greed and how technology can make us vulnerable.
Rating: 2 / 5.0
Showcase your talent to millions!!
Write about topics that interest you - anything from movies to cricket, gadgets to startups.
SUBMIT ARTICLE
More
తెలుగు Movie Reviews
Sita Ramam
Bimbisara
The Legend
Ramarao On Duty
Vikrant Rona
The Gray Man