Kasthuri's sudden u-turn in support of Kamal
Monday, May 13, 2019 • Tamil Comments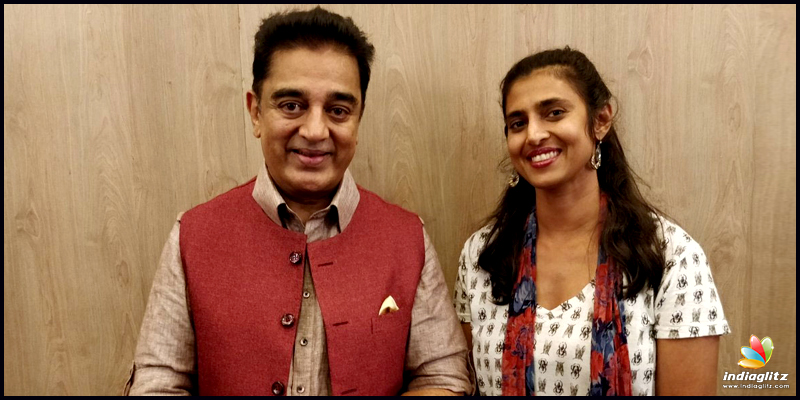 Kamal Haasan courted pan Indian backlash for stating that the first terrorist of India was a Hindu referring to Naturam Godse assassinating Mahatma Gandhi the father of independent India. Kasthuri who acted as Kamal's daughter in 'Indian' slammed his statement "I am a big supporter of Mr #KamalHaasan in many of his ideas. I am not, however, a fan of his playing to the galleries. In a nation full of divisive politics, His positive politicking was a breath of fresh air. Very sad that he too has stooped to selective namecalling.Why stop with just religious demagoguery? lets get the caste politics in as well. Now that #KamalHaasan is talking Hindu terrorism in a muslim area, lets go the whole hog and paint #NathuramGodse as a 'brahmin terrorist' in order to curry favour with other fringe groups !"
That was however early in the morning but early in the evening Kasthuri did a volte-face and has come out in fierce support of the Ulaganayagan. Her new statement reads "Just now watched Kamal's full uncut speech at Shanagar yesterday. Amazed at his clarity of vision and genuine secular ideals. Media is taking just thirty seconds of Kamal Haasan speech and creating a completely wrong impression - and I fell for it!
Kasthuri has added "Yes, The Hindu terror remark was factually wrong. But after watching the full speech, I feel Kamal did not bring it up to rustle up religious sentiments but more to emphasize a secular philosophy. He needs to drop the political correctness a bit. Secular shouldn't be appeasement. I, of all people, should not have fallen for media sensationalism. They've twisted a truly secular speech into a hate speech! Godse quote was blown out of proportion. Kamal not appeasing Muslims, nor accusing Hindus, talks of education, health, water. Pl watch, judge for yourselves."
Actress Photos
Shriya Saran
Meera Mitun
Alia Bhatt
Kiara Advani