Kengulabi complete, Bhandage confident
Thursday, April 13, 2017 • Kannada Comments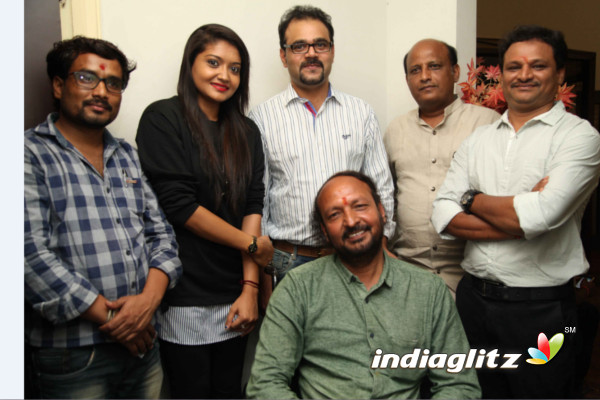 A physically handicap achiever Ghanshyam Bhandage (An activist for the rights of differently able persons from Bagalkot district) is very confident of his prolonged film 'Kengulaabi' success in the box office. The first film of Bhangade was based on novel Devaraya 'Ingale Marga' of Sarjoo Katkar, the second film is based on the novel of Hanumantha Halageri.

Recounting on year of making of this film Ghanshyam Bhandage says several hiccups were not in his control. Right from heroine change several developments forced him to delay the project. The film is ready with shooting and he has plans to release in June this year.

The media briefing was held for 'Kengulabi' in the presence of co producer Basavaraj Mali Patil, Gaurish Akki, Kruthika, director Sridhar Javur, music director Raj Kishor and others.

Anchor turned actor and director Gaurish Akki in lead role of this film is of the opinion that it is a blood curdling cinema. Director Sridhar Javur after reading the novel took up direction. More than my expectations the emotional level has come for the camera. Story writer Hanumantha says this producer is with lot of human values. I have seen his good work in his home town. He is a special person.

Actress Kruthika in her first full length emotional role feels lucky for getting to perform five shades in the film. It was challenging aspect. Ashok used to show how to perform and today my friend actress Yogitha has not come. I miss her very much said Kruthika. On her going to big boss 4, she took permission for three months from producer Ghanshyam Bhandage.