Megastar, masala, magic
Sunday, December 25, 2016 • Telugu Comments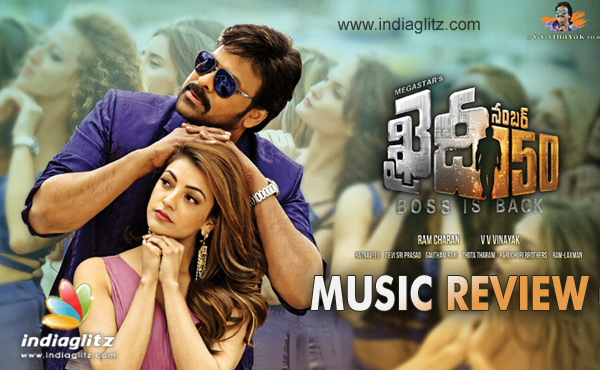 As a single from 'Khaidi No. 150's comes out, here is our review of the song. Watch this space for a review of the other songs as and when they are released.
Ammadu Let's Do Kummudu
Singers: Devi Sri Prasad, Ranina Reddy
Lyricist: Devi Sri Prasad
In the first single of Chiranjeevi's 150th movie, Devi Sri Prasad does a 'kummudu', as music director, singer and lyricist. Rendered also by Ranina Reddy, this peppy number declaims at the outset that it's not a mass song, but the boss song. Complete with throbbing beats and usages that would be appealing to the votaries of masala songs, 'Ammadu Let's Do Kummudu' comes with the usual doses of words from popular culture (like Instagram, Discovery channel, etc).
While the song largely fits the requirements of a Mega dance number wherein the lead pair jive to the pulsating applause of the die-hard fans, one also can't discount the sense of deja vu apparent in the latter portion of each of the stanzas.
Sundari
Singer: Jaspreet Jasz
Lyricist: Srimani
Srimani's lyrics are about singing paeans of HER beauty. The lyricist with an excellent knowledge of English vocab (for someone in the job of writing Telugu cine lyrics) falls back on a range of fields to mirror the man's fascination for her: sports, technology, Nature (moonlight), etc. While Jaspreet Jasz's vocals are doubtlessly electrifying, the embellishments don't suit a hero of Megastar's stature; they would be apt only for the young heroes out there. Devi Sri Prasad once again proves that he is not overwhelmed by Chiranjeevi's peerless image. With Vinayak's prodding, DSP sticks to the ordinary. Only time will tell whether 'Sundari' will be seen differently as part of the movie.
Ratthaalu
Singers: Nakash Aziz, Jasmine Sandlas
Lyricist: Devi Sri Prasad
The playful lyricist in Devi Sri Prasad comes alive for this pulsating song peppered with English-language words from the popular culture. The man and his muse are in competition with each other in hailing each other as unmatchable. Such phrases as 'Gundelona gurralu' and rhyming words like 'walku' and 'heatu' are entertaining. Nakash Aziz has this throbbing voice that can make an item number of this mood all the more electrifying. DSP's instrumentation makes way for the gracious dancer that Chiranjeevi is!
You And Me
Singers: Hariharan & Shreya Goshal
Lyricist: Srimani
This is the album's only underwhelming number. DSP's fine instrumentation doesn't have the song cover itself in glory for the reason that it not only has a ring of rehash, but also inadequate for a superstar of Megastar's stature. Otherwise rendered to a scintillating effect by the Hariharan-Shreya Goshal duo, the lyrics are by Srimani. Once again, the man and his sweetheart out-compete (like they do in 'Ratthalu') each other in using metaphors. 'Mande sureedu' and 'puvvula varada' are meaningful.
Neeru Neeru
Singer: Shankar Mahadevan
Lyricist: Ramajogayya Sastry
Released as a theme song, 'Neeru Neeru' reflects the subject of this movie. Penned to a heart-rending effect by Ramajogayya Sastry, the song throws up activist/journalistic language in the main, but also has poetic terms like 'gundelanni beedu'. Shankar Mahadevan's intense vocals spells the pathos of the farmers' plight so well. DSP, not known for such socially conscientious numbers, draws from certain familiar tunes.
Verdict:
Rock Star and Mega Star rolled into one - that's the album for you. From masala lyrics to pulsating tunes, from Mega highs to masterful beats, you ask it and the album has it.
Rating: 3.25/5