Khushbu slams Shruti Haasan, calling her unprofessional
Tuesday, July 18, 2017 • Tamil Comments

Listen to article
--:-- / --:--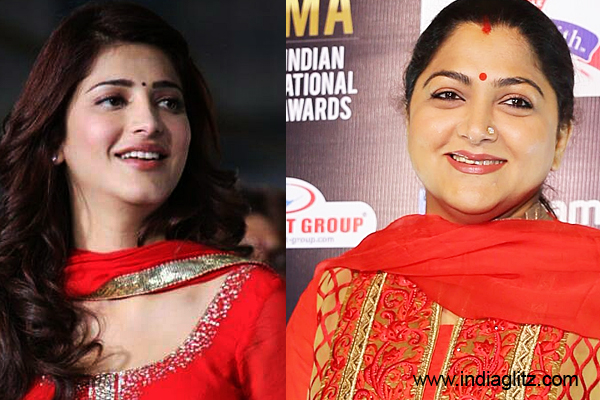 Thenandal Studios organized a never before movie launch ever for Tamil cinema by announcing their Sangamithra` at Cannes with the leads Jayam Ravi, Arya and Shruti Haasan along with director Sundar C and in attendance. It came as a huge shocker when Shruti walked out of the project after returning from France with a vague reason that there were scripting issues.
In a recent interview Shruti had reportedly cited that she did not like to speak about Sangamithra` which has apparently irked Sundar C`s wife Khushbu who has gone all guns blazing against the young actress. Khusbhu has stated that a film like Sangamitra which will be one of the costliest films ever made in India, cannot be made without proper planning and the shooting part is only 30% while 70% of the work is done before shooting. She has hinted that Shruti blaming others for her own shortcomings is a clear case of sour grapes and that she expected a little more professionalism from people who carry a legacy. She has also advised Shruti that looking into her own mistakes and accepting it humbly help will help her to go a long way.
Follow us on Google News and stay updated with the latest!
Follow
Actress Photos
Mehreen Pirzada
Sonal Chauhan
Amala Paul
Shobitha Dhulipala