A folkish experimentation from Santosh
Wednesday, October 5, 2016 • Tamil Comments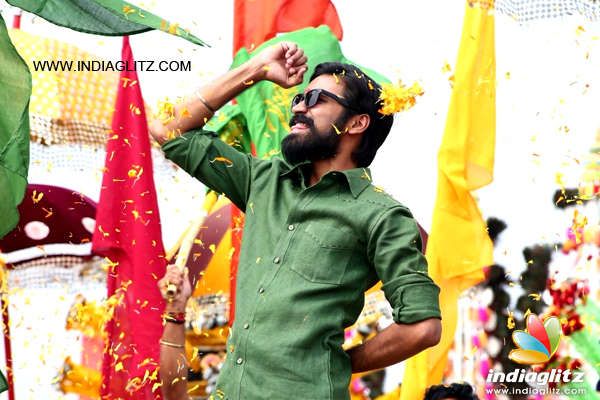 Kodi is getting a grand release this Diwali with Dhanush, Trisha and Anupama in the lead roles. Dhanush joins hands with Durai Senthilkumar for this project which has the talented Santosh Naryanan donning the music composer hat.
Kodi Parakuthu:
Rap & Verses: Dhanush, Arunraja Kamaraj
A pumped up hero celebration song crooned by Dhanush and Arunraja starts off with the traditional trumpet and welcomes with some warm lyrics praising the protagonist. Gives faint traces of Santosh's work from Jigarthanda, but still tries to be unique with the recursive bass elements and rap like vocals. Mixing rap portions with jazz like acoustics in a perfect milieu Santosh has done a fair job.
Ei Suzhli:
Lyrics: Vivek
Singer: Vijaynarain
A full on folkish number worships the heroines beauty, thanks to Vivek's funky lyrics the song has its moments. The electronic trance behind the vocals with some bits of humming between interludes shows the variety within. A straightforward work by Santosh should do more magic with the visuals, for the humming, recursive rhythm is indeed a mystery.
Ariro:
Lyrics: Vivek
Singer: KS Chitra
Somehow when the composers cast legendary singers to do the vocals, they make the orchestration minimal with the singer taking lead. Ariro is a reverberating solo by Chitra who eases through majestic piano which refuses to die down through the number. The emotional content of the song is driven home by excellent string progression and brilliant sound recording. Ariro should get you hooked the more you listen.
Sirukki Vasam:
Lyrics: Vivek
Singer: Anand Aravindakshan, Swetha Mohan
A straightforward melody from Santosh and team traverses between slow and high tempo frequently. The song is a mixture of folkish melody and country jingle yet again tries to be fresh in its composition. The live like acoustic with the recursive drumming and feeble string in the background between the interludes does the trick, but otherwise the track does not do anything out of the ordinary.
Vettu Pottu:
Lyrics: Vivek
Singer: Shankar Mahadevan
Starting off with folkish chorus is yet another full on energetic track from Santosh that has the evergreen Shankar Mahadevan taking lead. The track is tailor made for Dhanush's introduction or maybe a victory lap with full on heavy work of Thavil and heavy bass elements. The energy through the song is spot on, however the tune is yet again plain and straightforward the ones we have listened over and over yet should do the trick for any Dhanush fan.
Verdict : Santosh tries his hand in a folkish album and has his moments.
Rating: 2.75/5