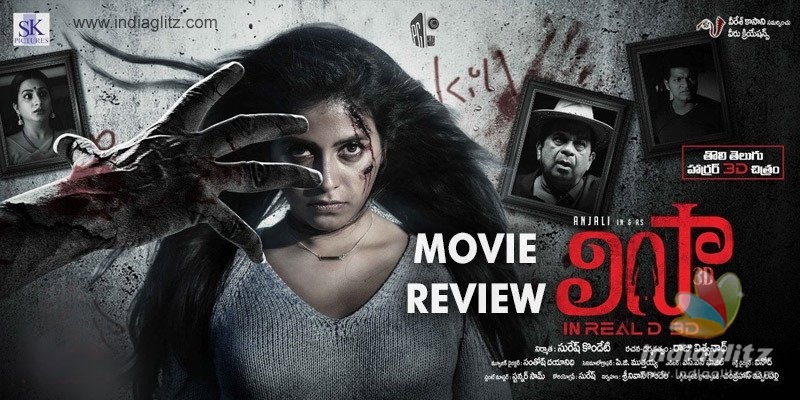 'Lisaa 3D', starring Anjali in the lead, hit the screens this Friday.  Here is our review of the horror flick that has been touted to be the first 3D horror film in Telugu.
Story:
Lisaa (Anjali), brought up by a single mother, wishes to get her mother remarried.  She has a trusted friend in Jaggu (Sam Jones), her college-mate.  Lisaa plans to go to a distant place where her estranged grandparents are staying.  Her intention is to drive a patch-up between her mother and them.
Once at the grandparents' place, Lisaa and Jaggu realize that the living place is eerie.  Lisaa refuses to believe that it is haunted.  Their grandparents (the grandpa's role is played by Makrand Deshpande) look quite suspicious and weird.
All hell breaks loose when Lisaa comes to know of a shocking truth.  What is that truth?  Can Lisaa rescue herself and her boyfriend from the danger they are in?  Answers to these questions are found in the second half.
Analysis:
While watching some horror movies, the stupidity of the horrified characters makes us think that they actually deserve to die.  'Lisaa' goes a step further in making the audience become blood-thirsty.  Half way into the first half, you start telling yourself that Lisaa and Jaggu are rank idiots and they would do well to be killed by the ghost.  Half way into the second half, you start telling yourself that the Lisaa-Jaggu duo and the ghost too should die a premature death somehow.  The half-baked characters are such a big torture to watch.
A self-playing radio, a self-playing TV, a chair seesawing on its own, eerie sounds, a doll - in how many horror flicks are they going to show these no-longer-terrifying elements?  Are they not bored of what they have been seeing and depicting?
Sam Jones gets to play a full-fledged character.  He gets nightmares, walks at nights to test if a ghost is really there in the house (why do these characters want to do the same thing night after night as if they will be given a gallantry award if they spot the ghost?).  Night after night, we are convinced that he can't emote well.
Lisaa starts behaving as if she is a covert ghost-hunter, but she is actually a clueless character in a pointless film.  
The story tries to be a vigilante drama, a very half-hearted and dry one at that.  It's as if the writers and director are more in love with Brahmanandam's comedy rather than the vigilante drama aspect.  
When it is time for the one and only flashback, it's delivered in a very undramatic, matter-of-factly manner.  You are hardly touched by the pathos of the victims in this segment.  
Speaking of chemistry, the chemistry between comedian Yogi Babu and Anjali works better than that between Anjali and Sam Jones.  It's such a horrible way of telling a story.
Santhosh Dayanidhi's music and PG Muthiah's cinematography don't pass the grade.  The 3D effects are below average.
Verdict:
'Lisaa' is a stale script that bombards the audience with underdeveloped characters and cliched scares.  Poor performances, sub-par technical aspects do the film in.
Rating: 1 / 5.0
Showcase your talent to millions!!
Write about topics that interest you - anything from movies to cricket, gadgets to startups.
SUBMIT ARTICLE
More
Telugu Movie Reviews
Sapta Sagaralu Dhaati
Changure Bangaru Raja
Mark Antony
Jawan
Miss Shetty Mr Polishetty
Kushi