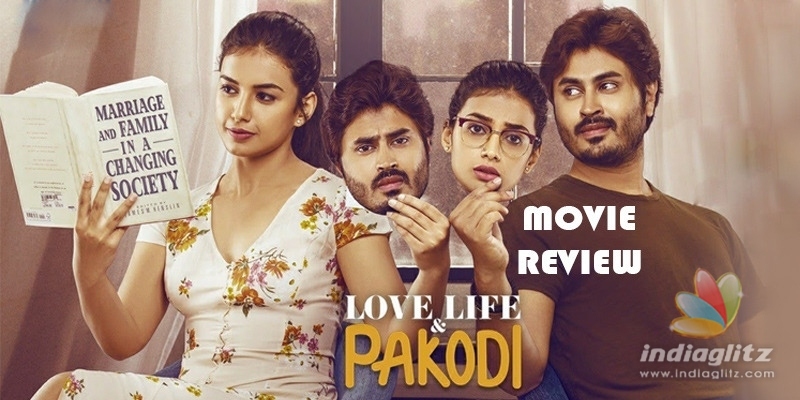 'Love Life & Pakodi' is an indie film that hit the screens today (March 12). Here is our review of the latest box-office release.
Story:
Arun (Bimal Kartheek Rebba) and Rheya (Sanchitha Poonacha) are in a romantic relationship. Theirs is a no-strings-attached affair, replete with bedroom fun and outdoor revelry. After being in a relationship for years, Arun realizes that he is in love with Rheya. This is when the talk of marriage is brought up. But will Rheya agree? There is also a small jolt that the two individuals receive. What is it? That's the second half for you.
Analysis:
In 'Love Life & Pakodi', life is all about relationship talks and love is more about no-hold-barred indulgences. As for Pakodi, it's a mere 'pakodi' in a broth. Nothing much to be worried about.
Made as an indie film by writer-director Jayanth Gali, this is the kind of film where the characters ruminate over break-up stories, relationship and commitment issues endlessly. For accompaniment, there are montage songs and more montage songs. Sometimes, an adult harangues kids with his romantic flashbacks. One wonders what it is with kids being told love stories by privileged adults in our feel-good movies.
The narration is not linear. The timelines shift. To the director's credit, the story-telling is clear-cut. Issues like premarital pregnancy are dealt with in a mature fashion.
The male lead is a fan of Tarantino (what is an indie film without references to some legend?). Much as the film has too many dialogues (everything is verbalized to the T), the love story is narrated through songs as well. "It's a dream-like twist," sings a character, soaking in love.
The love-making scenes are narrated without much fuss. The juxtaposition of a bedroom scene with an action scene is witty. Given how many dialogues in the movie are English-language conversations, the film could well have been called, 'Love Life & Spoken English'. It's good that the film has skipped a release in single screens. Otherwise, many would have thought that Arun is not in agreement with Rheya when he says he can't agree more with her.
The plot thickens in the second half. Much as the jolt works, the film can't shake off its 'Hedonism/confusion passing for non-conformism' feel. Behind the so-called progressive attitudes of the characters, there are insecurities. To the film's credit, it steers clear of hypocrisy by calling out the hypocrisy of a character. The flamboyant and peppy shots could have been staged better.
It would have helped a great deal had the emotional histories of Arun and Rheya been told in a touching manner. The dialogues could have been trimmed, considering they are too straightforward and voluminous. They also come with the vibes of counselling sessions.
The biggest plus has to do with how the female characters find a voice in the film. With okayish performances by the lead pair, the film also features Krishna Hebbale, Kalajyothi, Anuradha Mallikarjun, Akarsh Raj Bagavatula and others. Pavan's music and cinematography by Sagar YVV and Jithin Mohan are good.
Verdict:
This relationship drama makes for a time-pass watch.
Rating: 2.5 / 5.0
Showcase your talent to millions!!
Write about topics that interest you - anything from movies to cricket, gadgets to startups.
SUBMIT ARTICLE
More
Telugu Movie Reviews
Hunt
Driver Jamuna
ATM
Vaarasudu
Waltair Veerayya
Veera Simha Reddy