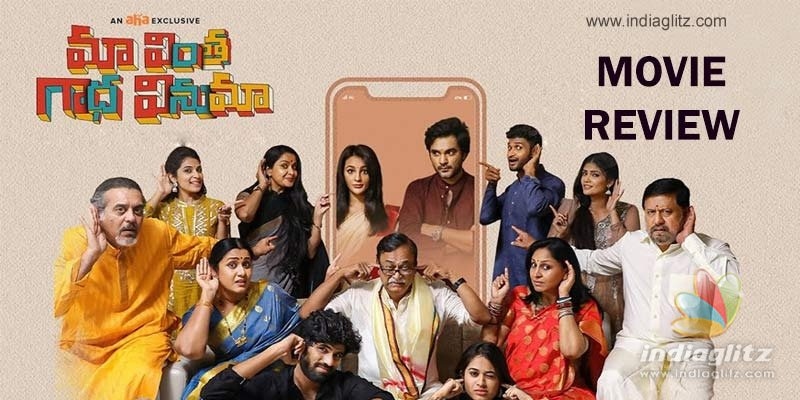 'Maa Vintha Gaadha Vinuma', directed by Aditya Mandala, is now streaming on Aha. Written by the film's male lead, it is a 100-minute long film. Here is our review of the latest OTT release.
Story:
Siddhu (Siddhu Jonnalagadda) and his Engineering friend Vineetha (Seerat Kapoor) fall in love with each other. Their love doesn't confront major issues, except when something untoward happens during a trip to Goa. This threatens to invade their privacy and affect their lives in unexpected ways. Can they ever make peace with their past and move on?
Analysis:
Written by Siddhu Jonnalagadda and helmed by Aditya Mandala, the web film features the 'Krishna And His Leela' fame. Dealing with the sensitive issues of moral policing and shame, the film tries to do something unorthodox. Bu the result is mixed.
Whatever the film is and is not, it definitely has got decent performances. Siddhu is of late getting comfortable portraying urban characters with a penchant to break into cuss words and unpredictable behaviour. His chemistry with Seerat Kapoor clicks in this love saga that is replete with delicate moments. Kalpika Ganesh and Kamal Kamaraju get supporting roles, while Viva Harsha (as a college bully) has a cameo. Pragathi is seen in the role of an influential entrepreneur, while Tanikella Bharani is up to the mark as an irreverent cop who listens to the protagonist's story. Jayarakash and Fish Venkat are also seen.
Sricharan Pakala, Rohit and Joy take care of the music director and lend a touch of distinctness. Sai Prakash Ummadisingu's camera work is adequate.
The film begins on a curious note, with an irate male lead getting angry with his friend and combative with the watchman of a girls' hostel. We learn that he couldn't muster up the courage to confess love to Vineetha for two and a half years. Vineetha, on her part, is grappling with an Engineering subject and has been flunking in it. Soon after they fall in love, her elder brother (played by Kamal Kamaraju) enters the scene and displays subtle aggression.
The director tries to tie in the different narrative arcs, which culminate at a certain point at the interval. A video involving Siddhu and Vineetha goes viral, only to cause much social embarrassment to their families. While they seem to deal with it with maturity, the father (Jayapraksh) of the heroine drives the story into a different direction.
While the conversations, the behaviors of the different characters, and the emotions are well-etched for the most part, it's the last 20 minutes where the drama loses itself. It's not just simplistic but also a bit unsettling to see the victim getting apologetic and blaming himself for what was never the character's mistake.
It's good that this film has been released as a web outing rather than a theatrical one. At about 101 minutes, 'MVGV' makes for a fairly decent OTT watch despite its laziness with respect to the climax. The audience would have had too many complaints had she watched the movie after spending Rs 150.
Verdict:
'Maa Vintha Gaadha Vinuma' makes an attempt to deal with a sensitive issue. In the age of the Internet, privacy has become a fair game. What unforeseen problems a young couple faces because of a viral video is the crux of the movie. The performances are engaging, the writing shows sparks of originality, but the climax is a cop-out. Watch it with low expectations.
Rating: 2 / 5.0
Showcase your talent to millions!!
Write about topics that interest you - anything from movies to cricket, gadgets to startups.
SUBMIT ARTICLE
More
Telugu Movie Reviews
Anubhavinchu Raja
Drushyam 2
Ram Asur
Missing
Adbhutham
Raja Vikramarka