"Manithan will be more Serious and Emotional than Jolly LLB" - Udhayanidhi Stalin
Wednesday, April 27, 2016 • Tamil Comments

Listen to article
--:-- / --:--




Producer-Actor Udhayanidhi Stalin is keeping his fingers crossed as Manithan` directed by I.Ahmed. This is his fifth film as an actor and he has no qualms in accepting in revealing that one of his prominent crew member said that the actor in him has come out only in this film.
Manithan` is the Tamil remake of critically acclaimed super hit Bollywood film Jolly LLB`. Udhay has played the lead role of a young lawyer struggling to prove himself to the world and he reprised the role played Arshad Warsi in the original. This is also his first remake film as an actor and also his first with veteran actors like Prakash Raj and Radharavi who act as leading lawyer and a judge in this film touted to be a Court Room Drama.
In this exclusive interview to Indiaglitz Udhay shares many interesting details about the film and working for the film and also about his future plans.
'Jolly LLB' had bagged two national awards? How you have done justice to the original in the remake?
We have tried our best to justify. Only audience should say whether we have done that or not. This is an official remake of Jolly LLB`. Original is always the best right? We felt certain things were missing in the original and we have filled those gaps. Jolly LLB` was projected as a comedy film. Manithan` is more of a serious film. We have given more importance for emotions.
You have announced the title only after almost completing the film. Why?
There was a lot of confusions. It is Vivekh sir who selected this title amid four, five options. At this time I wish to Thank AVM Balasubramaniam sir who immediately gave the title. The title has played a vital role in the film`s reach.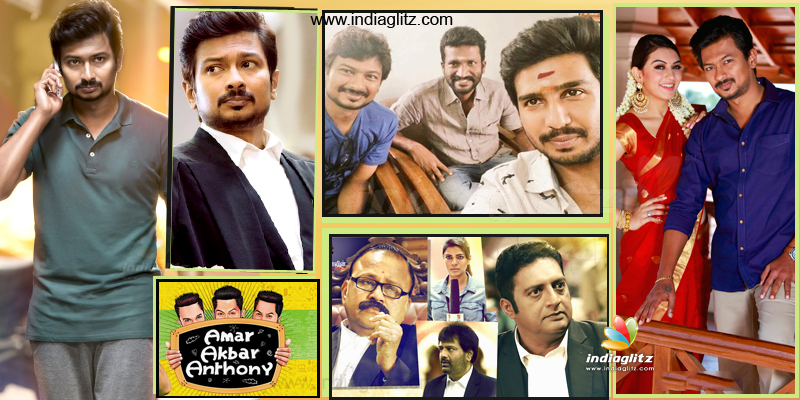 Why Vivekh replaced Santhanam in Manithan`?
Santhanam`s dates were not available. He has become busy as a hero (Laughs). He also wished to act. But we felt Vivekh sir`s presence will add some freshness. It`s a character which has lived for many years in Chennai with livelihood struggles. It is more of a character role than comedy. Even Vivekh sir initially hesitated and asked whether scope for his comical one-liners could be increased. He has acted as my maternal uncle. There is a small chemistry of that sort between me and him.
Tell us about Aishwarya Rajesh`s role in Manithan?
It`s a reporter character. In Hindi it will come just for a few shots. But in Tamil we have developed it and her character will come throughout the second half. She is acting as the lead heroine in many films now. Amid tight schedules, she did this film for me. Her character will be an important one in the film. Her character name is Jennifer.
Whose idea is to opt for a remake?
After watching Endrendrum Punnagai` I decided to team up with Ahmed. He is my senior in college. He had readied a script titled as Idhayam Murali`. The second half completely happens in USA. We had even finalized locations. Then when we worked out budget it could not be taken up at that time and we preferred some other subject. Only then Ahmed came up with the idea of this remake.
It is your second film with Hansika; you had also acted with Nayanthara in back to back two films. Tell us about that.
Hansika was apt for the heroine role in Idhayam Murali` script. It was an Indian girl studying abroad. When the script changed she was adamant in acting in the film. Myself and Ahmed initially had some reservations. The heroine is a teacher in Pollachi and we wondered whether Hansika will be apt for the role. But she changed her costumes, hairdo and makeup for the character. In trailer she had a large presence and she comes throughout the film. She will be very playful in the set but at the same time she is very dedicative and very easy to work with.
You have acted with two veterans Prakash Raj and Radharavi. Did you get any acting inputs from them during the shoot?
First of all I was afraid to act with them. Prakash Raj sir will come to the sets like the character Adhi Seshan. The unit will come become silent once he enters the spot. He will finish the shots in single take. Even for lengthy dialogues he will not ask to shoot with cuts. We had planned to shoot his portions in eight days but he completed it in just five days. After dubbing for his character he called me and said that Manithan` will be an important film in his career.
Radharavi sir would keep watching the monitor when I act. He will keep encouraging me. He was so interested in the film and kept saying that it will be a huge success. He also warned me to be careful in selecting roles and asked me not to do comic capers anymore.
Both of them were so encouraging.
What next after Manithan?
Its a film with director Suseenthiran. Its a double hero subject with Vishnu Vishal. Imman sir music first time with him. Very interesting friendship based sorry. Shooting has just begun.
In a recent interview you had said that you wish remake the Malayalam film Amar Akbar Antony`. Why?
Out of the films I have watched recently, Amar Akbar Antony` is the most favourite. I even called the director and congratulated him after watching the film. Dinesh master had choreographed all the songs in the film and they were thoroughly enjoyable. All the three heroes get equal screen space. All of them will get to do something heroic in the climax. We need to get three heroes who would not mind others getting prominence They should be like friends. Otherwise it won`t be possible. I am talking with two-three people. Lets see.
If you act in one of the three roles who would be the other two?
People suggested Arya and Santhanam. I have spoken with Arya and asked him to watch the film. He said he will watch it and revert. I am yet to talk with Santhanam. There is a physically challenged character played by Jayasurya in Malayalam. Vishnu Vishal said he is willing to take up that role. But we are acting together in Suseenthiran`s film and I don`t want repetition.
Many things have to be done. I have yet to buy the remake rights. If I do the film I will be happy if Arya and Santhanam join me.
Final words to Indiaglitz readers about Manithan
Please watch the film. Support
Follow us on Google News and stay updated with the latest!
Follow
Actress Photos
Manjusha
Anasuya
Chandini Chowdary
Krithi Shetty