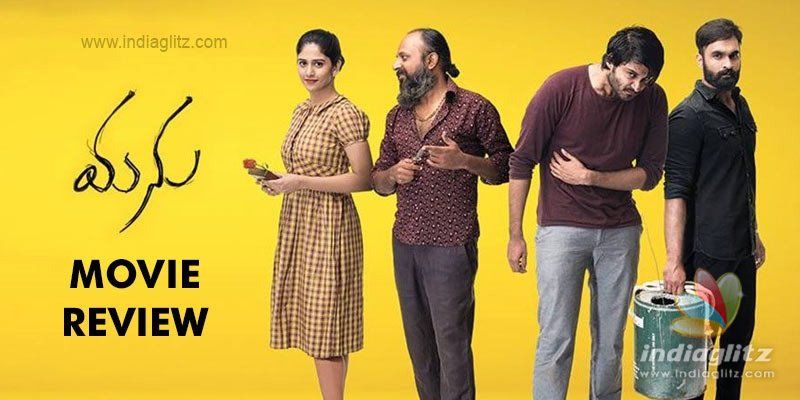 'Manu', directed by Phanindra Narsetti, is a revenge drama.  Starring Raja Gautam and Chandini Chowdhary, it hit the screens this Friday.  Here is our review.
Story:
Manu (played by Raja Gautam, son of comedian Brahmanandam) is an artist who comes with a dark past.  He is a loner who revels in colour black.  Because his life has always been mired in tragedies.  
He has a vibrant fan called Neela (Chandini Chowdhary), who is a photographer and can talk poetically.  In the beginning, we don't know if Manu loves her.  But their first meeting ends up in a major gaffe.  She mistakes Manu for a lecher, slaps him and moves out.  
In the meanwhile, Manu has a serious fight with three rowdies named Akbar, Amar and Anthony.  He saves an old man from them.  
Moments later, we see Neela renting out her home to Akbar, who desires her body right from the word go. From now, everything seems to be happening mysteriously.  
Between these apparent happenings is stuffed the story of Manu and Neela, whose thinking is rich.  
Analysis:
'Manu' is full of symbolism and high-brow dialogue.  Debutant director Phanindra Narsetti comes up with a unique setting for his otherwise formulaic story.  From a sea that conveys hope to neat houses that have an old-worldly feel to them, everything in this film takes place in an intimate world of its own.
The characters of the lead pair are not regular.  Neela is a photographer who has an eye for the detail.  She can appreciate Manu's profound art, can love him creatively, so on and so forth.  On the other hand, Manu's psyche has been severely affected by what happened to him in his childhood.  He has no one to call his own and he falls back on knowledge for succor.  As his friend tells him, his strength is his 'gnanam'.  He has OCD, she has Aasthma.  
The film turns the usual format of story-telling upside down.  It's as if the climax is narrated first and then the retrospect.  Long after immediate threats are gone, Manu and Neela love each other with a poetic flourish.  She comes with light in his life, literally, on Deepavali.
From paintings to the science of lights and shadows, from concoctions that smell great to a couple of spine-chilling murders, the movie presents them all in the same breath.  
She interprets his painting, he completes the pending murders.  She 'sends' him her five senses in a box, he saves her from bad Karma to the extent he can, and likens a dead body to a pure temple.  What tragedy and imagination can do to a gnani!  
Despite the film having shades of horror, there are no regular horror sounds.  Such is the RR (by Naresh Kumaran).  Vishwanath Reddy's cinematography is efficient.  Shiv Kumar's set designs are cool.  Sachin Sudhakaran and Hariharan put up neat sound designing.  
At about 180 minutes long, the murder mystery with surreal elements can be a test.  The proceedings might seem very slow to you if you are a votary of regular commercial films.  
The lead pair, played by Raja Gautam and Chandini, may well not be the best ones to have done the film.  With better casting, 'Manu' might have had a far better reach.  Nowadays, who are the actors is of profound importance.
Verdict:
With its complexity, the film might bore those who look for direct "entertainment".  But if you like symbolism, esoteric dialogue and non-linear story-telling, 'Manu' will give you moments.
Rating: 2 / 5.0
Showcase your talent to millions!!
Write about topics that interest you - anything from movies to cricket, gadgets to startups.
SUBMIT ARTICLE
More
Telugu Movie Reviews
Ponniyin Selvan 1
Nene Vasthunna
Babli Bouncer
Dongalunnaru Jaagratha
Krishna Vrinda Vihari
Alluri