MGR film sets a precedent for Shah Rukh Khan's 'Fan'
Monday, November 2, 2015 • Malayalam Comments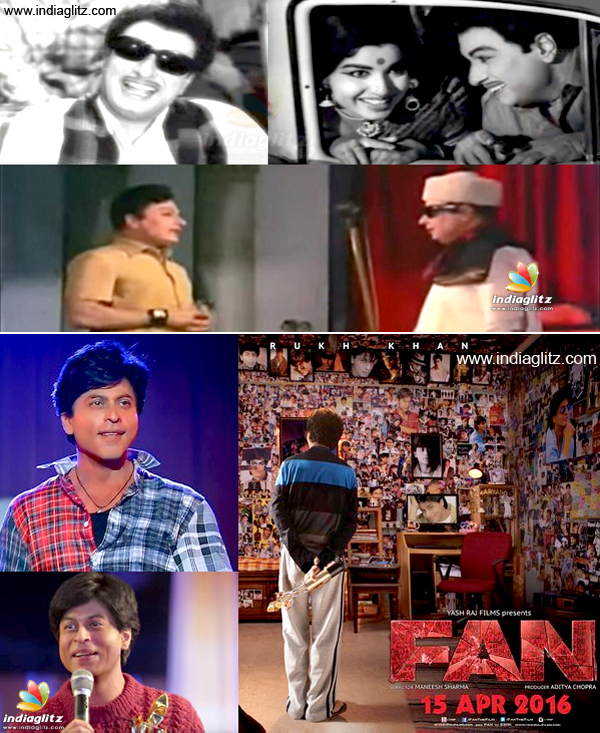 On account of Bollywood Superstar Shah Rukh Khan's birthday today, the trailer of his upcoming film 'Fan' directed by Mahesh Sharma has released. The trailer is packed with a huge surprise for every Shah Rukh Khan fan as well as the entire movie buffs of India. The King Khan plays the role of his own fan. From the trailer it could be guessed that Shah Rukh plays a fanatic of his real life image of the Bollywood Superstar Shah Rukh Khan, named as Aryan Khanna in the film.
The surprise does not end here. This is not the first time such a phenomenon (an actor, acting as his own fan) has happened in Indian cinema. Our Tamil filmmakers of the bygone era have set a fantastic precedent to this with not one, but two films starring former Tamil Nadu Chief Minister, Makkal Thilagam M.G.Ramachandran fondly remembered as MGR.
In the 1968 film 'Thaer Thiruvizha' directed by M.A.Thirumugam MGR acted as a kind-hearted boatman Saravanan. In a particular scene, MGR appears as the real Makkal Thilagam MGR and presides over a Tamil drama. Saravanan (MGR) watches the drama and claps and cheers for MGR's speech like a fan. He also reaches to MGR's car and shakes hands with him like an ardent fan would do. Moreover, in many scenes throughout the film Saravanan claims himself to be a fan of MGR.
Albeit on a different note, MGR has appeared as the real life actor-politician MGR in another film in which he acted in the lead fictional character. In the 1970 film directed by Krishnan-Panju. MGR acted as a lower middle class truck driver Thangam in this film. In a particular scene, MGR appears in his real life persona of a leading politician to promote the Small Savings Scheme of the Tamil Nadu Government, among the low income group people in a particular locality. He also appreciates Thangam (MGR) for being a patron of the scheme.
So in a way it can be said that our most loved superstar MGR has set the precedent for Bollywood superstar SRK. The real life persona of SRK in 'Fan' has been named as Aryan Khanna to avoid confusion, whereas in MGR films, the legend appeared with his own name.
However, it must be noted that in the case of 'Fan' the entire film itself is about a fanatic of an actor played by the same actor in the film, while in the earlier cases it were just one scene.
Actress Photos
Apsara Rani
Sakshi Agarwal
Iswarya Menon
Shradda Das