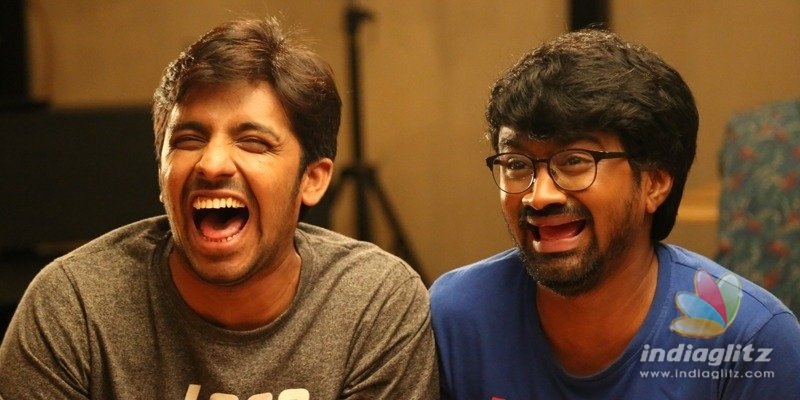 'Mithai', starring Priyadarshi and Rahul Ramakrishna in the lead, hit the screens this Friday.  Here is our review of the entertainer.
Story:
Sai (Rahul Ramakrishna) is fired at his workplace for being utterly callous and incompetent.  A regular late-comer, he also sees his job as a pain.  Jani (Priyadarshi), Sai's thickest friend, has always known his ways.  He appreciates the fact that Sai doesn't want to work like everybody else.  
But here is a catch.  Sai's wedding is just three days away and his fiance doesn't want him to leave his job.  Not only is he now unemployed but also lost to a burglary a valuable necklace he wanted to gift her.
In company with Jani, Sai sets out to catch the culprit.  The Dude (Bhushan) and Deepthi (Swetha Varma), two strangers, help them out.  
Who is the thief?  Can he ever be caught?  Will Sai's happy days ever come back?  Might he become an entrepreneur? That's the second half for you.
Analysis:
Debutant director Prasanth Kumar burdens himself with too many vacuous ideas and it shows. In the name of making a dark comedy, he cooks an aimless and even voluble film that doesn't know how to resist its urge to go overboard.  
Rahul Ramakrishna's character needs two things to keep his fiance happy: a job and a necklace.  He loses the first one and shows no attempt to find a new one.  Fine.  He finds the second one hours after he loses it and yet doesn't stop crying!  
His character is depressed but the film is actually happy with his state of mind!  Being aimless, drinking our way to laziness and living aimlessly is what the film preaches.  Sai's self-inflicted wounds, low self-esteem and self-defeatist mindset are normalized through dialogues.  Since he has an all-weather friend, he is rich.  That's it.  
It's funny that our films continue to promote a utopian sentiment against regular jobs (useless slogans like 'Don't be a corporate slave' are loosely thrown at the audience).  
Sai and Jani over-react to the happenings over a course of two days even though most of them are inconsequential.  The audience fails to understand why on earth Sai is a crybaby this moment and a 'bindaas' guy indulging in dancing the very next moment.
The pseudo-intellectual features of the film are in-your-face.  Characters talk of geopolitics, Darwin's 'Survival of the fittest',  they write off scriptures for the sake of sounding intellectual.  
The film could have been saved had a strong reason been shown for Sai and Jani wanting to capture the culprit. Priyadarshi puts up a light expression throughout and that actually is an insult to the woes of his best friend in the film.  Kamal Kamaraju, Ravi Varma, Aditi Myakal and Swetha Varma don't enrich the screenplay.  Bhushan's character, with its urbane vibes, is presented as a rebel but he is just privileged mediocrity.  
Rahul Ramakrishna takes the cake with his earnest performance.  He and Priyadarshi make the conversations sound slice-of-life. Together with Vivek Sagar's music, they deliver goods (with some ifs and buts in the case of Darshi).  A creative background score, a decent enough cinematography by Ravi Varman help.  
Verdict:
'Mithai' is the equivalent of a rambling speech.  It lacks a tight screenplay and messes it up with characterizations, length of scenes, reactions of the characters to different situations, etc. 
Rating: 2 / 5.0
Showcase your talent to millions!!
Write about topics that interest you - anything from movies to cricket, gadgets to startups.
SUBMIT ARTICLE
More
Telugu Movie Reviews
Peddha Kapu 1
Skanda
Chandramukhi 2
Sapta Sagaralu Dhaati
Changure Bangaru Raja
Mark Antony