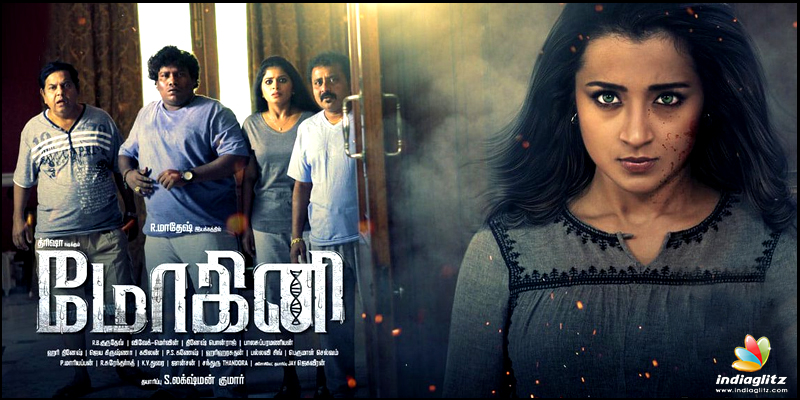 Mohini - Yet another Predictable Horror drama
Trisha is one of the finest actress around, there is no doubts about that. Finally, after almost 15 years she gets to do a solid solo movie and what better way to do rather than be cast in a movie that has a reputation to strike fear at the mere mention of its title - "Mohini". So does it do justice to the actress's acting skills? Well, not really. First all Mohini is a touted to be a horror comedy, however there is very less amount of scenes that infuse comedy and that too at distorted intervals. Secondly the scares and glares for a horror movie are close to nothing, it's more of a revenge drama with some uplifted VFX work, and high production values.
So the movie sets off briskly with Trisha, a budding chef who shoots off to London for work. She is accompanied by sidekicks - Swaminathan and Yogi Babu who are charged with the task to do the usual comical gimmicks. The story is partly predictable, Trisha falling in love with Jaccky instantly the routine that follows is all very much ushered and there is an urgency to bring on the much awaited character of Mohini. There is no surprise there, as Mohini is just another spirit who is waiting to get inside a body and seek revenge, no gifts for the guy who guesses who gets possessed! Trisha is Vaishnavi and also Mohini. However instead of following the usual routine of old spirit returning for payback, some research by director Madhesh and team rather raises the interest quotient. DNA that lingers on for centuries, how internal conscience and anger can change course of things has been dealt amicably.
The story in simple terms is about a mistake that happened thousands of years ago, it might not have been a mistake at that point of time; however how it has snowballed all over the years and who gets affected forms the core plot. Trisha as Vaishnavi – fun loving simple girl is at her usual best, a role that she has done many a time. Other role as Mohini is terror laced, her effort in stunts, hard core revenge expressions is commendable. Yogi Babu is at his usual funny best, he does what the script demands and there is a sense of feeling that he could have been utilized better. Rest of the cast are just about decent and serve their purpose.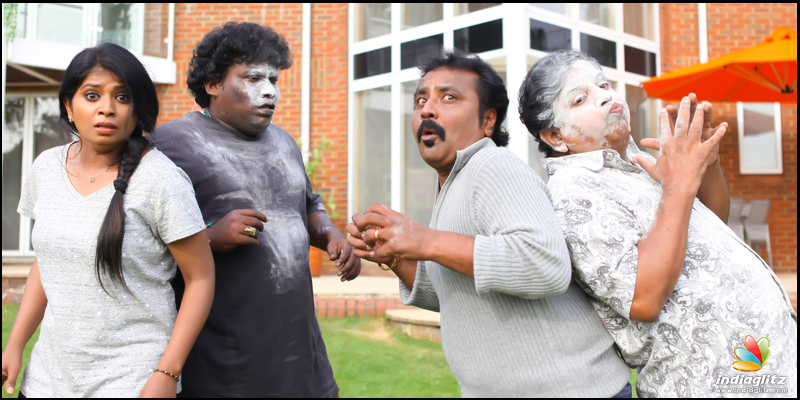 There was a lot of talk about heavy VFX work being taken into account before the movie was launched and the trailer promised too, however CGI is a hit and miss game. While some of the portions are top notch, some have been let down with being very amateurish. Talking about the good things of Mohini – Trisha's performance, having never seen the soft spoken actresses in a terrifying avatar (apart from Aranmanai2), it gets time to accustom Mohini within Trisha. Trisha looks desperate to ooze fear and revenge, but somehow it looks too forced; however her efforts are commendable. Next would be Madhesh's choice of deviating from the usual haunted house horror subject, highlighting something new for horror movie with the concept of "epigenetics "and also touching upon some sensitive issues like child abuse. That said, everywhere else the lack of execution is very evident with the usual horror movie ending, revenge drama and all that. Mohini could have been a lot better for its intent, but with several horror movies being released lately, looks like the director too has fallen prey with the story of a revenge drama with predictable scares and comedy.
Verdict : Trisha as Mohini has done justice to her character in a film that is ambitious to do something new in the horror genre. Predictable storyline and lack of entertainment takes away Mohini's X factor.
Rating: 2.25 / 5.0
Showcase your talent to millions!!
Write about topics that interest you - anything from movies to cricket, gadgets to startups.
SUBMIT ARTICLE