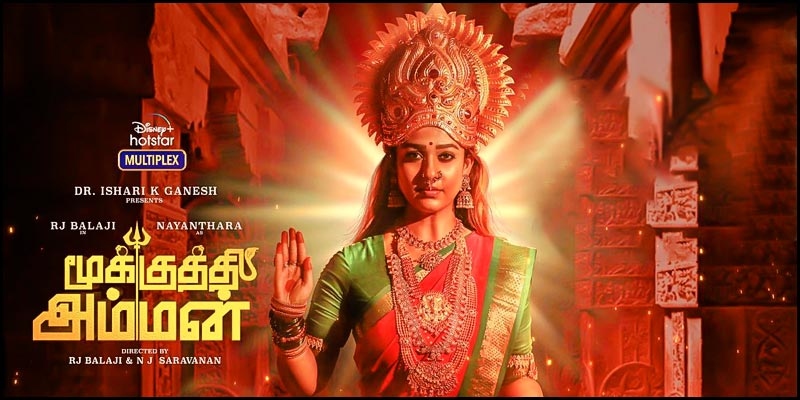 Could have worked with a better screenplay
After making his debut as a lead and writer with the political satire LKG, RJ Balaji is back as a director, teaming with debutant NJ Saravanan and has touched religion and people who exploit and earn using it, in his latest outing Mookuthi Amman. With Nayanthara's stunning looks as the goddess being a main attraction right from the promos, let's see what the movie has in store.
Engels Ramasamy (RJ Balaji) works as a reporter, leading a miserable life with his family including 4 sisters and mother Urvashi. Each of them have their own problems, and believe God hasn't been kind enough, and the sequence of events leads the family to their deity Mookuthi Amman. In a surprise, Mookuthi Amman (Nayanthara) appears before Ramasamy but she's not just there to help him and his family, but also has a mission. Why did Mookuthi Amman arrive on earth, how Engels Ramasamy gets into a conflict with the fake godman Bhagavati Baba and what happened ultimately is what the movie is all about.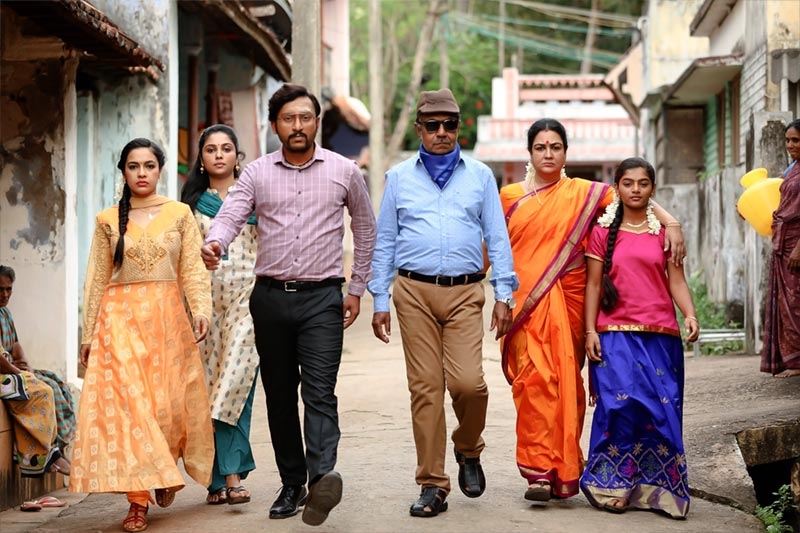 RJ Balaji is his usual self as the loud mouthed, constantly speaking Engels Ramasamy, and except for few sequences where he gets to emote, the actor is mostly seen trying to be funny with a monotonous body language which doesn't actually evoke laughter. Nayanthara is seen an extended cameo, and while she looks majestic as the goddess, also makes one smile with her beautiful presence and lovable expressions. Veteran Urvashi does what she's best at, and entertains with her humorous performance in many sequences. As the fake Godman Bhagavati Baba, Ajay Ghosh is over the top with his exaggerated expressions and wannabe humorous body language but couldn't make an impact with his cliched characterized. The rest of the cast including Moulee, Smruthi Venkat are adequate.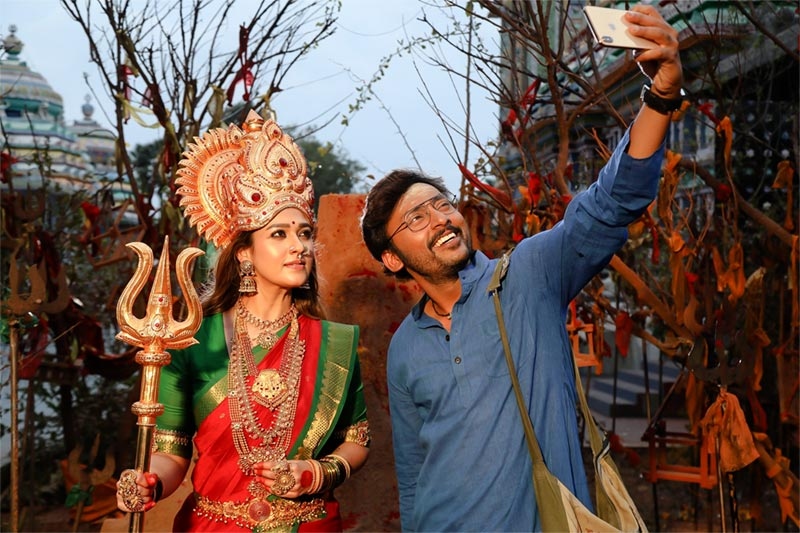 The first half of the movie moves at a pretty good pace with some humorous moments involving Urvashi, and from the arrival of Nayanthara gets interesting. Despite the antics of Balaji causing an eyesore, Nayanthara's presence could keep the audience engaged. After the arrival of Ajay Ghosh towards the interval, one would sure expect the movie to pick up pace with the god vs godman angle. 
While a strong conflict between Ramasamy and Bhagavati Baba was expected after the build-up given, the second half moves on a very filmy, simplistic route as Ramasamy and family follow silly moves to expose the godman, which lack novelty. RJ Balaji ends the movie with a much needed and relevant social message as well as one for every human to live happily with what they have, but the journey towards the message is tiring.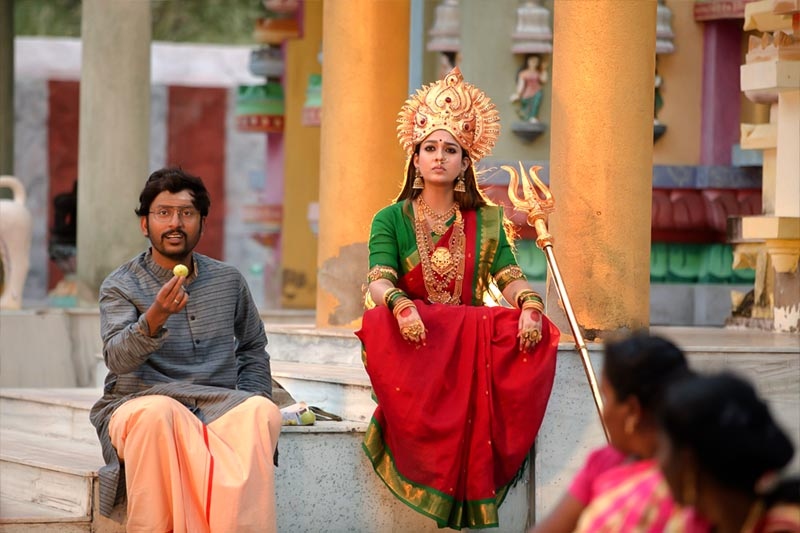 Of the songs by Girishh, only Aadi kuthu by LR Eswari appeals and the other songs don't have an impact. The background score is loud and doesn't help elevate any of the sequences. Cinematography by Dinesh Krishnan captures the lifestyle of RJ Balaji and family well and presents Nayanthara beautifully. Editing by Selva should have been better as the songs and several dragged sequences affect the screenplay big time.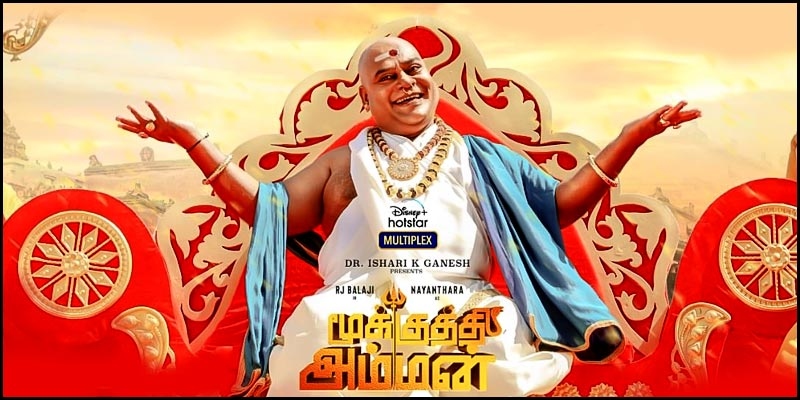 Debutant directors RJ Balaji and NJ Saravanan have opted to tell a tale about fake godmen, how people can have faith on gods and not godmen, and live their lives content. Choosing an interesting theme of God Vs Godman, Balaji begins on a fun note establishing the characters in Ramasamy's family and gets support from Urvashi who rocks as usual with her humorous body language and performance. Nayanthara arrives in stunning fashion and entices with her looks and act, but it is after the establishment of the plot point that the movie completely loses fizz, and takes a very simplistic route. Balaji and family's methods that expose the godman and the subsequent divine arrival in the climax are very ordinary and don't make the desired impact. And this predictability and monotony is what weakens the impact of the final message conveyed. Balaji seems to have planned a humour laced take on fake godmen, with a divine touch, but unfortunately in most of the places the humour falls flat, and Nayan's role is more of a cameo without doing much to help the protagonist or the screenplay. Balaji has to focus on the humour track in his upcoming movies, as they are turning repetitive with his typical body language and non stop dialogue delivery. All said, Mookuthi Amman is a harmless entertainer with a social message, and would have worked better with an interesting screenplay and exciting scenes.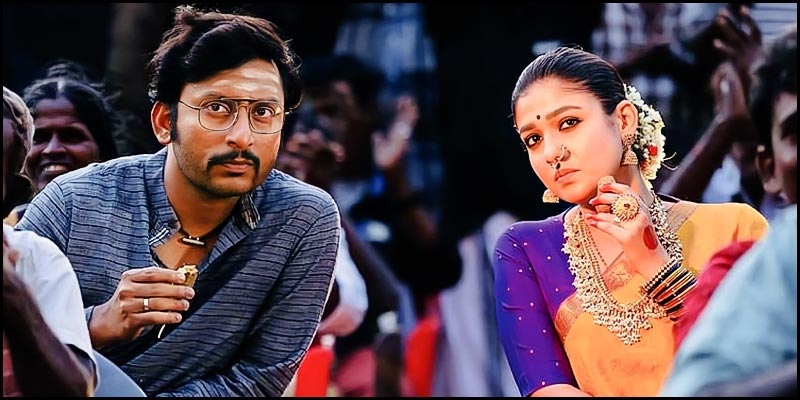 Verdict: Could have worked with a better screenplay. 
Rating: 2.25 / 5.0
Showcase your talent to millions!!
Write about topics that interest you - anything from movies to cricket, gadgets to startups.
SUBMIT ARTICLE
More
Tamil Movie Reviews
Kannai Nambathey
D3
Agilan
Kondraal Paavam
Pallu Padama Paathuka
Ariyavan