"I would love to act as Vijays' mother" - Shoba Chandrashekar
Sunday, May 8, 2016 • Tamil Comments

Listen to article
--:-- / --:--




On the occasion of Mother`s Day which is truly emotional for everyone of us in the world we bring to you the excerpts of an exclusive interview with Mrs. Shoba Chandrasekhar the proud mother of Illayathalapathy Vijay.
Will Vijay play pranks with you?
He does not do it now, but in school days he used to be a very naughty kid. His school used to be at a walkable distance and when I send him lunch, he used to complain that the carrier size is too big and is embarrassing and he would instead cycle home climb the wall and without making a noise get into the room and then frighten me with his sudden appearance.
Do you miss his pranks now?
Not really as even though he does not do it in real life he is so very playful on screen and whenever I switch to any channel there will some film or scene of his playing and I enjoy it.
We have seen you and Vijay together in an ad why not in a feature film?
You should ask Vijay about that (laughs). When the producers of the ad suggested to Vijay about me also starring in it,he first asked my permission and only after I heartily agreed he gave the nod. I have never faced the camera before that,but went ahead and half a day Vijay was lying on my lap for the shoot. I thanked the producers for that. I would love to act as Vijay`s mother in a film and through this interview I am asking him to inform me immediately if such an opportunity comes.
How is Vijay when he gets together with his friends?
That is the time he is happiest and most of the time we can hear all the others doing the talking with the sound of Vijay laughing his heart out. He used to be fun loving but only after his sister died he became silent. Myself and SAC practice Isha Yoga for the past twenty years and when I went for the Practice of Silence Vijay laughed, saying that I can never be silent as I am very talkative. After attending, I suggested Vijay also to try it, but he jokingly said that he is already practicing the program permanently.
How did you manage to get Vijay out of the grief of his sister`s death?
We never used to talk about her at home, but his teachers used to tell us that whenever any topic comes about sisters Vijay used to cry. In memory of his sister Vidya, Vijay named his daughter Divya Sasha.
Is there any memorabilia Vijay carries with him all over the years?
Much like his father, Vijay has a craze for cars from his childhood and used to buy all the latest cars. Even from the age of thirteen he used to drive very smoothly and it used to be a joy to travel with him.
When did you realize that he had acting skills?
We did not know that he was interested in acting at all, although he had played the younger Vijayakanth in two or three films. Only at the age of eighteen when studying VISCOMM that he told his dad that he is interested in acting and asked him whether he would launch him or try elsewhere. We were shocked because he was very shy and when SAC asked him to perform something and show he did the lengthy dialogue from Superstar Rajinikanth`s Annamalai` which gave us confidence to launch him in Naalaya Theerpu` and four other movies before offers from others came by. We always thought he will choose to be a director or a technician.
Divya has acted in Theri` and Sanjay in Vettaikaran` are they interested in acting?
Sanjay appeared in the song because the director asked us and similarly it was Atlee, who wanted Divya to do the film and it is true early now to say if they are serious about acting.
Please share with us the interesting story about Vijay purchasing a saree for you with his first salary…
Vasantha Vaasal` was his first film for an outside banner and when he received the advance he went to shop for a saree for me along with his best friend actor Sanjeev and the best joke was he thought that sarees too come in different sizes and so he called me and asked me what is my saree size (laughs). In 1994 itself, he bought a nice blue saree costing Rs.2000/-.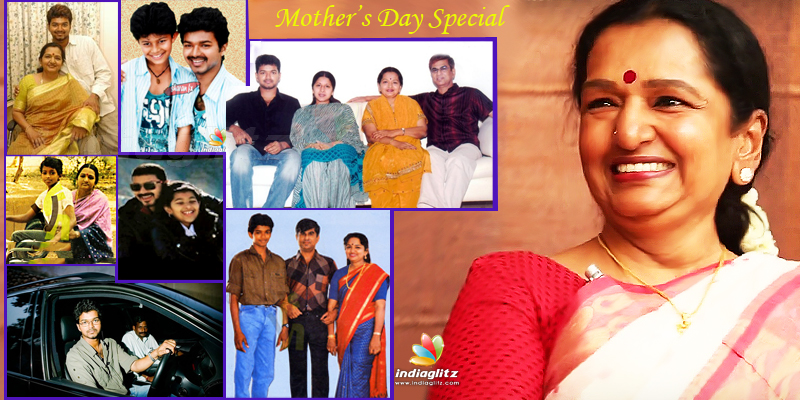 Tell us about how Vijay`s marriage happened and the relationship you share with Sangeetha…
Myself and Sangeetha are more of friends than mother-in-law and daughter-in-law. She is amazing in bringing up my grandchildren and looking after Vijay.
About Kutty Vijay, Sanjay…
He is just like his father and the conversation between him and his sister will be very interesting and he is also very close to us. Right now since he is in the 10th standard he is very busy with his studies. He reminds me of Vijay in every mannerism.
How is Vijay as a father? Is he like SAC?
SAC is a very friendly dad, but at the same time his very strict but Vijay is a very friendly dad and not strict at all. Sangeetha is very strict and in our house, it is vice versa SAC used to be very strict and I used to be very lenient.
Many people think Vijay is from Coimbatore because of the way he speaks the slang…
Vijay is a big fan of Gowndamani and I think that is how he caught on to the slang but we did not have anything to do with it and it came naturally to him. We are Chennaites.
About his punctuality…
SAC has trained him to be very punctual and he follows it in every film by reporting at least half an hour earlier for shoots. He has never come home at late night, even when he was with us and now in his house too. We have all made it a habit to go to sleep at 9pm and that is how our faces look fresh.
What kind of scenes you go with expectations in a Vijay film?
I love his dancing, sentiment scenes and love scenes, but I feel uncomfortable when I see his stunt scenes. When he was ten more than once he has somersaulted on the floor and broke his head. He was a real Theri baby.
Is he sentimental about anything?
He loves Velankanni Madha and every morning he will touch her feet and pray and similarly every evening he will pray and then go to sleep.
After enjoying a nice chat with the multi talented Mrs. Shobha Chandrasekhar we bid her adieu after extending our Mother`s Day wishes to her which she also extended to our viewers.
You can watch the full video of the interview here.
Follow us on Google News and stay updated with the latest!
Follow
Actress Photos
Rashi Khanna
Keerthy Suresh
Yaashika Aanand
Aishwarya Dutta