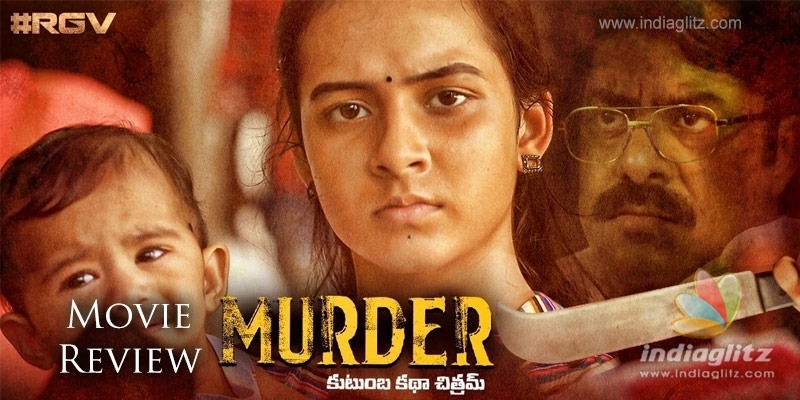 'Murder', conceived by Ram Gopal Varma, hit the screens in select parts of the Telugu States on Thursday. Here is our review of the controversial film.
Story:
Madhava Rao (Srikanth Iyengar) is a well-heeled businessman who commands the subservience of his traditional wife, Vanaja (Gayatri Bhargavi). His daughter, Namratha (Sahithi), means the world for him.
As fate would have it, Namratha falls in love with Praveen, which unsettles the father at first. The possessive and overly emotional father hatches a plan to win over his daughter's loyalty and wean her away from her love interest. His plan cascades into shocking developments.
Analysis:
Director Anand Chandra leavings nothing to the imagination. The drama is vividly inspired by the Amrutha-Pranay-Maruthi Rao saga in Telangana's Miryalaguda. In 2018, Maruthi Rao got his pregnant daughter's husband hacked to death, catapulting himself and his family to a self-destruction mode in no time. True to his form, RGV borrowed from hearsay and received wisdom from the emotionally-taxing saga to spin a convenient movie.
To be sure, the film doesn't get most of the things right. There is melodrama. There is also this assumption that sensationalism and WhatsApp-style narrative-building can be a substitute for the lack of novelty or creativity.
Srikanth Iyengar, whose 'Brochevarevarura' act was superb, makes his deceptively-carved character look better. He can be both over-the-top and subtle at the same time. Sahithi shows that she can make the audience root for her two or three expressions.
Like a number of self-indulgent films, 'Murder', too, is riddled with overlong scenes. And it is a chink in the armour of this agenda-driven film.
With RGV-fied films, the proceedings don't pack a punch if you have watched the trailer of the movie even once. Repeating tropes obsessively is also something these films can be blamed for.
With 'Murder', the problems are compounded by the fact that the narrative brazens it out. Calling it a 'Kutumba katha chitram' is a tad insensitive, given that the wife of the victim of the honour killing has had to go through a lot of trauma because of what her father allegedly did to her beloved husband just because of his caste and class identity.
DSR's background score works to an extent, especially in the heavy-duty scenes. Jagadeesh Cheekati's cinematography is moody, much like what the film needed. Srikanth Patnaik's editing needed to be smarter.
Verdict:
'Murder' has its moments. At the same time, it is overlong and too dramatic to a fault.
Rating: 2.5 / 5.0
Showcase your talent to millions!!
Write about topics that interest you - anything from movies to cricket, gadgets to startups.
SUBMIT ARTICLE