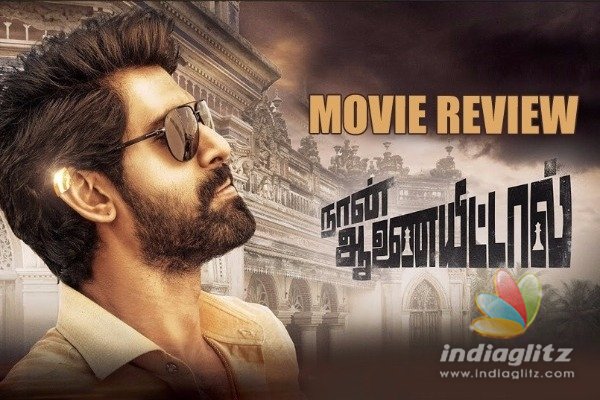 Let's remove Rana's role as Pallalvathevan for a minute and try to imagine him as a modern day hero, pretty hard right. Naan Aaniyittal has Rana as Jogendhra a hero who climbs the political ladder in aggression, the shades are similar to what Pallalvathevan could do for power, but shown from a hero's perception. With Rana, Kajal Aggarwal, Catherine Teresa, Ashutosh Rana and Navdeep in the lead, this Telugu dubbed movie looks to make trends with its commercial content, let's find out what's in the store.
The Story:
Naan Aannayittal is Rana show all the way. He completely goes into the role and shows a lot of variety as his character demands. As a small time cheeky money lender, his love for his wife forms the center plot of the story. Rana – Kajal love has been picturized and dealt in a more respectful way considering that the romance changes the personality of Rana over time. A sudden turn of events and a hard hitting emotional tragedy strikes the pair and sends them down a deep lane of despair. The tragedy triggers the lion and venom within Rana who goes on an aggressive power spree and breaks everything that comes on his way. His political journey begins, all for the sake of avenging his darling wife's unspeakable tragedy. He becomes a Village head, an MLA, a Minister and, take a deep breath, aims to be the Chief Minister.

With all these happenings, his love is set aside and the story shifts to focus more on his ruthless transformation and starts ticking those commercial checkboxes when a simple hero rises to the occasion in a grand manner. But its not the transformation that hurts and you actually start loving it, but its ushered and taken so swiftly concentrating more on the daunting CM task. In his journey he encounters a journalist (Catherine Teresa) who is completely out of sync with her role limited to more objectification, glamor and just to take the screenplay ahead when the story suffers a setback. So what happens when the hero loses his focus on why he started his hunger for power, what happens to his love life meanwhile forms the rest of the story.
Cast and crew:

Rana after in a number of multi starrers has proven that he can weigh the movie with his star power. With his tall and defining image its no surprise when he oozes that aggression, but his gentle side is done smoothly as he keeps referring as Radha Jogendhra to show how much he loves his wife. Kajal Aggarwal in her 50th film could not have asked for a better role as lovely and mature wife who loves her husband's pampering. Catherine Teresa's role is wasted and could have been either avoided or modified on a better note. Navdeep and the rest of the cast do what they are intended in this political drama. For a dubbed movie, the songs and BGM looks
amiss. Cinematography is good especially depicting the love sequences.
Direction, Screenplay:

Teja has put his commercial attire for this so called political thriller, but the sad part is that it lacks focus on its political drama and the plot forgets to show Rana's volcanic rise in a convincing way. The love portions are a delight and kudos to the director for spending enough time on it to show how much important it plays in the movie. Screenplay is well paced till the interval after which it shifts unnecessarily towards an average climax.
Naan Aannayittal is watchable drama flick that thrives more on the love aspect of Radha and Jogendhra than the political aspect.
Rating: 2.8 / 5.0
Showcase your talent to millions!!
Write about topics that interest you - anything from movies to cricket, gadgets to startups.
SUBMIT ARTICLE
More
Tamil Movie Reviews
Kazhuvethi Moorkkan
Farhana
Good Night
Ponniyin Selvan Part-2
Deiva Machan
Yaathisai