Nandini Nursing Home Movie Review
Friday, October 21, 2016 • Telugu Comments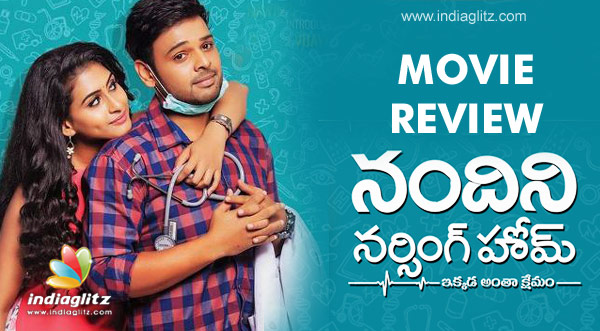 'Nandini Nursing Home', directed by PV Giri, packs in a romantic-comedy-thriller. Here is our take:
Story:
Chandoo (debutante Nawin Vijay Krishna), faking his qualification, joins as a junior doctor in Nandini Nursing Home. An illiterate in medicine, he fortuitously gets into the good books of Nandini (Nithya) and her chief doctor-father (played by Jayaprakash) when he saves her from a fatal accident.
Even as his position becomes stronger in the hospital between him torturing Vennela Kishore (as a funny chain-snatcher having to fake comatose state) and swooning over Nandini, a series of mishaps happen in the building.
As these mysterious incidents threaten Jayaprakash's life and the hospital's reputation, Chandoo takes it upon himself to discover the truth. To his shock, he comes to know that the villain is an unlikely one.
The rest of the film is all about why the villain is baying with blood, and how the hero fights it out.
Analysis:
Director PV Giri has a fairly good story line with a thriller element. In addition, he has two love story tracks (between Nawin and Nithya, and Nawin and Sravya) as a bonus. And above all, he has quirky comedians who wouldn't stop at anything to play to the gallery.
The first half flips between narrating the scenes in the hospital and the hero's first love story as a flashback. There is a doctor (Jayaprakash Reddy) asking patients their astrological details. There is a fake patient (Sapthagiri) who has turned his hospital room into a brothel. There is a never-failing chain-snatcher (Vennela Kishore) ending up as a fake coma patient in the same nursing home, thereby becoming a victim of the experiments of the fake doctor (the hero) and the male nurse (Shakalaka Shankar deriving kick out of doing 'embroidery' on the hapless patient).
Chandoo had loved Amulya (Sravya) as a recovery agent back in Vizag. A miser, Amulya taught him a lesson by preferring a better-salaried groom. The breezy track scores marks, with Amulya's stingy ways tickling the funny bone. Achu's 'Ninney' is a memorable romantic number.
The second half loses the track up until the climax portions where the suspense gets unfolded. One feels there is an overdose of the comedy involving Vennela Kishore and Sapthagiri, much as it may have the mass audience rooting for those low-brow ideas. In the absence of a focus on the hero's character for a good part of the first part of the second half, the film feels like having been reduced to a caricature.
The love story between Nawin and Nithya should have had more emotional content instead of overdoing the same element of Nawin faking it to be in her good books.
The film gives the thriller portions a raw deal when it has a crucial character behaving inconsistently, and the hero showing a lack of urgency.
The climax has its share of sentiment and emotions, which have been handled well. Debutante Nawin shows a commendable maturity in pulling off these portions. Even otherwise, he shows promise. Although nothing can be said about his comic timing (not on display) and dancing and fighting abilities (never to be on display as per the script), this much can be said that he has given a confident debut.
Vennela Kishore, Shakalaka Shankar and Sapthagiri are at their usual zany self. Their slapstick humour will have many takers, but the lines should have been better-written. Nithya Naresh and Sravya fit the bill, looking girl-next-door and sans unnecessary glamour. Jayaprakash, Jayadev and others are good.
The technical departments do justice within the limits of budgetary constraints. Achu's music is a plus. The cinematography is good, but editing and art direction are shorn of imaginative thinking.
Verdict:
A film that could have been a nail-biting roller-coaster of emotions. While the hero's characterization is found wanting, the film nurses many laughs, and nurtures a suspenseful screenplay.
Rating: 3/5
Actress Photos
Saiyami Kher
Pragya
Manchu Lakshmi
Krithi Shetty