Nani on 'MCA', dirty gossip about him, having no background & more:
Tuesday, December 19, 2017 • Telugu Comments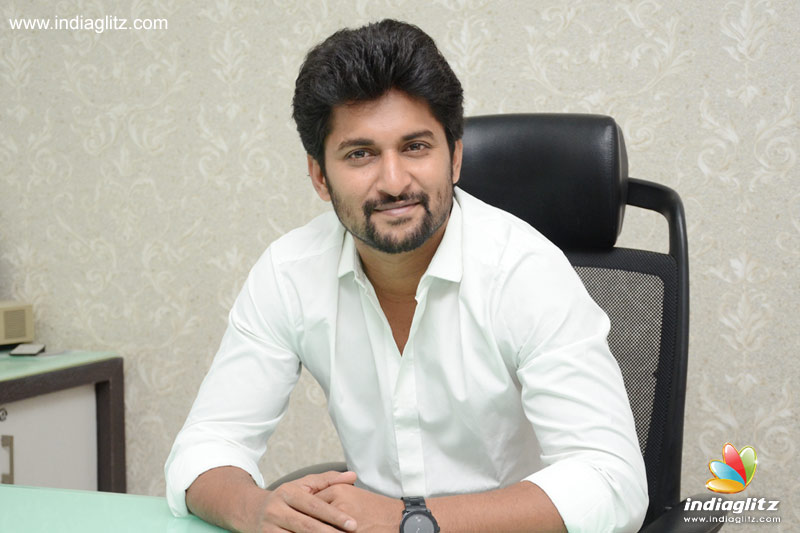 Nani awaits the release of 'MCA' on December 22. In this interview, he talks about what is in store in the film, working with Venu Sriram, Sai Pallavi and Bhumika, what he looks for in stories, a tasteless gossip that has hurt him, and more.
Your choices were not working before. But they are working these days. What has changed?
Be it then or now, I have always chosen scripts that I found the best among a given set of options. I do films that amuse me and I can enjoy watching. I do relatable movies. It's just incidental that my choices didn't work earlier.
I am glad not to have any background. It's an advantage that keeps me from stress. I can do the films that I like. If I have a background, I would have to abide by certain twisted rules! Many were saying that 'MCA' must be a routine story. But just see the advance bookings it's getting. I have got the public support and that's enough for me!
Are you tensed about 'MCA'? Can we expect a lot of action in the movie?
I am tensed. It's as if my first film is releasing. Contrary to what may seem to be thinking, 'MCA' doesn't have action sequences. The mood in the second half is action, but there are no fights.
How different is the characterization of the male lead?
The character is much like a middle-class boy. We usually find larger-than-life characters in movies. These characters are virtuous and can solve all problems. But the male lead of 'MCA' has his share of problems and insecurities; he misunderstands his 'Vadina'; he has squabbles with his brother. He becomes a hero only when there is a need!
Not just the characters, even the locations are very real. It was a good decision to shoot in Warangal. The houses, etc are very relatable. Shooting in a studio wouldn't have been apt for this movie.
How was it teaming up with Bhumika Chawla?
She is the sweetest co-star I have ever worked with. She is too good. I had watched 'Khushi' by taking beatings from policemen. It felt surreal to do a film with her. She would buy toys and books for her son and would also buy for Arjun (Nani's son). She is like a family member now. She is much like a 'Vadina'.
After 'Fidaa', Sai Pallavi is now a favourite. How was it working with her?
All the scenes feature her and me will be a highlight. As long as she is there on the screen, you won't see any other actor. I can't imagine anybody else but for her.
There were gossips that you and Pallavi fell out during the making of the film. What is the truth?
We both laughed at those rumours. While such gossips are normal, what is surprising is that it became rather very famous.
Gossips are fine if they are within limits. But they shouldn't be obnoxious. This morning, my friend sent me a gossip piece about me. It's so outrageous that I can't even say what it's. It's a clickbait article written by a less popular website. Without naming me, they talked about my personal life. This is unacceptable. I felt hurt. Don't stoop so low! We all survive on films. Trash my acting and my films. But don't gossip about my personal life.
Is 'MCA' commercial or otherwise?
The good thing is that you are going to see the same thing in the film what you have seen in the trailer. It's a story that's in a familiar zone. But it's entertaining nevertheless. The delivery is 100 percent. None of the key characters seem forced. They all feel very real.
When the characters are believable and endearing, action scenes, for example, make an impact. Otherwise, the audience gets no kick out of action. The biggest strength of 'MCA' is that its characters are real.
What made you team up with Venu Sriram?
I am not after big names. I don't seek big directors just because I have had failures or successes. Since I am doing well, I should seek to introduce new talent. That's how one should go about it. There is no point in cribbing about the lack of young directors when one doesn't make any efforts to introduce them. I make no calculations. I work with those directors who are sincere and honest.
In the case of 'MCA', I was not seeking a new story. All that I expected was an engaging story to do. I am not a critic. I select stories that entertain me.
Are you liking to be called a Natural Star?
I used to hate it before 'Bhale Bhale Mogadivoy'. It was a bit embarrassing. That said, it's not a weird moniker. It's not artificial either. Right from my first film, reviews would say that my performance is natural.
How are you enjoying your fatherhood?
Earlier, I wouldn't even remember there is a home as long as I am at the office listening to stories. But these days, Arjun's face flashes in front of my eyes every half-an-hour. I am scared this will continue in future!
At what stage is your film with Nagarjuna, 'Krishnarjuna Yuddham', and your films with Avasarala Srinivas and Mani Ratnam?
Discussions are on. It's too early to talk about that. A final narration is pending. We will take a call after that. 'Krishnarjuna Yuddham' is turning out to be novel and commercial. It's a perfect follow-up to 'MCA'. I will definitely work with Avasarala Srinivas one day. I like his writing style. The film with Mani Ratnam sir hasn't gone through. It's a multi-starrer involving many actors. But I want to work with him definitely in future.
What about 'AWE'?
It will release in Feb. I wanted to produce it because I feared that it might not get its due if it's made with unknown actors. It's a mix of 7-8 genres. Every scene is quite engaging.
Related News
Actress Photos
Pooja Hegde
Eesha Rebba
Shyamala
Anupama Parameshwaran