Nanjundi Kalyana again, Thanush, Shravya teamed
Tuesday, September 12, 2017 • Kannada Comments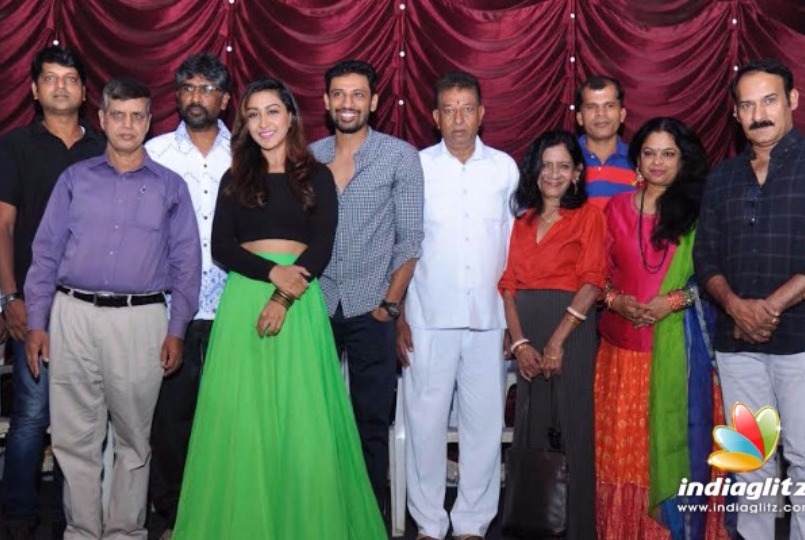 While one is 1964 title repeat, this one is 1989 super hit Kannada film title repeat. After the title suitable for the film came up from director Rajendra Karanth, hero of the film Thanush (of Ale and Madamakki) went straight to Raghavendra Rajakumar residence for permission to keep the title. It is Dr Rajakumar family banner cinema a blockbuster that ran for one year starring Raghavendra Rajakumar and Malashri in the lead roles. It is just the title because the hero of the film struggles hard for his marriage.
Meanwhile this is the last chance from Shivanna Dasanapura for his son to prove in cinema. Rs.4 crores was spent on his son Thanush in 'Madamakki', it was a total washout in the box office. While accepting for his son sake Shivanna warned that it will be your last chance. Thanush explaining his should win situation said he selected a comedy film this time with Rajendra Karanath who is good in theatre, direction and writing. Thanush speaking on his role stated that his role is filled with comedy, love and sentiments. How the protagonist convinces his mother to get his match to fall in right place is the crux of the film. We cannot go near to the 1989 blockbuster movie. But we would get some entertainment for sure he said.
Rajendra Karanth says he has not exceeded in his boundary. A few of the double meaning dialogues were cut for this trailer launch he admitted. In 33 days we have shot for the film. Shravya is one such actress that admire from this film because of her potentiality. Last twenty minutes it will be touching in contents. When people laugh and come to theatres it will be my big 'Sambhavane' says Rajendra Karanth.
Padmaja Rao is hot headed mother in this film. She is very happy because director Karanth has given freedom to get good makeup and costumes in this film. in the normal case a mother is not given good costume and makeup was her complaint.
 
Manjunath Hegde is playing husband to Padmaja Rao. It is rough role of Padmaja. For laughing as if you have taken medicine when you come to this film he said with confidence.

Shravya Rao says this is her best team effort. I am very happy for the appreciation got from director Rajendra Karanth. I was waiting for corrections and suggestions at the time of acting. His appreciation is blessings for me. It is two hours laugh and 20 minutes emotions you carry home assured Shravya Rao.
Stage actor for last 26 years Srinath, a Botany professor by profession Mamata Rao acted for the first time.
Related News