The dance of not-so-fine music
Saturday, August 25, 2018 • Telugu Comments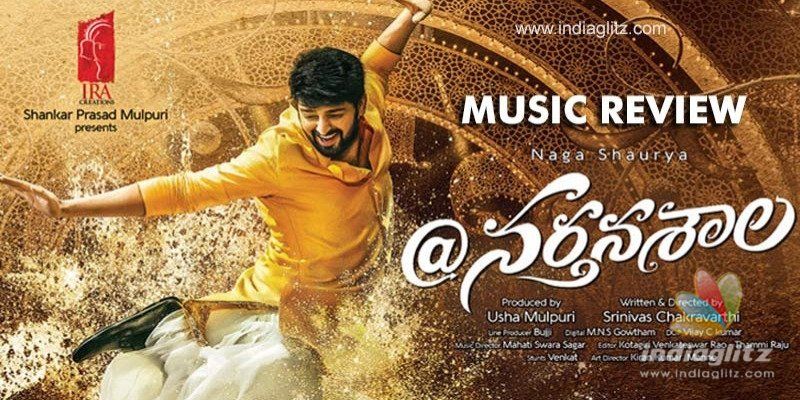 'Nartanasala' has music by Mahati Swara Sagar.  The album, released on Aditya Music, has lyrics by Sri Mani and Bhaskarabhatla Ravikumar.  Anurag Kulkarni, Sameera Bharadwaj, Yazin Nizar, Ramya Behera, Lipsika and the music director sing the different numbers.
Dekhore Sodara
Singer: Anurag Kulkarni
Lyrics: Sri Mani
The song introduces the hero's character in a light language.  Sri Mani deploys easy-to-understand sentences that are a mix of English and Telugu.  Anurag Kulkarni's boisterous voice is apt for the song's mood.  Mahati Swara Sagar's music is a rip-off.
Egirene Manasu
Singers: Mahati Swara Sagar, Sameera Bharadwaj
Lyrics: Bhaskarabhatla Ravi Kumar
Love blossoms and there is no stopping.  The melody makes a thorough impact with its stanzas.  Mahati doubles up as an earnest singer with an offbeat voice.  Sameera Bharadwaj has it in her to create a Shreya Ghoshal-like magic.  Bhaskarabhatla Ravi Kumar's lyrics are profound, poetic and lend imaginatively to the situation.
Pichi Pichi Ga
Singer: Lipsika
Lyrics: Dharma Teja
Visualized as a seductress' anthem, this song is sexed up by Lipsika's appealing and subdued voice.  Dharma Teja's lyrics pack in some words/phrases that are a double entendre.  'Chiru chiguru vagaru pogaru' and the like make a mark.  Music director Mahati Swara Sagar induces a sense of deja vu when you realize that the instruments going into creating a mood of sexiness have drawn their inspiration from known music.
Ala Natho
Singers: Yazin Nizar, Ramya Behera
Lyrics: Sri Mani
Yazin Nizar and Ramya Behera sing with blissful intensity.  Sri Mani's lyrics are efficient, with they bringing out the thinking of the lead pair in a conversational style.  Music-wise, this one may not be instantly appealing.  The highs and ebbs are hackneyed.
Dhol Bhaje
Singer: Yazin Nizar
Lyrics: Sri Mani
The special song works to create a thriving feeling.  Yazin Nizar has the right vocals to make it through.  Sri Mani pens some creative lines and that's all.  Musically, the song is underwhelming.
Verdict:
'Egirene Manasu' turns out to be the best song.  The album is helped by able singers and decent lyrics.
Rating: 2.75/5