The Nayaki sound
Wednesday, April 20, 2016 • Telugu Comments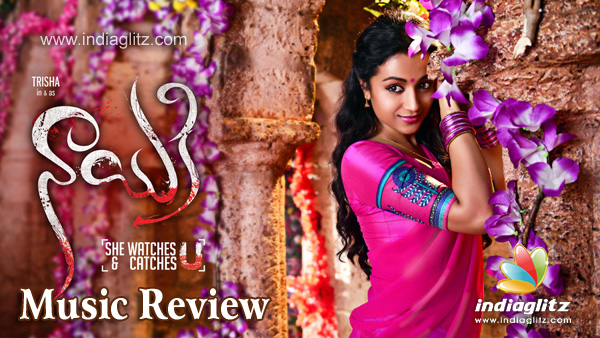 Raghu Kunche comes back with a folkish and modish touch as is relevant. Bhaskarabhatla has penned the lyrics. Trisha, Chinmayi, Raghu Kunche, ML Sruti, Malavika, Hanuman are the singers.
Bayam
Artist: Trisha
Lyricist: Bhaskarabhatla
For a genre like this, having a 'bayam'-full song of this sort is in order. Bhaskarabhatla's lyrics talk about the all-pervading 'bayam' in a rather mundane but entertaining language. Trisha debuts as a singer with this Raghu Kunche musical. Her voice is soft, and also suits the quirkiness of the number. Raghu Kunche does a fine job with the instrumentation.
Idemito
Artist: Chinmayi
Lyricist: Bhaskarabhatla
The lyrics hold a mirror to the protagonist's mental state and fantasies. The soft music gives enough room for the lyrics to play out fully. Chinmayi's mellifluous voice is a good value addition. Raghu Kunche plays well to a set template. The sound sounds like somewhat oldish and that is probably intended.
O Sandhya
Artists: Raghu Kunche, ML Sruti
Lyricist: Bhaskarabhatla
This is one song in the album with a pronounced modish feel. The lyricist employs English-language words to convey the mindset of the modern characters. Although there is nothing imaginative about them, Raghu Kunche and ML Sruti do their best to redeem the number. Music-wise, Kunche's melodious output works here and there.
Jai Bhadrakali
Artists: Malavika, Hanuman
Lyricist: Bhaskarabhatla
The song comes with all the usual suspects: glorification of the punishing deity, references to evil doers in dark terms, beats that border on the folkish, lyrics that draw from mythology. Malavika and Hanuman do a good job and that's all. Raghu Kunche should have shown imagination in pulling off from a higher pedestal. In the absence of anything fresh, it is merely passable.
Verdict: The album is all of 15 minutes. Raghu Kunche does a good job with instrumentation and tuning in at least two songs. The selection of the singers is noteworthy.
Rating: 3/5