Never cared about naysayers: Anupam Kher
Friday, October 13, 2017 • Hindi Comments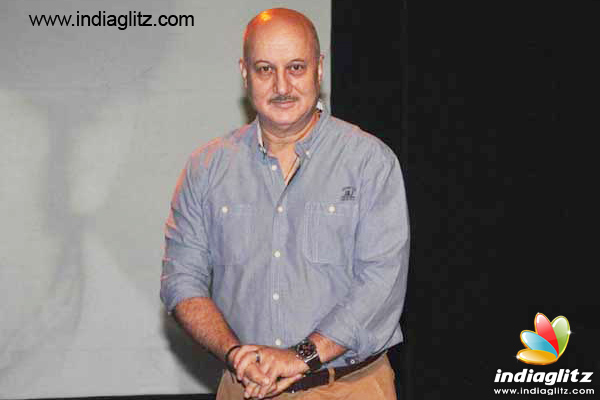 Veteran actor Anupam Kher's appointment as Chairman of the Film and Television Institute of India (FTII) has sparked murmurs about a 'clash of interest' that his new job poses with his own acting school. But he is unfazed and says naysayers have always been there whenever he has held a government position.
What does Anupam have to say about those not happy with his new post?
"Oh, them," he said.
"They have always been around whenever I have been given a governmental position. When I was made the Chairperson of the CBFC, they said there would be a clash of interest with my relationship with producers and the film fraternity. When I took up stage acting very seriously, they said there would be a clash of interest with my film assignments.
"So if they had not come forward now, I'd have missed them. But no, I am not worried about any clash of interest. I prioritise my various commitments in a very systematic way," Anupam added.
What would Anupam like to say to the students of FTII?
"Wait and watch. Let me first catch my breath, interact with you and then let me do my job. Judge me after that."
On Thursday, the FTII Students' Association wrote an open letter to the actor, drawing his attention towards nine key issues of the institute.
Has Anupam thought of what he would like to do at the FTII, a premier institute for filmmaking enthusiasts.
"It is too early to start planning. I first need to appraise the situation and meet all my team members there. From what I gather, the FTII is running smoothly, so I won't ruffle the status quo just to let the world know of my presence. But yes, eventually there will be changes.
"I've never been scared of failing. If I was, I wouldn't have played a 65-year-old man when I was only 25 (in Mahesh Bhatt's 'Saaraansh'). Today when I am approaching 65, I don't think there is any responsibility I wouldn't be up to," said the 62-year-old.
Anupam said he enjoys every challenge equally.
"I had already started making 'Ranchi Diaries' in Jharkhand when I suggested to the local administration, why not have proper film industry in the state? 'MS Dhoni...' was shot there, so was 'Begum Jaan'. They said, 'Yes, why not?' By the time I landed back in Mumbai, they had already appointed me the Chairperson of the Jharkhand Film Development Corporation.
"I decided, why not? Every challenge is fine by me. I am being asked why I did that small role in 'Judwaa 2'? I did it for the fun of being in both parts of the franchise and for my long association with David Dhawan. I don't forget friends or abandon associations as per my convenience or inconvenience. I think that's one reason why I am given such huge responsibilities."