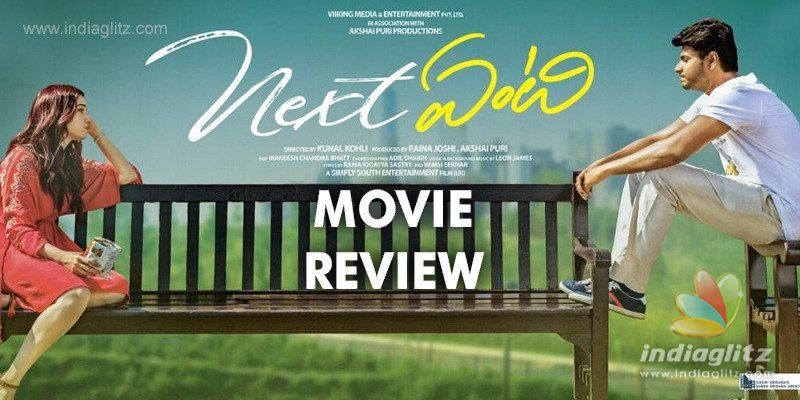 'Next Enti?', starring Sundeep Kishan and Tamannaah Bhatia in the lead, hit the screens this Friday.  Here is our review of the alleged feature film.
Story:
Tammy (Tamannaah Bhatia) is a free-spirited girl who has been brought up by a progressive single parent (played by Sharath Babu).  She is in search of someone with whom she can share her mind, soul, body.  Commitment is her thing.
When she meets Sanju (Sundeep Kishan), a playboy-kinda guy, she gives it a try.  But when he seeks to enter into a physical affair with her, Tammy calls it quits because she is not yet ready for 'it'.  
When Sanju prepares for an arranged marriage, he meets a girl (Larissa Bonesi) and woos her.  Meanwhile, Tammy seems to fall in love with Krish (Navdeep), a businessman she meets at an airport.  
Will the lead pair settle for the new-found partners?  What issues will they face in the relationships?  Will they ever cross paths again?  Can Tammy and Sanju come of age?  Do they think they need to?  That's the rest of the story.  
Analysis:
Tamannaah and Sundeep Kishan are determined to walk and walk (around London and probably Greater London, too, if there is one), and talk and talk (to both each other and the audience) throughout the movie.  
If you go out for washroom or a smoke in the middle of 'Next Enti', you are likely to miss five pages of dialogue, two pages of monologue, one-and-a-half pages of lyrics, two quintals of confusion, and ten quintals of 'boys are like this, girls are like that' lines.  That's how director Kunal Kohli has made this alleged rom-com.
Tammy and Sanju, Krish and Tammy, Sanju and a wannabe bridegroom, Tammy and her widowed father - the folks are never done with 'boys are like this, girls are like that' gyan sessions.  Had the film been longer, they would have talked about how guys and girls are like while on their deathbed.  
Poonam Kaur is a detached witness to Tammy's never-ending thinking, and she once begs her to have sex and be done with it.  At this, the background score does a 'Haa hoo yaa' sound to indicate the lust of a desirous lady.  A few seconds later, Tammy announces that her father instilled Indian values in her overseas citizen of India mind since childhood and this time, the music director gives a K Viswanath-kinda music.  This is one of the strangest cinematic moments of the year.
Never the ones to tire of discussing everything they can think of, Tammy and her friend argue over the influence of social media on our sex lives.  Even in such scenes, the language is so dry that it is bereft of nuance (except in 3-4 scenes) and even nativity.  
At one level, 'Next Enti' is about two confused souls.  The character sketches make sense on the paper.  The director does come with some clarity of thought, as reflected by the break-up scene involving Tammy and Navdeep's character.  The stretch involving the heroine and her father is not bad (it should have been trimmed by 10 minutes).
At another level, however, the film overdoes everything, oversells its ideology, and gets repetitious.  For a supposed new-age film, it's not without cliches.  An old man is proud of his wife for 40 years and this has the one looking for epemeral relationships thinking.  God, we have seen all this.  
Sundeep and Tamannaah almost struggle to strike chemistry.  Navdeep passes muster.  Poonam Kaur is forgettable, while Larissa makes the cut.  
Leon James' music is somehow not relatable.  It's very web series-esque.  The montage songs are yawn-inducing.  Maneesh Chandra Bhatt's visuals are OK.  
Verdict:
The film tries to make a familiar point in a convoluted manner.  Lengthy conversations prove that the director doesn't know the answer to the question 'next enti'.  A few more characters would have ensured some variety.  With the film essentially making the same points episode after episode, it is a big bore.
Rating: 2 / 5.0
Showcase your talent to millions!!
Write about topics that interest you - anything from movies to cricket, gadgets to startups.
SUBMIT ARTICLE
More
తెలుగు Movie Reviews
Sita Ramam
Bimbisara
The Legend
Ramarao On Duty
Vikrant Rona
The Gray Man