Nithya Menen on 'AWE', edgy roles, 'Prana' & more
Monday, February 19, 2018 • Telugu Comments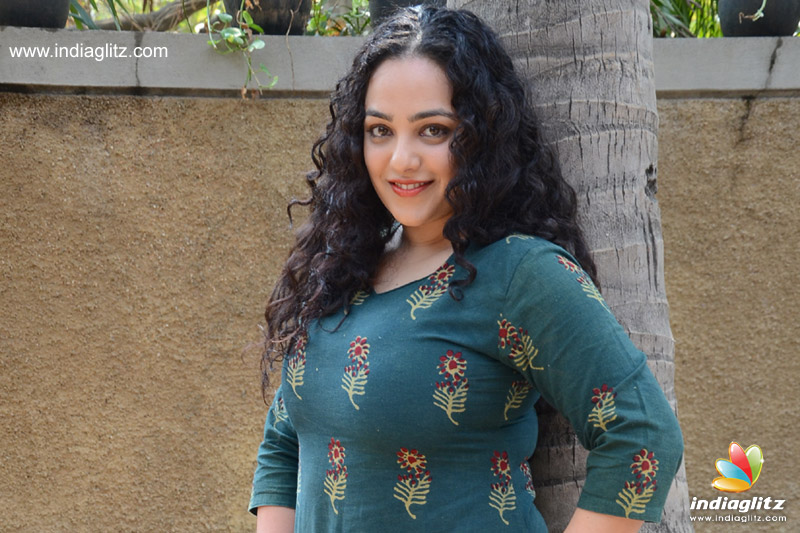 Nithya Menen is happy with the way 'AWE' is being talked about. In this film, she talks about a range of things, including her preferences.
What thoughts crossed your mind when you listened to the script of 'AWE'?
I was absolutely excited. It's a rare story and I was excited as an artist. Actors easily get typecast in similar roles. But in this film, nobody has been typecast. I like playing edgy roles. Prasanth Varma and everybody of us worked passionately on the movie. It was only when he came to me the second time did I come to know that Nani is producing the film. I felt happy to be a part of his production. Nani was confident that I would say yes to this role.
How do you see the response to the movie?
The good thing is that nobody is talking about the actors alone. The director and the film per se are being written about. 'AWE' is not about its cast alone.
Telugu film industry needs a revolution. The number of Telugu cine-goers is huge. And there is a multitude of audiences to cater to. In Malayalam, films that we can be proud of are coming. The industry is competing with Bollywood in this regard. 'AWE' has opened a small crack for TFI. People should come up with different ideas.
Did you do any homework for the role?
The films that we get to do, they don't demand much of a preparation. Most of the roles that I had played till 'AWE' could be drawn from my life. But in this film, the character is different. So, I couldn't really draw from my life. I had no clue. But I had to do it right. A couple of days before the shoot started, I told myself it would be enough if I am in front of the camera wearing the costumes.
Did you go in for 'AWE' because you loved your character?
I look at the larger picture, not just my role. I also don't do a film just for my acting alone. For example, my next film 'Prana' is being made in Malayalam, Hindi, Kannada, and Telugu. Only I know all the four languages in our team. So, I involved myself in translating the script. I do write on my own at times if something strikes in my head that moment. Otherwise, I drop off.
Do you feel challenged by your roles?
Yes, it happens at times. 'Ganga', for the first time, made me feel challenged. I must have hardly done 6-7 movies out of 200 stories I listened to. When in doubt, I won't do a film. I have to be sure about it and love it. I am very, very choosy. As such, nobody comes and tells me simplistic stories. I think of how the society would be impacted by the film I am doing. I take it as my responsibility as an actor. A film has to influence the society in a positive way.
When I did 'Malli Malli Idi Rani Roju', I was 25 and played a mother to a 23-year-old. I never ask myself, 'What will happen if I do such and such a role?' If I love something intuitively, I do it.
Are you going to turn a producer like your friend Nani?
No way. I am a creative person and I can't get involved in planning financials.
Tell us more about your next film, 'Prana'.
It tells the story of a girl, played by me. It has been shot in sync sound and there is no dubbing involved. Even most of the BGM is in the sync mode. Everything is recorded completely on the spot. It was shot in 4 languages separately for the same reason. It was shot in 23 days flat, which is a record. I usually do things in a single take and yet this film was draining because everything had to be acted four times. Resul Pookutty is working on the movie.
We heard that you were approached by the makers of NTR's biopic to play Basavatharakamma's role. Is it true?
I would just say that I am not doing this film.
Follow us on Google News and stay updated with the latest!
Follow
Actress Photos
Hansika Motwani
Nidhhi Agerwal
Krithi Shetty
Rashi Khanna