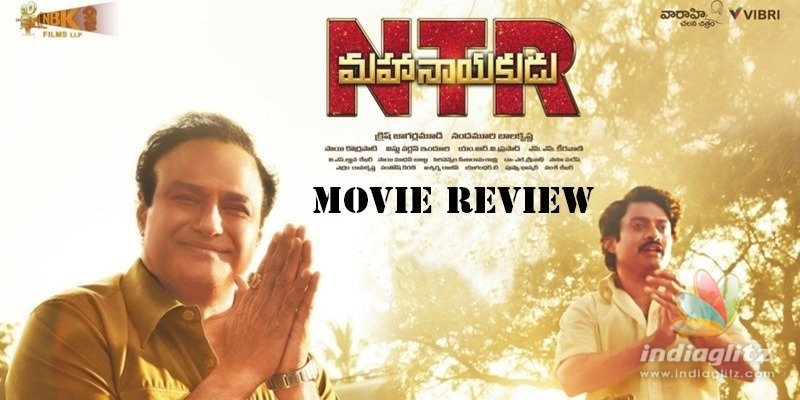 'NTR: Mahanayakudu', starring Nandamuri Balakrishna in the lead, hit the screens this Friday.  Here is our review of the political thriller-cum-biopic.
Story:
When NT Rama Rao (Nandamuri Balakrishna) establishes the Telugu Desam Party in 1982, he becomes an instant mass leader in politics.  Touring the then united State of Andhra Pradesh on his Chaitanya Ratham, he rallies the people on the slogans of Telugu pride and social justice.
Troubles begin more than a year after the thespian-turned-politician becomes the Chief Minister.  Nadendla Bhaskara Rao (Sachin Khedekar) stages a coup when NTR is away in the US for an angiogram.  Upon his return, the cheated Rama Rao roars.  Rest, as they say, is history.
The second half of the film is about how NTR regained power with the help of Chandrababu Naidu's (Rana Daggubati) deft political management and maneuvering.  
Analysis:
There is a scene where NTR addresses a crowd in chaste Telugu, wearing a khakee, sitting informally on a rock.  At a distance in the same town, Indira Gandhi (Supriya Vinod) is heard addressing a crowd in Hindi, delivering platitudes. Director Krish juxtaposes the two political meetings to drive home what was obvious in the 1980s: Indira's alien Hindi vs NTR's endearing Telugu, Congress' empty slogans vs NTR's politics of hope, Congress' culture of riding on Indira's popularity vs TDP's homegrown 'bidda'.  
The problem with the film is, this kind of subtlety is very sparse.  Most things are mechanical and even cinematic.  Things are so staged that they are either too simplistic or too glossy or both.
NTR rode to power on the back of people's unprecedented support.  Consider how this film deals with the crowds.  They are largely happy faces, some of the junior artistes are even glamourized.  With such an unrealistic presentation, how is the audience going to be convinced that NTR is seeking to change wretched lives?  We don't get to know what the people thought when Indira created a constitutional crisis through her puppet Governor.  Were most of them going on with their lives, having been habituated to a new CM every now and then for years? We never get to know.
A huge issue with the film is that it's not topical.  Most of the audiences today are in the age-group of 15-35 and they don't have any memory of the days when President's Rule, constitutional crises, Congress playing CM-CM with its power-hungry leaders was the norm in India.  Someone as popular as NTR being ousted by a despot sitting in Delhi would be unthinkable today.  Because it's unthinkable, for many, it's also something they can't connect with.  
Unlike the emotions that India's freedom struggle produced, the emotions that slogans like ending single-party rule and Telugu pride spawned can't be sold as easily to today's audiences.  
Krish deals with NTR's 'Save Democracy' movement in a plain fashion.  The 'Delhi Chalo' hartal that saw NTR and Chandrababu Naidu outsmart the Congress' machinations comes quite underdeveloped.  The second half lacks detailing in several segments.
At one level, the film is also one-sided.  NTR's flaws as an administrator get papered over.  The film seems to glorify over-centralization.  
If Indira Gandhi and Nadendla are reduced to caricatures, Basavatharakam is reduced to melodrama.  There is no heft to the drama on the floor of Assembly; the Assembly looks contemporary and glossy (seriously?).  Back then, newspapers were integral to people's lives.  What were the headlines saying during NTR's hartal?  The film gives no idea.  Ramoji Rao of Eenadu Group on phone is what the film can think of about the media.  
If ANR (Sumanth) is limited to just one scene (his conversation with Chandrababu Naidu is interesting), Vennela Kishore gets to do what he does best: repartees.  
MM Keeravani's background music is imaginative (so unlike what we saw in the first part).  VS Gnana Shekar's cinematography is efficient.  The art work by Ramakrishna-Monica duo has its problems.  
As performances go, Balakrishna makes an impact.  However, he doesn't look convincing as a frail NTR who had his health issues.  The scene where he breaks down after coming to know that his wife's days are numbered, stands out for his acting abilities. Rana convinces with his earnestness.  Vidya Balan is decent, while Sachin is OK.  Kalyanram and others fit the bill.
Verdict:
As a political thriller, the film should have been far more imaginative and edge-of-the-seat.  With no topicality, 'NTR: Mahanayakudu' has its disadvantages.  Able performances and BGM are a blessing.  The dialogues could have been better. There should have been subtlety.  
Rating: 2.75 / 5.0
Showcase your talent to millions!!
Write about topics that interest you - anything from movies to cricket, gadgets to startups.
SUBMIT ARTICLE
More
Telugu Movie Reviews
Sky Lab
Akhanda
Anubhavinchu Raja
Drushyam 2
Ram Asur
Missing