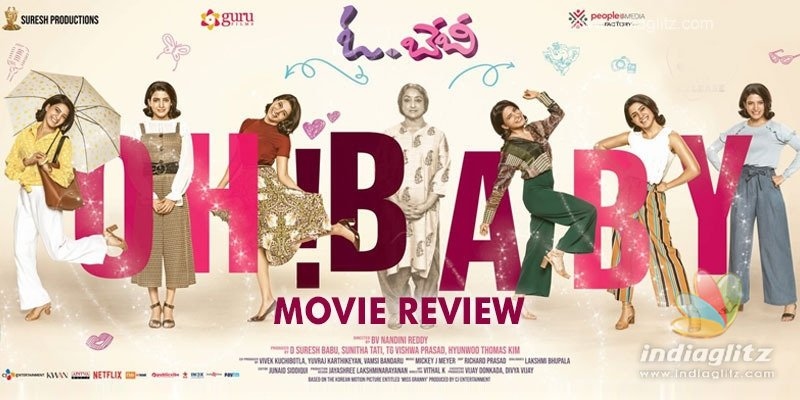 'Oh Baby', starring Samantha Akkineni in the lead, hit the screens this Friday.  Here is our review of the comedy-drama.
Story:
Baby akka (Lakshmi) is a 70-year-old woman who runs a canteen with her best friend Chanti (Rajendra Prasad).  A doting mother of Nani (Rao Ramesh), she is loud-mouthed and a disciplinarian at home.
Also a niggling mother-in-law, Baby akka is deeply distressed about how her life has shaped up.  When a small tragedy strikes the family, it proves to be a game-changer.  Baby is transformed into a young woman (Samantha Akkineni) through Divine intervention.
The rest of the film is about what consequences this fantastical metamorphosis holds for Baby and the other characters around her.
Analysis:
An official remake of a South Korean movie named 'Miss Granny', 'Oh Baby' tells a tale of reliving life by going back in time.  In doing so, the screenplay gradually turns generic and superficial in the second half.
The story is substantial, given the range of characters involved and the situations concocted.  Just in Baby's family, there is a suppressed daughter-in-law (Pragathi), a grandson (Teja) receiving strength from his granny, a son (Rao Ramesh) who is squeezed between a domineering but good-natured mother and a stressed and helpless wife...
The raison d'être of the movie is the bonding between the family members. But this aspect comes unfleshed. What happens between Baby and Vikram (Naga Shaurya) and the track involving the singing band are inherently not-so-novel.  However, the writing department over-relies on these to dish out entertainment.  Moreover, there is no surprise factor involved here because the track of Shaurya and Samantha was highlighted in teaser and trailer.
The track involving Samantha and Rajendra Prasad should have been a mix of eeriness and poignancy.  Rather, it comes undone by leap of faith.
We lose the count of number of times the young Baby forgets that she is actually a 70-year-old and talks blundering lines.  This leaves the audience a bit exasperated.
The second half oversells its songs (Mickey J Meyer passes muster) and, at one point, the film becomes a musical narration.  Had the songs been striking, it would have helped a great deal.
Surprisingly, Samantha's character acquires unreal strength and doesn't show the kind of vulnerability expected of a realistic old woman's character .
A comedian or two would have made the proceedings breezier.  
Where the film strikes gold is in projecting the human flaws of its characters. Urvasi, playing a middle-aged woman wooing Rajendra Prasad, gets a heart-rending denouement.  The granddaughter's rebellion brings out the generational conflict.  Credit goes to the director for daring to introduce Samantha after a good 35 minutes.  
Despite no star presence in the first act, just the eminent presence of Lakshmi takes care.  Samantha rocks it with her innocence and quirkiness. Naga Shaurya is adequate.  Teja and others fit the bill.  Jagapathi Babu's special appearance is interesting.
Richard Prasad's cinematography is a major plus, the ambience looks believable and the actors beautiful.
Verdict:
The story line is fascinating.  The emotions are heart-tugging in the second half.  With better story-telling, imagination and music, 'Oh Baby' would have been even more winsome.
Rating: 3 / 5.0
Showcase your talent to millions!!
Write about topics that interest you - anything from movies to cricket, gadgets to startups.
SUBMIT ARTICLE
More
Telugu Movie Reviews
Hunt
Driver Jamuna
ATM
Vaarasudu
Waltair Veerayya
Veera Simha Reddy