A Sricharan Pakala album
Saturday, September 28, 2019 • Telugu Comments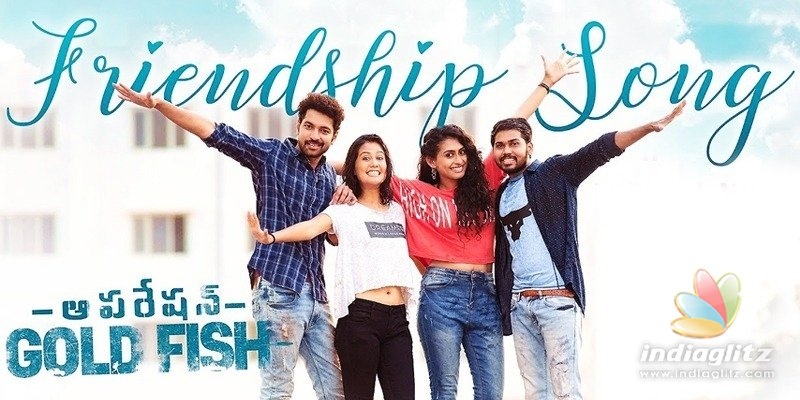 The first single from 'Operation Gold Fish' is out on Aditya Music.  Here we present its review.  The other songs will be reviewed as and when they are unveiled.
Paluke Bangarama
Singer: Yamini Ghantasala
Lyricist: Ramjogayya Sastry
Lyrically, the song captures the sense of wonderment among newly-minted love birds.  Sastry's 'Tholakari nisha theliyaka disa, Atu itu yeto thiruguthondi' is perhaps one of the best lines in recent times.  The song is short and sweet all the more because of such lilting deployment of language.  Yamini Ghantasala's voice is mellifluous and she gets the difficult stretches alright.  The music director does a wise job with the guitar and the melodica.  All in all, a worthy number. 
Mahatma
Singer: MM Keeravani
Lyrics: Ramjogayya Sastry
For a film whose story talks about the ethnic cleansing of Kashmiri Pandits, this song is apt, in that it makes a mention of the Pulwama carnage that shook the nation's conscience earlier this year.  Sastry's lyrics are profound and soulful, they are also laced with a message.  The interlude of 'Raghupathi Raghava Rajaram' acts as a tribute to Mahatma Gandhi. Sricharan Pakala's 'raga' is sublime; the song is instantly appealing also because of Keeravani's brilliant, intriguing rendition.
Friendship song
Singers: Sricharan Pakala, Nithya Naresh
Lyricist: Ramajogayya Sastry
The lyrics are laced with English-language terms.  Sastry's 'Modern moksham' and such coinages are interesting.  The singers do an able job in enlivening the proceedings with their jaunty vocals.  The music director shows sparks in dishing out the youthful and peppy song.
Wake-Up
Singers: Kunal Singh, Satya Yamini
Lyricist: Ramajogayya Sastry
The song has a low-intensity peppy flavour about it.  The tune is nuanced, and also restrained.  The singers do a suitable job of mixing electrifying and soft vocals.  The lyrics are smart.  Sastry's rhyming deployments include 'rise up' and 'gallop'.  As a road song, this one strikes the right notes with its relatable and meaning-laden lyrics.