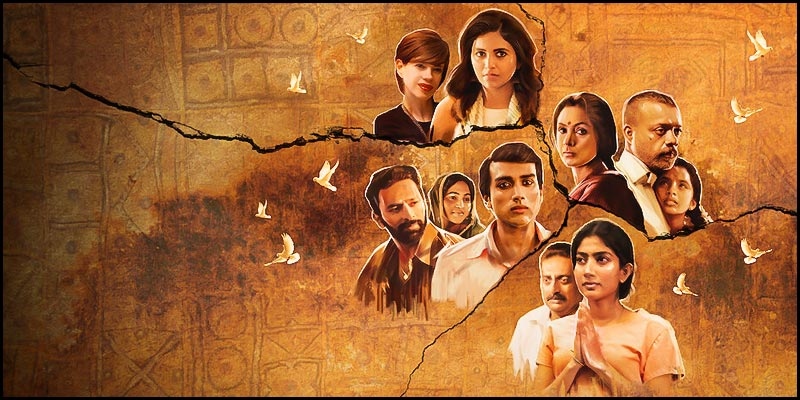 Paava Kathaigal - A commendable attempt
Netflix's first original anthology in Tamil 'Paava Kathaigal' is a novel attempt by getting four of Tamil cinema's highly rated fillmmakers of the current generation to tackle the sensitive subject of honor killings that are still rampant in Tamil Nadu.  The core theme that unites all four stories is that society burdens women and womanhood as the bearers of honor of men and are eventually at the receiving end of violence and death ironically at the hands of men.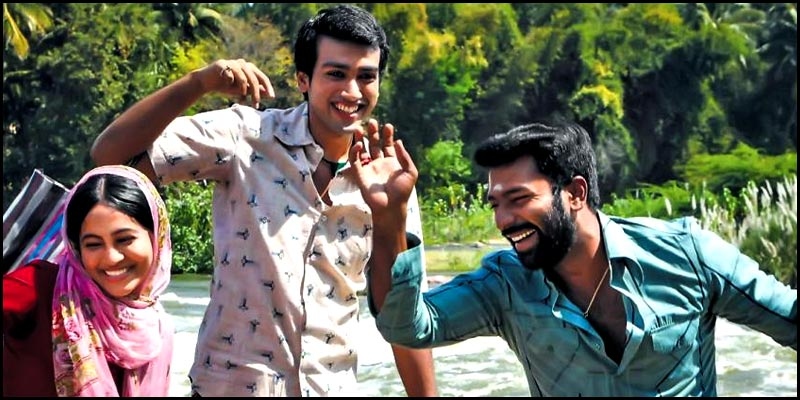 The first film 'Thangam' directed by Sudha Kongara is set in the 80s and is about a trans woman Sattaar played by Kalidas Jayaram who is hated and isolated by everyone around him in his village except a childhood friend Saravanan (Shantanu Bhagyaraj).   Saravanan falling in love results in great tragedy for Sattaar first through heartbreak and then by the violence of the society that destroys him both physically and mentally and a beautiful rare flower withers into oblivion just like most of its kind in the insensitive world.
Sudha Kongara's deft touches make 'Thangam' the best among the four and its mainly because of her choice of what to show the audiences about the lives of her characters to best convey her story to them.  Her climax is also a silent and most effective hit back at the honor killers.  Kalidas Jayaram is terrific as the transgender who wants to blossom into a woman and expresses his little joys and heartbreaks with great effect easily the best actor on show in the anthology.   Shantanu Bhagyaraj compliments Kalidas with his subtle acting and in the final moments steals the show when he pays a tearful tribute to his friend as well.  Bhavani Sre in her little screentime makes her presence felt.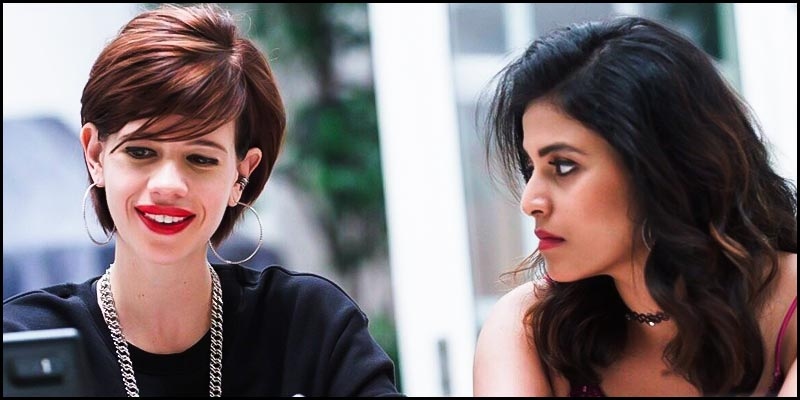 Vignesh Shivan's 'Love Pannaa Uttranum' has Anjali as twin sisters and daughters of a casteist politician and what happens when both fall in love of the forbidden variety.  The director has attempted a lighter vein storytelling which does provide the fun especially the interactions between the father and his henchman and when the entire village gang reacts to Anjali and Kalki Koechlin being lesbians.  However, the fun element also works against the film by diluting the horror of a father killing his daughter in cold blood and what is more appalling is that he even gets a happy ending.
As far as the performances are concerned Anjali once again gives a reminder of what a fine actress she is by carrying the modern girl as well as the village girl effortlessly.  She has also gone all the way in her lesbian act with a liplock to do justice to her role.  Bollywood actress Kalki Koechlin is the surprise packet here with her neat performance as Anjali's Bohemian French friend.  Its also a delight to hear this Ooty girl speak Tamil fluently and hope we get to see her more often in Tamil films.  Padam Kumar as the father, his henchman and B-Cube are all fun to watch albeit they are all out of place in the given scenario.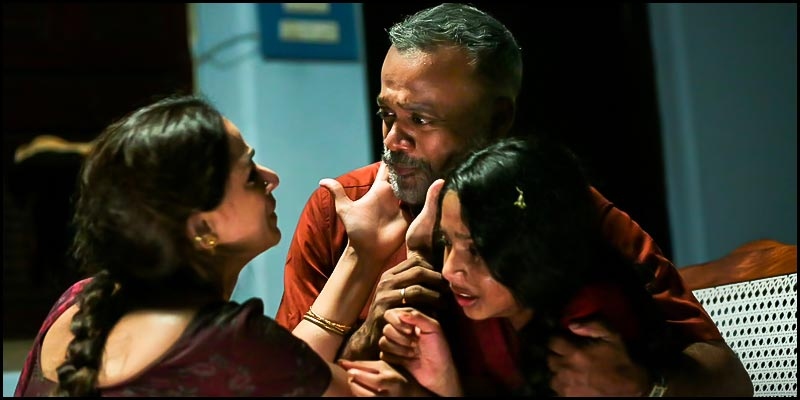 'Vaan Magal' has Gautham Menon out of his comfort zone as a filmmaker and as an actor and the end result turns out to be rather uncomfortable for the audience too.  However his film along with Sudha Kongara's give the satisfaction of at least the heartless being punished and here the climax is also not regressive and is a step forward for rape victims.  Gautham Menon and Simran play a middle-class couple with two daughters and a son and when an unspeakable horror is meted out on their preteen daughter will it bring the devil out of these ordinary folks or can they stand up for their loved one forms the crux.
Acting vice its Simran's show all the way and she has scope to express a number of emotions including humiliation from a richer relative, horror of seeing her loved one violated and most of all the dilemma of whether becoming a monster herself or becoming a better mother and she nails each one of them brilliantly.  The girl who has played the daughter and Aditya Bhaskar as the college-going son acquit themselves well.  The GVM touch is in the shot where the father makes her daughter fly standing on a precipice giving her hope to fly and using the same shot to cause anxiety about whether she will lose her life.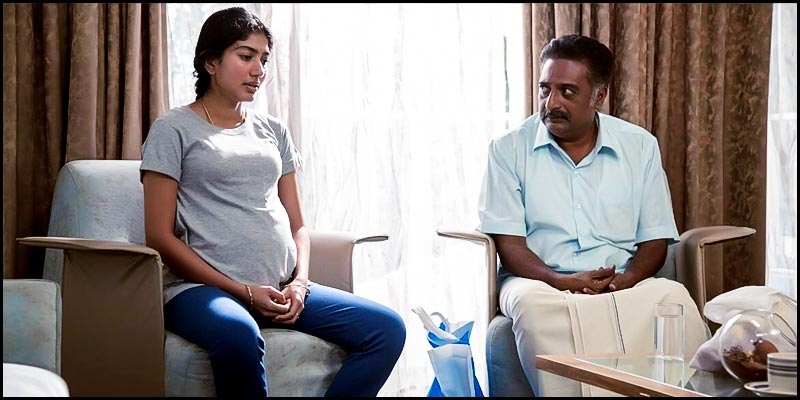 Oor Iravu by Vetrimaaran is about a village head man played by Prakash Raj who reconciles with his pregnant daughter Sai Pallavi who had eloped two years back with a lower caste man and brings her back home for a baby shower function.    Back at her home the girl slowly reconciles with her mother and siblings and her father also seems to have forgiven her until something unexpected and terrible happens.
Sai Pallavi is a revelation as the daughter and in part set in the city when she reconnects with her father and tends to him she is all vulnerable and then her interactions with her mother and siblings in the village she is natural and in the end when she loses her child and wants to fight its killer she is riveting and on the whole stands tall with her powerful performance.  Prakash Raj is too experienced to put one footing wrong as the father but since he has been there and done it all before there is an unmistakable lack of freshness to his portrayal.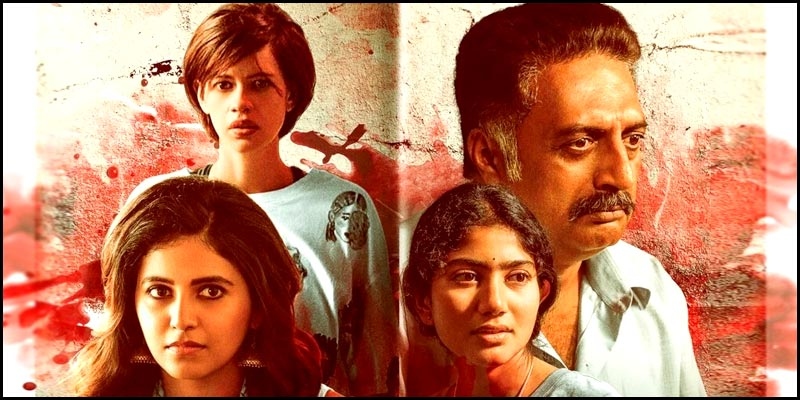 Its  Vetrimaaran show all the way in first building up the tension for the kill and then making the killing a long drawn out ordeal for his character that soon grips his audience and consumes them as well.  The ace director has also made the best use of limited resources in building character and conflict for example with just a few photographs and paintings the relationship between Sai Pallavi and Hari is quite easily passed on to the viewers.  Similarly, the mother's helpless cries behind locked doors convey years of suppression by her and her kind.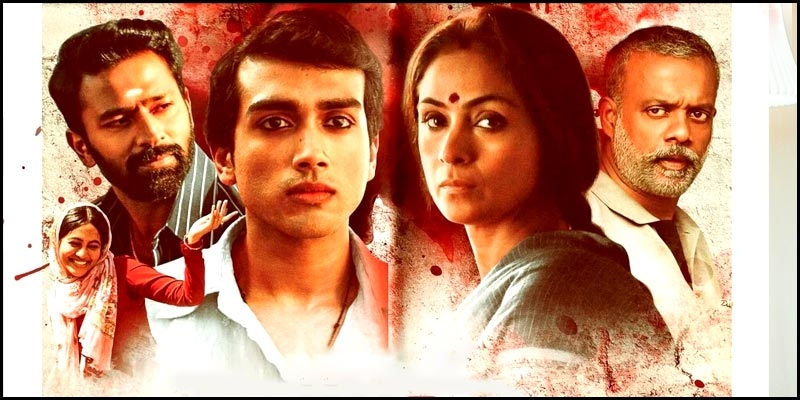 Overall 'Paava Kadhaigal' is not without its flaws but all the four filmmakers have succeeded in touching the audiences in their unique styles carrying messages that are relevant today and kudos to them for that.
Rating : 3.25/5
Rating: 3.25 / 5.0
Showcase your talent to millions!!
Write about topics that interest you - anything from movies to cricket, gadgets to startups.
SUBMIT ARTICLE
More
தமிழ் Movie Reviews
Chithha
Iraivan
Chandramukhi 2
Mark Antony
Jawan
Kushi