Papanasam - Outstandingly Brilliant
Friday, July 3, 2015 • Tamil Comments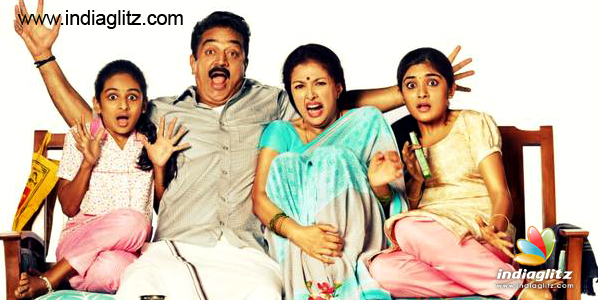 REJOICE. Tamil answer to the legendary Malayalam blockbuster Drishyam by its mentor Jeethu Joseph is an emotionally uplifting pulse riser that has a prize boxer in Kamal Haasan delivering a knockout punch that explodes with family values, togetherness, morality, upbringing and much more..
Dramatic but yet real. Emotionally sweet but yet sugar free. Edgy but yet cool. Jeeethu Joseph has a rare Kohinoor diamond in his script that gets powered nurtured and savored by the masterly brilliance of Kamal Haasan in its Tamil version.. you need any more reason to watch Papanasam.. go spread the virus its highly infectious.
The most strikingly remarkable aspect of this Jeethu Joseph`s unique thriller is its exceptional capability to blow away those who are fresh and satisfy the ones who have already seen the original (2013) version starring Mohanlal and Meena.
Any other filmmaker would have gone the edgy, dark neo –norish way in its approach to such dramas to make it look and feel different in its attempt that has the twig of family – father daughter emotions.
But Jeethu Joseph`s sticks to the Indian desi roots and takes a bafflingly gratifying non-genre tack, concentrating on intensity and brilliant scene build up without losing any steam out from the drama and emotions it encounters during its process. Making it a uniquely different individual thriller that packs the punch and rolls a significantly relevant message in today`s times of power and MMS crimes.
Suyambu Lingam (Kamal Haasan) a cable operator in Papanasam district of Tirunelveli belt is father of two daughters played by Niveda Thomas (elder) and Esther Anil (younger). Lingam is a fourth grade dropout orphan married to Gautami. His family and movies make his small little beautiful world.
A shocking accident finds Lingam and his family on the other side of the law. IG police (Asha Sarath) smells something fishy and the local cop the corrupt constable Manikyam (Kalabhavan Mani) sees a golden opportunity to settle his pending rancor`s against the outspoken Lingham.
What follows is a roller costar pulse raising, heart rendering, uplifting and thrilling ride of a simpleton Lingham against the powerful lawmakers.
Scenes are played out in an individual classical fashion that elicits many nuances from the actors, and full value is extracted from the already rich material.
Kamal`s emotional outburst with IG`s husband played by Anant Mahadevan is just one example.
Performances are aces top to bottom. Kamal is simply superb. Lingham is another example that Kamal is India`s rare acting legend who can outstandingly conveys his character`s slide from simple innocent family man to a cold headed smart fox up against the powerful law to protect his family. The dilemma of morality crises and the emotional turmoil is brilliantly displayed by Kamal in this act. Sheer brilliance. Perfect choice.
Gautami remarkably plays the picture of love, devotion and care as Lingam`s dutiful wife. So.. Natural.
Niveda Thomas as the elder sister plays the innocent girl trapped in unfortunate situations with heart and up to its task. Esther Anil as the younger daughter is cute and lovable.
Asha Sarath as the no nonsense IG top boss and a mother of a young boy captures the right nuances of a top brass cop and an extra caring mom.
Kalabhavan Mani is villainously wicked. Anant Mahadevan is perfect as the calm and composed husband of the tough IG. Lucky to feature in a scene with Kamal which is one of movie`s moving highlight.
Technically sound with pleasing camerawork by Sujith Vaassudev, M. Ghibran soothing music and Ayoob Khan`s sharp editing especially during the penultimate portions Papanasam` is powered by top production values.
Papanasam has its shares of flaws like being a bit long, makes some make belief request and its mostly tense and intense after the initial smooth cool build up, but certainly Papanasam is a relevant cinema and not just a commercial potboiler meant to earn cores.. it has an important message to the core…
Do yourself and your family a favour.. Watch Papanasam at the earliest. It will result in giving you a lump your throat, and a hug by your family.
Rating: 3.5/5
Follow us on Google News and stay updated with the latest!
Follow
Actress Photos
Keerthy Suresh
Avika Gor
Meera Jasmine
Faria Abdullah